Jesus and basketball – Franko's winning combination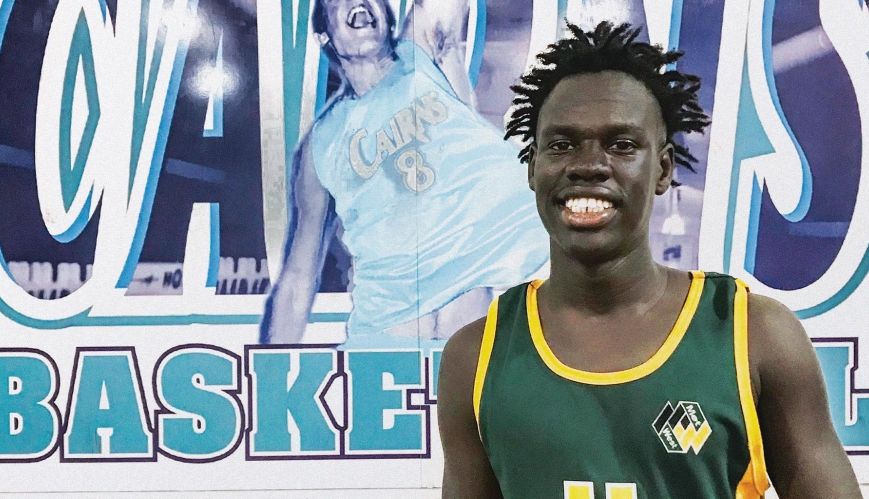 Jesus and basketball – Franko's winning combination
18 January 2019
Franko's youth internship in Cairns is bringing together his two passions - basketball and serving Jesus.
By Simone Worthing
Franko Bak has two goals in life – to serve Jesus through working as a youth pastor, and become a professional basketball player. He sees these two goals, though, as having much in common.
Franko is just a couple of months into an 18-month youth ministry internship at Cairns Corps – the first such position for The Salvation Army in Far North Queensland – and is focused on seeing more young people becoming Christians and growing in their relationship with Jesus.
"I am excited and grateful to be a part of seeing that happen here in Cairns, and being used by Jesus to get alongside young people, hopefully be a role model, and influence them in a positive and encouraging way," he said. "Already they are talking to me, and I know this will increase over time."
On the basketball court, Franko has dreams of one day playing in the National Basketball League. A talented player, Franko is aiming to play in the Queensland Basketball League with the Cairns Marlins, a feeder club for the Cairns Taipans NBL franchise.
invitation to play
Franko was born in South Sudan. He moved to Egypt with his family when he was just a baby, and spent eight years there before moving to Brisbane with his parents and four siblings. Together they built a new life and became part of the local community.
As part of his Christian upbringing, Franko attended a Catholic school and went to church with his family in Brisbane. "I loved God and soccer as a young person, and wasn't introduced to basketball until I was in high school," he said.
It was around this time that Franko met then Captain Ben Johnson, who was the corps officer at Bundamba, west of Brisbane. Captain Johnson was looking to enter a team in The Salvation Army national basketball tournament, and asked some of the students at Franko's school if they were interested. Franko joined the team for the tournament in Sydney in 2015, and hasn't looked back. "I went, and just loved it," said Franko.
"It was competitive but everyone was friendly. I also liked the devotions and prayers that were part of the tournament, and found out that The Salvation Army was actually a church, not just a charity!"
Franko also played in the 2016 tournament in Melbourne and joined Captain Johnson's local Salvation Army Bundamba team with some of the tournament players. "It was great," said Franko.
"I liked the basketball, the people, the competition and the good vibe hanging out with everyone. I also really liked how The Salvation Army used sport to help bring people to Jesus and disciple them. This was new for me and something I could really relate to. Ben was like a father to me, a friend I could talk to, and his family became like extended family for me."
Franko also played in the 2017 tournament on the Gold Coast before graduating from high school. That year, Ben and his wife Emma, now both with the rank of major, were appointed to Cairns.
"I stayed in touch with Ben," says Franko, "and he knew that I wanted to serve the youth and play basketball." So when Franko heard about the youth internship position in Cairns, he was immediately interested and sent in his application, which was successful.
calling to ministry
Major Johnson says he believed that Franko had a calling to ministry when he was still in high school, and even had a vision of him becoming a Salvation Army officer. 
"He had a natural leadership style and a sensitivity to people that I knew would grow under training and being mentored," he explained. "It's about helping him to shape that, build his confidence, and find his fit. As part of The Salvation Army, we want to be investing in our future leaders and plan for the long term. Having Franko as a youth intern is a natural way forward with that.
"Sport is also a great way for leaders to build a rapport and profile with young people and be someone people can look up to. It's more the 'common man's' way of connecting to others and building opportunities in the community, whereas music is more specialised." 
As part of the internship, Franko is studying for a Diploma of Youth Work. Under the guidance of Major Johnson (pictured right with Franko), he also organises and runs youth nights, activities for the young people, and, on Tuesday nights, plays and helps coach two Salvation Army teams in the local basketball competition.
"The community basketball competition is to interact with local youth," explains Franko. "The sport is pretty big in Cairns, so it's a good way to connect and anyone can come. Some young people on the fringes of the corps are also now playing and bringing their friends. Some of these are attending more Sunday meetings too, which is just great. We have two men's teams, made up of corps members and locals, who train and are serious about playing. We wear Salvation Army jerseys and pray before the games."
Franko also works with Major Johnson, coaching and playing basketball with young people on Sunday afternoons – an outreach ministry that grows each week as young people bring their friends, and parents bring their teenagers.
"We run teams for under 14 mixed and under 18 boys, but anyone is welcome," explains Franko. "We are also looking to develop teams for the next basketball carnival, under 15s and under 18s."
Franko will become more involved in youth Bible studies, regional youth events and mentoring as his internship progresses.