Lyndley valiantly shifts into overdrive when life is a drag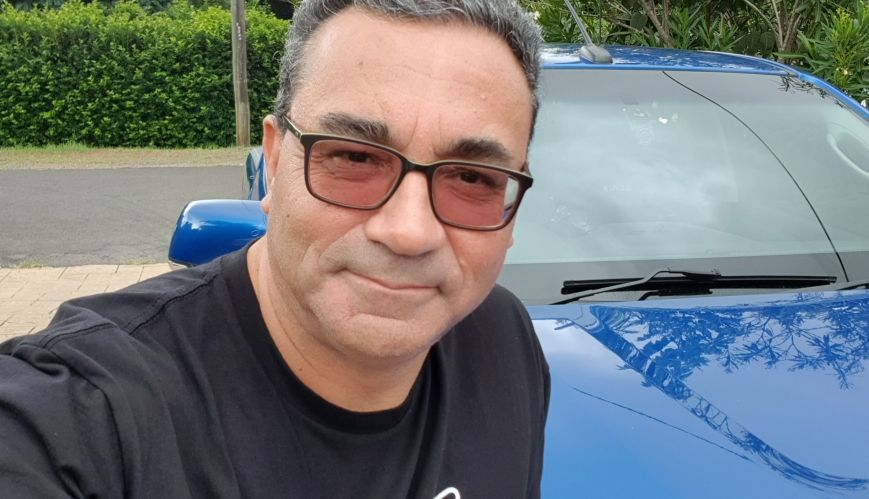 Lyndley valiantly shifts into overdrive when life is a drag
25 January 2021
Captain Lyndley Fabre looking cool in his black Salvation Army T-shirt with his sedate day-to-day ride. Hidden behind the chilled exterior beats the heart of a self-confessed 'petrol head'.
By Darryl Whitecross
Among alcohol-fuelled dragsters, funny cars and door slammers at the Willowbank Raceway drag strip near Ipswich in Queensland is a little white Valiant that looks more like it should be in a shopping centre car park than with those beasts.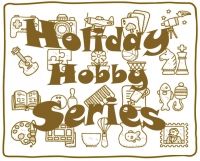 This little car, though, has a secret: kick the engine over and it roars into life, transforming into a missile that can hurtle down the quarter-mile track in 13 seconds. The big boys do it in way, way, way less than that – eight seconds – but it's not bad when you consider the six-cylinder engine in the Valiant was designed and built in the late 1950s.
Like any good person on a faith journey with The Salvation Army, though, this car is a teetotaller. Behind the wheel is Captain Lyndley Fabre, the proverbial self-confessed 'petrol head' who has enjoyed this type of high-octane action for 40-plus years.
Truthfully, this little street racer is a 1966 Valiant Regal. Unlike the mean ugly, fire-breathing big brothers of the sport, Lyndley's Valiant doesn't need a parachute to pull it up. Its regular street brakes do the job quite okay.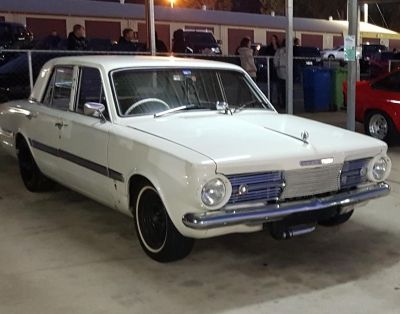 Lyndley Fabre's pride and joy – his 1966 six-cylinder Chrysler Valiant Regal.
There are no huge air intakes, chrome exhausts, massively wide wheels or big rear wings, but look closely and Lyndley says you will spot a few differences: "Modern, turbo-charged, blow-through induction system running about 15 pounds of boost, which I put together in my garage as there are no 'off-the-shelf' kits you can walk into a shop and buy."
Lyndley says doing that work on the engine was "a very steep learning curve into the world of modern-day turbocharging".
Lyndley's 23-year-old son Trent has followed in his father's tyre tracks but dad isn't too wrapped at the moment – he's "gone a bit more modern".
"I'm not impressed!" Lyndley says with his tongue loosely planted in his cheek.
Trent Fabre as a P-plate driver behind the wheel at Willowbank Raceway in the car he and his dad built together.
Trent has parked the family tradition of being Valiant owners and crossed to "the dark side" – he races a turbo-charged VL Commodore now, but his maroon 265-cube turbocharged VF Valiant sedan, which he built with his dad back in high school and comes complete with a grandpa-style external sun visor, is in the shed in bits.
"Our turbo adventure began with this car and we had some harsh lessons learnt after we lifted the cylinder head more than a couple of times due to detonation. In the end, we cracked a piston whilst racing at an event at Heathcote in Victoria," Lyndley says.
Lyndley is quite at home among the sights, smells and very loud sounds on a drag-racing strip. He's been part of the scene for 40-plus years – even longer if you count the years he dreamt of being old enough to be part of it.
He has had the same car for many years now says the work on the machine is never done.
The latest additions have been "race mods" but then there are times when it breaks down: "I just attended a Powercruise event at Queensland Raceway and broke my engine so I'm in the process of a rebuild and planning some changes.
"I primarily do it as it's a release for me from the constant stress of ministry. There are some ministry/mission moments that do eventuate as you are around people who would probably never set foot in a traditional church environment but that's not the primary reason I do it," he says.
Lyndley and his wife Clover are the assistant managers of the Gold Coast Recovery Services facility, Fairhaven, at Mt Tambourine.