The Salvation Army's go-to man in Ulladulla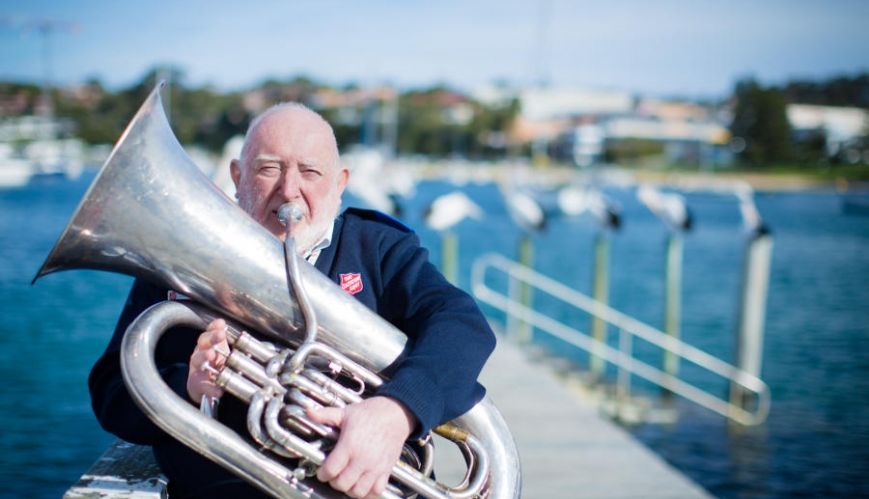 The Salvation Army's go-to man in Ulladulla
6 September 2019
Dennis Breheny and his beloved tuba on the wharf at Ulladulla, a coastal town in NSW. Photos: Carolyn Hide
By Bill Simpson
Ulladulla is a peaceful little seaside village on the NSW South Coast, a perfect place for a television soapie series of the Home and Away style.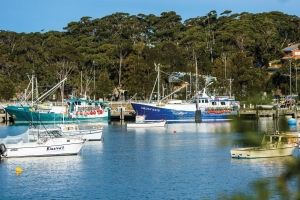 Built around a picturesque boat harbour, it is about 230km south of Sydney, on the Princes Highway coastal route to Melbourne.
Aboriginal for 'safe harbour', Ulladulla is the home port of the largest commercial fishing fleet on the entire South Coast. Once a year, the town swells for the Blessing of the Fleet and street parade. The Pacific Ocean rolling off Ulladulla is teeming with some of the best fish the world's seas have to offer.
Marlin is the town's most famous fish. There is even a prominent, long-standing hotel in Ulladulla named after the magnificent marlin. Ulladulla's population is a few hundred over 15,000.
In summer, that number more than trebles because of the area's popularity with holidaymakers looking for sun, fun and fish. Among the locals is Dennis Breheny, approaching 76 years of age. Dennis is The Salvation Army – Mr Salvation Army – in Ulladulla.
At times, Dennis has been the only Salvation Army soldier in Ulladulla. The nearest corps is at Batemans Bay, 53km to the south, followed by Nowra, 65km to the north.
From time to time, The Salvation Army appoints an officer or lay person to oversee the Army's work in Ulladulla, which includes welfare, a sizeable shop staffed by mainly volunteers, and a Sunday afternoon service.
Stephen Dunn is currently mission team leader, arriving in Ulladulla from outside the area in January.
Stephen's responsibilities include Ulladulla, but also other towns in the area. Stephen says Dennis is The Salvation Army's go-to man for anything Ulladulla. 
"Dennis is invaluable," Stephen says. "Dennis knows everybody in Ulladulla and everybody knows Dennis. When I arrived, there was a lot to learn, but Dennis has it all in his head. It's like having a computer. If I need to know something, I ask Dennis. He has the answers. He's a humble man. He just wants to be helpful." 
One of Dennis' many jobs is looking after The Salvation Army store in Ulladulla.
Some would say that Dennis' connection to The Salvation Army came by chance. Dennis suggests it came by God. Born, raised and employed in Sydney, Dennis, a lifetime bachelor, moved to the Ulladulla area in 1993 after his mother died and he was offered the opportunity by his employer, Smith's Chips, to be its sales representative on the South Coast.
A tuba player, he joined the town band in nearby Milton. A young woman in the band told Dennis that she also played with The Salvation Army Batemans Bay corps band on its occasional visits to Ulladulla to support Sunday afternoon meetings there.
She invited Dennis to give the Batemans Bay corps band a hand. He agreed. That was 14 years ago. He had just retired from work. He kept helping out.
Ten years ago, Dennis joined the Batemans Bay corps band for Sunday morning services there, which means he now worships at The Salvation Army twice on Sundays – at Batemans Bay in the morning and Ulladulla in the afternoon. With Stephen, he arranges and leads the Ulladulla service.
At Batemans Bay, he also helps out teaching children about Jesus. Not long after joining the Batemans Bay corps band, it was suggested he should become a Salvation Army soldier. He did.
Linking spiritually with The Salvation Army was not an issue for Dennis. "I didn't have anything to give up," he says. "I didn't touch alcohol, I didn't smoke and I didn't gamble."
And he had been committed to God from a young age. "My disinterest in alcohol came from my father being an alcoholic and how I saw that impacting our family. I didn't want to be like that," he says.
"When I was a young boy, my father drove me and my sister and brother to Sunday school every week. After he dropped us at Sunday school, he would head for the nearest wine bar. After Sunday school, we had to drag him from the wine bar to drive us home.
"He didn't treat my mother well when he was drunk. During those times, I would get my Bible and go to the local park and read it. I remember doing that when I was 12 or 13. It's how I coped." 
Dennis is known as Mr Salvation Army around the town.
Ironically, he attended a few Salvation Army Sunday morning services when working in Sydney, but more out of filling in time than anything else. He was driving buses out of the Burwood depot.
On occasions, he had a few hours to fill between bus schedules. The Salvation Army was close by the Burwood bus depot, so he would call in for something to do. He stopped going when he was transferred to another depot.
Now in retirement in Ulladulla, he has little spare time to fill. He does street ministry (collecting and also handing out Warcry and Kidzone magazines) for the Army at Milton on Wednesdays and Ulladulla on Thursdays, Fridays and Saturdays. He also collects at six hotels and clubs every second Friday.
Dennis also teaches Sunday school in addition to his involvement in the Sunday services at Batemans Bay and Ulladulla. Mondays are a rest day, although he is available if required. On Tuesdays, he performs various administrative duties before spending the rest of the day volunteering in The Salvation Army Ulladulla store.
His community work goes beyond The Salvation Army, because he drives school buses every morning and afternoon during school term. And he is available for other community volunteering that needs doing. "I need to be active," he says. "I need to be doing something. My life would be boring if it wasn't for The Salvation Army."
Bill Simpson is a contributing writer for Others.