Old Army hall gets a TV makeover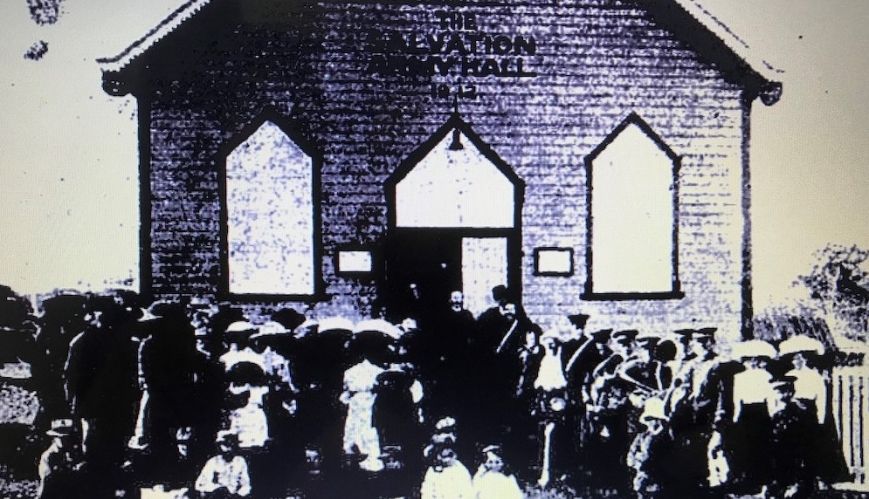 Old Army hall gets a TV makeover
11 August 2021
The opening of the Nanango Salvation Army Hall in 1912. Photo courtesy of 'The Brisbane Courier'.
Garth R. Hentzschel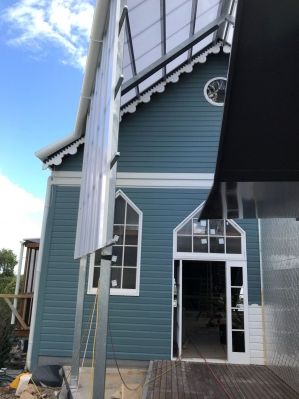 The front of the former Nanango Salvation Army hall on the renovation site at Coorparoo, Brisbane. Photo courtesy Garth R. Hentzschel
The former Salvation Army hall from Nanango, Queensland, will star in an episode of Channel 7's reality television series, 'My Impossible House', this week.
The series follows people through their renovating challenges in their quest to transform historic buildings into modern living spaces.
Bob Chambers, owner/builder and director of GM Poles Pty Ltd, took on the task of turning the former basic structure of the Army hall into a modern luxury home in Brisbane.
Bob said that he and his wife had always dreamed of renovating a church building and turning it into a house. When his wife passed away, he knew he had to fulfil that dream. Bob had always planned to honour the building's heritage, so the producers of the television program contacted him for information on the hall.
The hall was built in 1912 by Corps Sergeant-Major George Knowles and Corps Officer Captain Charles Cross in the style developed by Commissioner James Hay. The corps used its hall to hold Sunday meetings, harvest festivals, fairs, revival meetings, brass band concerts and special lectures on the Army's work with the Defence Forces.
Nanango Salvation Army hall on its original site in 1992, three years before it was moved to Brisbane. The hall was on this site for 80 years. Photo courtesy Glenda Hentzschel
Like many rural places, Nanango Corps became an outpost as the town's population dwindled. Eventually, the Army ceased ministry in the town and, after being used as a Family Store, the hall was sold in 1995 and relocated to Coorparoo, a suburb of Brisbane.
The program will show how Bob has included elements sympathetic to the hall's heritage. The house features Salvo colours of yellow, red and blue in windows, a leadlight window depicts the area from which the hall was located, and a creek and billabong have been placed at the side of the house. The billabong is a salute to the name 'Nanango', which is reputed as coming from an Aboriginal word meaning 'large watering hole'.
The heritage references will sit alongside the new indoor pool, elevator, ensuite bedrooms, modern kitchen, with views of the city replacing rural vistas. 'My Impossible House' will air on the 7 Network on Thursday 12 August at 8.30pm (NSW and Qld)