PNG leads to new life for Christine Gee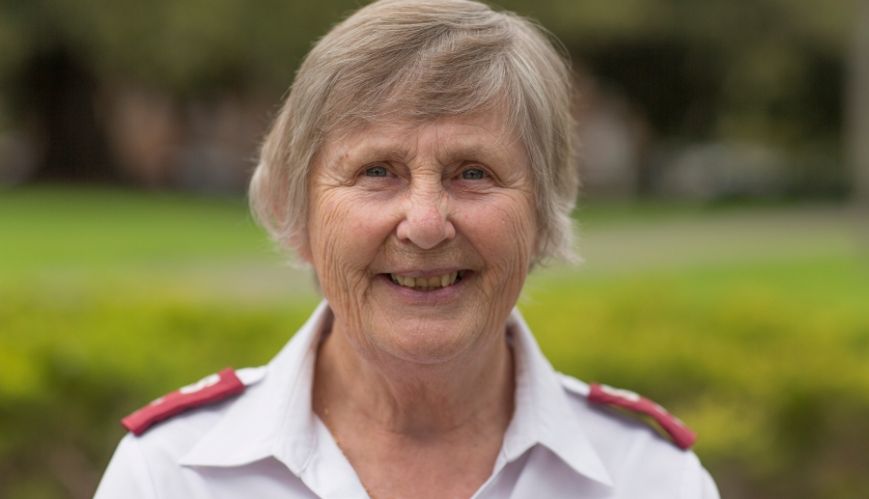 PNG leads to new life for Christine Gee
27 March 2017
When Christine Gee answered an Australian Volunteers Abroad (now Australian Volunteers International) ad for a trained nurse to work for The Salvation Army in Papua New Guinea, little could she have realised the impact that one simple act was to have on her life.
In her early 40s, single and living in Adelaide, Christine's passion for working in an aid role overseas had been ignited by a visit to Africa. She thought a "couple of years" helping out in a Third World country, while challenging, sounded like fun. 
That was the mid 1990s. Almost 15 years on and Christine's journey has taken her to a remote village in the highlands of PNG, a dramatic conversion to Christianity, Salvation Army soldiership and then, just five years ago, officership. Along the way she's "adopted" two Papua New Guinean children. It's been quite a ride for this quiet, unassuming, yet determined woman.
Dramatic conversion
Born in England, Christine emigrated with her parents to Australia at the age of 12.They settled in the small town of Lyndoch, about 60km north-east of Adelaide. Church was never a big part of her life; it was only ever something you occasionally did on a Sunday. So not only was it a big cultural shock when she arrived at The Salvation Army's health clinic in the PNG highlands village of Onamuga in early 1995, but the Christian way of life the community embraced also took some getting used to.
"The position at Onamuga was in community health and I thought at the time that it was either going to be the best or worst thing I'd ever done. I thought, 'it's only going to be for two years so I'm going to give it a try'," Christine recalls.
"Living up at Onamuga, going to church was the thing that everybody did, so I used to go along as well. For the first few months I didn't really understand much of what was going on. Not only did I not understand the way The Salvation Army service ran but the language, too, was a mystery to me. But something must have been getting through because I became a Christian in that first year I was in PNG."
Christine initially talks about becoming a Christian in a quite matter-of-fact manner. A little bit of probing, however, reveals the dramatic nature of her conversion.
"It was about August of that first year [in PNG] and the Army had a congress in Kainantu," Christine says.
"We were sitting out in the car park area of the divisional office, where the congress was being held. It was towards the end of the service and they were making the call [to the mercy seat] and having a time of prayer.
"I had my eyes closed, more out of politeness really, and then all of a sudden I had this feeling of a presence and I could sense in front of my eyes some brightness. I opened my eyes and I had a vision of Christ standing right in front of me with his hands out, saying 'come'. I was so frightened I shut my eyes again straight away. I now wish I'd kept them open and studied him more.
"It was a perfect vision of Christ standing before me. I was just paralysed, I couldn't move, couldn't do anything, couldn't say anything. 
"That same night, I had a similar feeling, not a vision this time but a similar feeling came over me and I knew I had to respond to it. That night I gave my life to the Lord and I cried for most of the night."
Change of focus
That experience, understandably, had a profound impact on Christine's motivation for being in Papua New Guinea. 
No longer was it about professional development; an adventure in a foreign country. She now knew that God had a plan for her life, that her future was in his hands and she was determined to surrender to his will. 
"I guess my work in PNG changed from being self-centred -- something I wanted to do for me -- to something I felt called to do," Christine says.
"If I hadn't had that experience, become a Christian, it's probable that I wouldn't be in PNG anymore; that I would have left many years ago."
But while a wonderful, life-transforming experience for Christine, for her family back in Australia it was an unexpected and somewhat confusing development. 
Christine's mum, who still lives in Lyndoch, had waved her daughter off at the airport less than 12 months earlier, anxious about what awaited her in PNG but comforted by the belief it would only be for a couple of years. It's taken her a long time to come to terms with the fact that Christine may never be coming "home". 
"My family deal with it okay, but the main thing is they don't really understand the motivation for me being here. They still feel it's something I'm doing because I want to do it," says Christine.
"My motivation for doing this is that I feel in my heart and in my soul this is where I'm supposed to be at this time … I just feel compelled to do it.
"For the first few years when I went home for holidays, mum would say, 'I thought you might be staying home now. Are you going back again?' That's settled down now and she understands that PNG is my home at the moment."
Call to officership
Salvation Army soldiership followed soon after Christine became a Christian. She continued to work at the health clinic at Onamuga before relocating to Kainantu when the service was transferred there.
She became more involved in the Army's social services work, but over time restlessness began to stir within her -- an unrest that would lead to Salvation Army officership.
"I really felt a calling that there was something more that the Lord wanted me to give. I'd become a Christian and a soldier but I just felt a deeper desire to serve him in whatever capacity he called me to," she recalls.
In February 2003, Christine became the first Australian to enter The Salvation Army Training College in Port Moresby, as a member of the Bridgebuilders session.
She was commissioned as Captain Christine Gee in December 2005, and is now the PNG Territory's Assistant Secretary for Programme -- Social. 
"I'm very grateful for the way my service here has panned out. I started off in Onamuga where you get very close to the people, very close to the community.
"From there I moved to Kainantu and then to Port Moresby, but I still have a heart for the people and the [remote] communities because I've lived that experience. 
"Having the opportunity to work with many people here over the years, I've got quite close to a number of them to the point that I feel like I have a Papua New Guinean family here as well. Especially as a single person, it's made me feel complete here rather than just someone out on my own."
A growing family
Adding to the sense of home for Christine in PNG is the "family" that now surrounds her.
Christine has "adopted" two children. They may not be officially recognised as her kids, but PNG culture, at times radically different to what is considered normal in Australia, would acknowledge her as their parent. 
Sibby, now 17, has been living with Christine since he was 8, while Delly, 25, moved in four years ago.
"It's a real privilege just to have the opportunity to have input into anyone else's life, whether they're your own children or someone else's children. Especially Sibby, he's like a son to me," says Christine.
Sibby still sees his natural parents a couple of times a year. They're good friends of Christine and it was they who suggested their son move in with his new "mum" nearly a decade ago.  
"Sibby's parents were working with me and he and his brother got to know me quite well. One day Sibby apparently went home and told his parents that he'd like to live with me," says Christine.
"With Papua New Guineans, family is such an integral part of life and your connection with other people is so important that it seems unusual someone would be on their own. So his parents were thinking that way and one day they spoke to me. They said that Sibby really misses me when he's not with me; he really wants to be with me so what did I think about him coming to live with me indefinitely?
"It might sound bizarre to people in Australia, but here in PNG, culturally, this type of arrangement is quite acceptable." 
Sibby, who attends The Salvation Army's high school in the Port Moresby suburb of Koki, has an obvious affection for Christine and speaks warmly of his relationship with her.
"I consider Christine to be my mum," he says. "She understands me better than anyone else and I feel more at home with her than with anyone else."
Delly, too, shares a special bond with Christine. She may have been an adult when she went to live at their Port Moresby house, but it didn't take long for a mother-daughter relationship to develop.    
"Delly is actually related to Sibby," says Christine. "She was in a situation where she was facing having to move back to her village, but it's in quite a remote place and she didn't really want to do that.
"I'd got to know her quite well, so I asked if she'd like to come and stay with me. She did and very soon she became like a daughter to me.
"Since coming to live with me, she's been able to finish her school grades 7 and 8 and now she's had the opportunity to be employed at the Army's child-care centre in Port Moresby and do a child-care certificate.
"Her life has really changed as well and it's a privilege to be able to see a young person develop like that."
God is in control
As for the future, Christine is content to leave that up to God. If that should mean serving the people of Papua New Guinea for the rest of her years, then there certainly won't be any argument from Christine. 
"It's in God's hands," she says. "But if I were to stay here for the rest of my life, if that's what God desires, then that's okay by me."
This article is taken from Pipeline Magazine's Women in Touch supplement, September 2009.