Praise for community spirit during bushfire crisis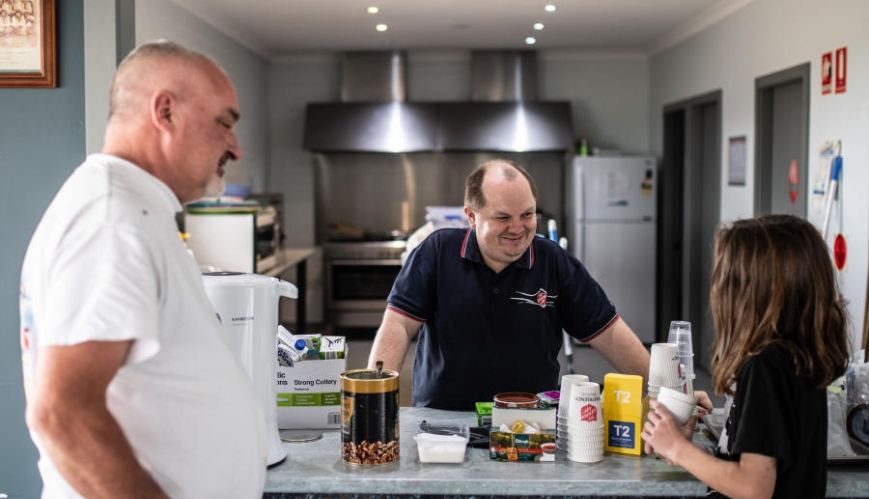 Praise for community spirit during bushfire crisis
13 February 2020
Batemans Bay Corps Officer Captain Ben Knight serves at the Batemans Bay evacuation centre on the NSW South Coast during the height of the bushfire crisis in January.
By Holly Reed
The widespread devastation caused by the recent bushfires has brought to light many issues and raised countless questions, but what is in no doubt is the incredible resilience, strength and camaraderie displayed by the communities affected.
That feeling of closeness – of experiencing something that everybody's experiencing, was what really struck Carol from Malua Bay (NSW) who had been evacuated to the Batemans Bay centre before the new year.
Carol and her husband Frederick spent over two weeks living in their caravan at the evacuation centre when the fires threatened their home and hundreds of others on the NSW South Coast.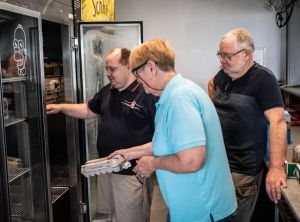 Batemans Bay Corps Officer Captain Ben Knight serves in the local evacuation centre with volunteers Carol and Frederick.
Volunteering at the centre on the first morning after she arrived, Carol noticed the overwhelming amount of people pouring into the centre and the growing need for more supplies. She offered her help to Ben Knight, a Salvation Army officer responsible for catering to the evacuees.
"Coming in here the first morning with Ben here, we just stood at the counter and said 'we need the loaves and fishes' because we had nothing."
The following days and weeks were a blur of long shifts preparing and serving food and organising and storing extra supplies. Throughout much of that time, they also had to function with no electricity.
"We had torches shining at the ceiling to give us light, and on the first Saturday we fed 1500 people that night," she said. "I think the last three or four [people] got spam sandwiches."
The community rallies
"The mayor came and she was wonderful," said Carol. "She bought a barbecue, came and helped us with her husband, made sure we got what we needed. After about a week working like this, we managed to get power on.
Members of the Greek Community volunteered to cook dinner at the Batemans Bay evacuation centre on the NSW South Coast on New Year's Eve after bushfires hit earlier that day.
"On New Year's Eve the Greek society here was supposed to have a party for 300 people but they cancelled because of the fires. They brought all their souvlaki, all their food down to the centre and they actually cooked for everyone that was here. It was just incredible."
A local Indian and a local Chinese restaurant each cooked up meals for 150 people on two separate occasions.
But there were also the people evacuating, donating their non-perishable food items from home to contribute to meals. The big supermarkets had also lost power and were supplying large amounts of produce.
"It was amazing how the food just kept coming," said Carol. "As I said the first day we asked the Lord to provide and he did.
"Some of the businesses in town lost their own homes but they were still giving away things from their shops," recalls Carol. "We had the carnival open up one day for free. We had a little cafe on the marina giving people free meals and coffees. It was just happening all over town."
Coordinated effort
When the army arrived, the soldiers and MPs sat at craft tables and played with the kids, entertaining them between shifts and providing a welcome distraction from the seriousness of the situation just kilometres away.
Emergency services would visit the centre twice a day to provide updates on road closures and areas that were off-limits. Even after the fires had burned through, roads remained closed as burned out trees were cleared.
"The actual after-work has just been amazing," said Carol. "The firies putting out fires, people working on the roads there. Even the electrical workers – wires underground had melted, so they were putting up new poles and new wiring. It's just been incredible."
Carol and Frederick spent days not knowing the fate of their own home, like so many others at the evacuation centre. But they were comforted knowing they had their photos and other keepsakes with them.
"Our house is there. We have a retaining wall and a Colorbond fence on top of it and that just exploded. Then the fire stopped two inches from our veranda with nobody looking after it. So the Lord was looking after us."
Strength through solidarity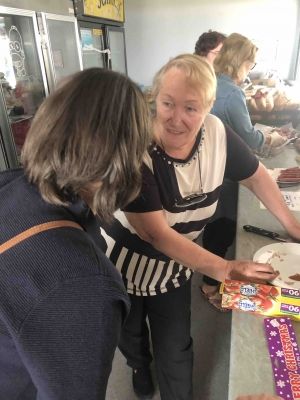 Batemans Bay volunteer Carol speaks with NSW Premier Gladys Berejiklian at the local evacuation centre in January.
"They've both [Carol and Frederick] been amazing," said Ben. "But it's been more than just the serving of tea and coffee and the serving of meals. They've been able to connect with people when people have come with tears in their eyes.
"They've been able to sit with people and not necessarily do a whole lot but be that listening ear and a hug when they're needed. For me, that's probably been the highlight of their service with us. They've been here every day since we opened the evacuation centre and no matter how much I try to say 'you need to take a break' they're like 'nup, what else are we going to do with our time? We'll be here where we're needed'."
"You can be handing someone a coffee and they break down in tears," said Carol. "It's just ... well ... it's been an incredibly emotional time. A woman walked into the centre before and said 'I'm having nightmares. I need to talk to somebody'. So this is going to go on for a while."
Having been evacuees as well as volunteers during the crisis, Carol and Frederick have witnessed a community coming together – supporting each other, lending an ear, offering a hug and pitching in to give what they could.
In this time, they have also seen some of the best of humanity shine through in the worst of circumstances. And as recovery efforts begin, that community spirit continues to strengthen as former strangers are forever bonded by this shared experience.