'Angels of mercy' a godsend for Project 614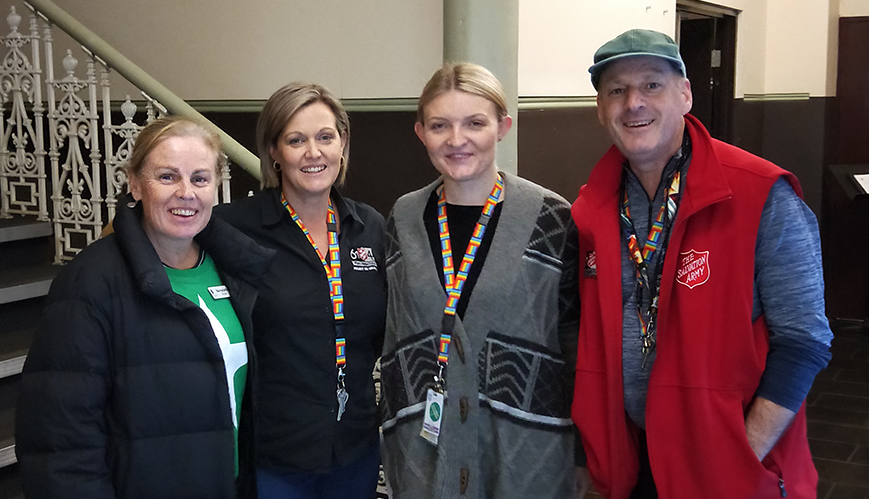 'Angels of mercy' a godsend for Project 614
12 May 2021
A partnership with St Vincent's Hospital means the community at The Salvation Army Project 614 in Melbourne receives holistic care. (From left) Bern Smith (St Vincent's), Carmel Ring (Project 614), Paisley Suggett (St Vincent's) and Barry Gittins (614 Marketplace Coordinator).
By Barry Gittins
The Salvation Army Melbourne Project 614 has thanked St Vincent's Hospital Melbourne for its continuing partnership and support of marginalised and vulnerable Melburnians. St Vincent's has extended its ongoing support through the work of embedded nurses Bern Smith and Paisley Suggett until 20 June.
Margaret Stewart, the hospital's Executive Director Mission, says "the relationship has been longstanding, but the formal placement of staff at 614 started in May 2018."*
"I'm super-impressed with our nurses and we feel very much at home with 614," she adds. "The community members who meet and talk with our nurses at 69 Bourke Street often do not want to go to hospitals, or to Emergency Departments (EDs), so Paisley and Bern have built relationships and trust with them, to help them where and how they can, and to encourage them to seek more help as needed.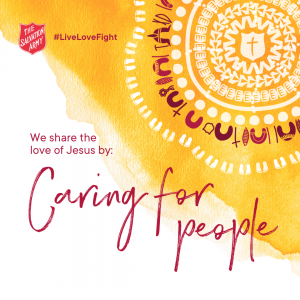 Paisley knows that building trust and respect is not easy, nor does it happen quickly. "This role is a shared life," Paisley explains. "We come back from a break and our clients have missed us – that's a dynamic I never had in ED (where Paisley worked for four years) and in children's hospital work."
Becoming an ongoing part of people's lives and being proactive beyond a hospital's environment are things that Paisley has become accustomed to. It has expanded her view of how people live and survive on the streets.

"Some of our people have been homeless for 30 years," she shares, "while some have only just become homeless because of a loss of job or income, or a failed marriage or ugly divorce.
Paisley's work on Bourke Street is helping her pursue research into the sexual health of homeless women. "When you work with this vulnerable group of women, ensuring sexual health and safety are part of operating holistically. And holistic care here at 614 is vital; 'our' health as middle-class people can be relatively easy, compared with people who are facing issues such as sexual violence, transactional sex and predatory behaviour."
Considering life lessons gained from her time at 614, Paisley says she has "learnt so much from our clients; it's very humbling to work with them". "A lot of our clients have complex relationships with substance use, and they don't want to be labelled, judged and embarrassed by having to tell their story, over and over again."
As Paisley aptly puts it, "Addiction is not choosy; it is insidious and cruel. There are things that happen in life that lead people to substance use and other coping mechanisms. There is no timeline or cut-off from grace. What sort of person could get up in the morning and say, 'No more, you're done'? Being here is an extension of who I am; doing this work is being true to myself."
Bern agrees with Paisley that building trust has been vital. "By talking the talk, we have made connections."

Bern has previously worked for more than 30 years in intensive care and ED wards and says she is "used to seeing people in crisis". However, she explains, "Before it was always on my terms. Here, we don't have the same rules and barriers but are engaging with people on the street. That has been a huge shift for me.
"I've enjoyed getting to know them and hearing their stories. We aren't pushy. We go at their own pace. It helps that I love a good chat," she laughs.
Multiple issues such as risk assessment, comorbidity, homelessness, ill mental, psychological and physical health, and addiction impact how her patients may greet her on any given day, Bern says.
"Without stable housing, all these other factors are worsened," Bern explains. "St Vincent's and the Salvos share a non-judgmental, compassionate sense of social justice – at 614 we all want the best outcome for our community members. You need to be a good communicator to do this work; you often have to be serious, but people also appreciate a sense of humour and the chance to smile."
As Bern has worked with individuals, sadly, she has seen long-term decline in some lives. "You see differences in clients' alertness," she explains, "and in their memory, physical and emotional health. The challenge for us is to identify what resources are available and what strategies are likely to appeal to the individual."
Rough sleeping, couch surfing, precarious employment and predation are not conducive to health. Bern knows that people's conditions can visibly be seen to deteriorate as they get knocked down by life.

Hope. The need for it, and the providing of it. These are pursuits that these hard-done-by Melburnians share with St Vincent's staff and the 614 Salvos.
"At 614 we are always looking to see what the underlying drivers are that leave people vulnerable," 614 leader Major Brendan Nottle says.  
"I've been involved at 614 for two decades and – tragically – I've seen people die as a result of basic but untreated injuries, such as an ulcerated sore that unseen and untreated led to a person's death.
"We've found that trust has to be built between an individual and a health provider," Brendan adds, "and Bern and Paisley do that brilliantly. They are some of the best people I have ever seen at establishing trust with people who have had their trust violated on multiple occasions throughout their lives."
* Margaret confirmed SVHM's investment between the establishment at the start of 2018 to 30 June 2021 will be $535,000. "Our projection for full-service delivery, going forward at current rates, is $320K p/a for salary and wages and non-salary and wages (e.g. medical consumables)."