Raelene's 'crazy' road from resentment to forgiveness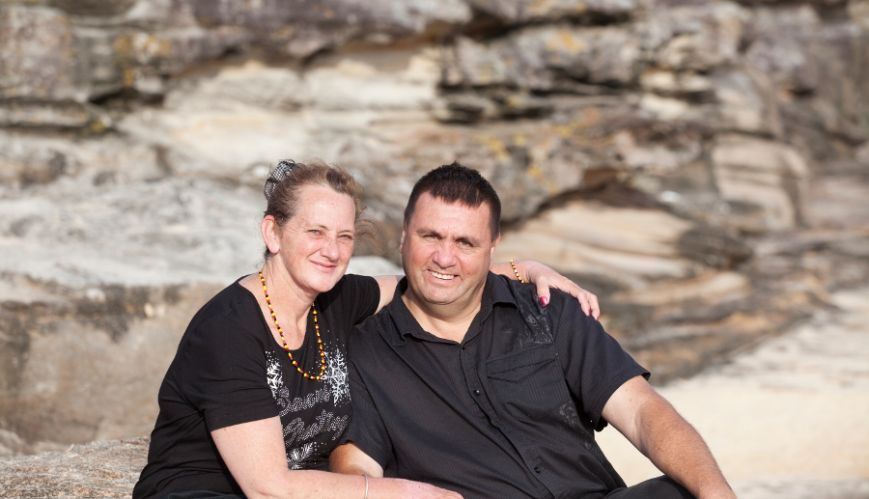 Raelene's 'crazy' road from resentment to forgiveness
24 March 2017
Raelene Corak has been angry with The Salvation Army almost all of her life.
As a child, she was told her family blamed The Salvation Army for the murder of her mother. She has always believed that. Some family members still feel that way.
The man convicted of her mother's murder in Sydney in 1971 did have a Salvation Army connection. Army records confirm that he was not an officer or envoy. But some Salvation Army members recall the man as a soldier at Waterloo and then Congress Hall Corps in Sydney for a few years. At his trial, the man was identified as a storeman and packer.
Newspaper reports indicate the trial judge directed The Salvation Army be kept informed of the man's progress. The man, described in the newspaper as a "God-fearing man", was found dead in his cell at Goulburn Jail the following year. Another inmate was charged with his murder. Raelene was 18 months old when her mother was murdered. She had little to do with her father and hasn't seen him for 30 years.
She was taken from her family after her mother's death and spent the next few years moving from one children's home to another – mostly homes run by the Catholic Church.
At 14, she ran away from a home and lived on the streets and with friends. By 18, she was living with a girlfriend. She got a cleaning job at a Sydney suburban hospital. At 19, she had her first child. Raelene married at 21 and had a second child. She says she only got married to provide some security for her children.
"I married more for convenience than love," she says. "It wasn't a real marriage." She had a third child in the marriage, but then separated from her husband.
The next 18 years were "crazy". She lived wherever she could find somewhere to rest her head. It could be on the streets, in cars or with friends or family. Sometimes, she would return to her former husband "just because it was convenient". Sometimes, her children stayed with her; sometimes they stayed with their father. One son was in jail by the time he reached 15. "There wasn't much purpose to my life, then," she says.
Meeting Frank
Two years ago, she met Frank Edwards, whose life story – certainly the first few years – in some respects, was not dissimilar to her own.
They met through an agency that assisted Aboriginal people who had been taken from their families as children. Frank was taken from his mother when he was two-and-a-half. His father had been murdered. He was placed with a family, who later adopted him.
Frank's life with his adoptive family was good. The family had strong church connections. Frank attended Sunday school as a child and stayed in the church as he grew. He married in 1998 when he was 32.
Frank was successful in property investment. But he began drinking and gambling heavily. His marriage ended in 2011. It was, says Frank, an amicable separation. Frank felt guilty about the impact of his drinking and gambling on his marriage and left with nothing to show for his years in business.
Some years later, he met Raelene as they, along with other Aboriginal people, were provided with an opportunity to better understand and deal with separation from their birth families.
Raelene and Frank's relationship blossomed in late 2015, but there were still serious interruptions to Raelene's life – more homelessness and stress. Frank intervened on Raelene's behalf, taking her case to the very top of the government department and ministry he believed should be supporting her.
In July last year, Raelene was offered a government house at Maroubra, on Sydney's eastern beaches. She gladly accepted the offer. Raelene needed furniture for her new home. Despite her negative attitude toward The Salvation Army, she and Frank called at the Army's Maroubra centre seeking assistance.
"It was a Monday morning," Raelene says. "We were invited to stay for breakfast. People were really friendly and helpful. I met Matt and Jacqueline Gluyas (corps team leaders). We formed an almost immediate bond."
Raelene was invited to a Sunday morning service. She was invited to a weekday prayer meeting. She has been a regular at both events ever since and is now part of the corps community helping others. "I was amazed," she says. "I was a victim of the past. I had a lot of resentment, especially for what happened to my mother. But I now had a connection with Matt. I was a spiritual sort of person. I had been raised by Catholic nuns. Matt listened to me and he talked with me. I began to realise that I needed healing to forgive the past. I hated the world. I hated The Salvation Army."
God's grace
She reached a position where she could – and did – forgive The Salvation Army. "All the weight I had been carrying almost all of my life was lifted from me when I did that (forgive)," she says. "I have given it all to God. I have God in my life now. I thought that I wasn't worthy of God's forgiveness for me. But Matt has shown me that I am forgiven; that it's God's grace and not my worthiness that does it."
Raelene and Frank recently became engaged. He is saving to buy Raelene a ring. They plan to marry this year. "We want our wedding to take place at the Maroubra Corps, with our friends we see every week," Frank says. "They are our family now. They love us and we love them."
While Raelene believes that she has dealt with her past hurt, Frank confesses that he still has a way to go, especially in understanding how and why he was taken from his mother. "Forgiveness is not coming easy for me. There are still issues to resolve, for me. I have learned to be thankful to God for putting me with such a good (adoptive) family, but the whole Aboriginal children being taken from their birth families still causes me anxiety.
"I still don't feel as close to God as I did when I was younger and active in my church life. But I am taking active steps toward the point where I know that God has forgiven me. I think I am getting closer to God every day, with the help of my friends at The Salvation Army. "Where I am today, I think, has to be in the will of God. Raelene and I have each come a long way and we are grateful to God and the people at Maroubra for making this possible." 
Bill Simpson is a contributing writer for Others magazine.