Raised for the down and out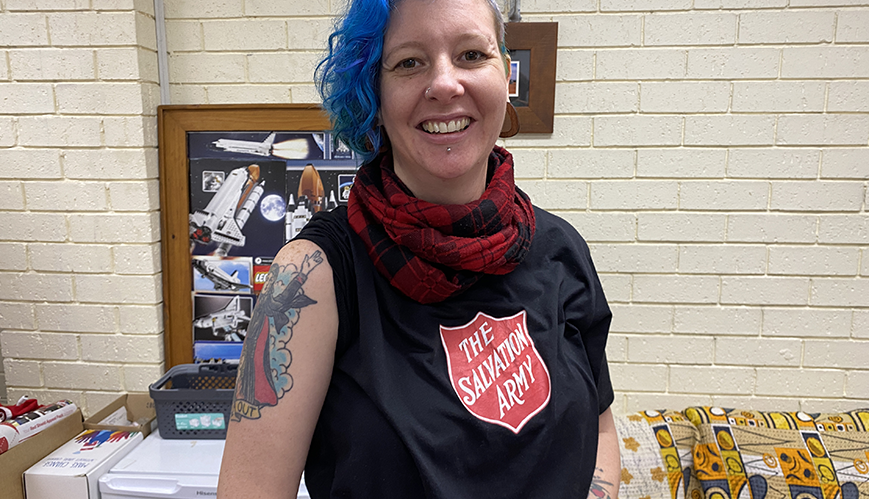 Raised for the down and out
2 July 2021
Captain Katie Ryan lives and breathes The Salvation Army's mission to show Christ to the down and out – and every day, she is reminded of it through The Salvation Army World War One-inspired tattoo on her right arm. Photo: Simone Worthing.
By Jessica Morris
There's something magnetic about Captain Katie Ryan. Naturally, it's her hair that first stands out to me – it's Salvo blue the day that we chat and ties in nicely with the red shield on her t-shirt.
Katie's Salvation Army-inspired tattoo is based on the 1919 World War One illustration by Frederick Duncan for The Salvation Army's Home Service Campaign in the United States of America.
But it's not simply this, or the amazing tattoos spread across her arms, that captures my attention. It's the way she holds herself. And even over a Zoom call affected by a dodgy internet connection, I can sense the mantle of authority on her life.
"So tell me about this Salvation Army-related tattoo," I say to her. "Is it of Catherine Booth?"
"There's debate," she tells me. "I think it's just some random Salvation Army lady!"
Whoever the lady is, she is powerful. The tattoo depicts a female Salvationist covering a child with her cape, and the words "A man may be down, but he's never out!" implore the reader to remember the mission of a movement while the world is rebuilding. Now on Katie's arm, they remind her of this mission daily.
"That's my belief in people, that no one's ever too far gone," explains Katie, who got the tattoo in 2012. "I love that idea for The Salvation Army too – that someone's never too far out for us to help them."
Today, Katie is the Corps Officer at Pakenham Corps with her husband, Matt. But before they and their children became Victorian residents in January, they lived in Australia's Top End as Corps Officers at Palmerston. During this time, Katie was also Divisional Justice Coordinator for a year.
She and Matt also spent time at Queanbeyan Corps in NSW after being commissioned in 2012 and were mission and ministry directors at the Dooralong Transformation Centre on the NSW Central Coast, assistant to managers at William Booth House in Sydney, and Katie was an assistant officer at Sydney's Eastlakes Corps. And that's not even mentioning the time she spent prior to officership in the US as a youth pastor, after meeting Matt at a Salvation Army Youth Camp in Spokane, Washington state.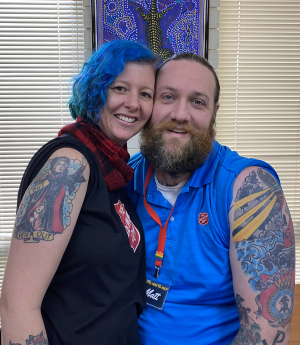 Captains Katie and Matt Ryan met at a Salvation Army camp in Spokane, Washington. Equally partnered in their work, they both have Salvation Army-inspired tattoos. Matt's is inspired by the 1890 'Hope For All' illustration from William Booth's Darkest England and the Way Out.
But while her tattoo would suggest otherwise, officership hasn't always been an obvious choice for Katie. As an officers' kid, she grew up in the Salvos. But she openly recalls running from the calling.
"I remember being a teenager at a tri-territorial conference and feeling the call to officership, but I spent many years trying to prove I could be in full-time ministry without being an officer," says Katie. "It wasn't until I was 24, and Matt brought officership back up, and I couldn't run from that call anymore."
It's important to note that Katie's version of running from her calling was less 'Jonah and the whale' and more Elisha ploughing the fields before he followed Elijah – because Katie has always poured her blood and sweat into the fields, so they are ready for harvest.
"I was in great jobs – I was primary school chaplain, and later a youth pastor, but there was always something missing – a step to who God had called me to be in the way I was designed. So it wasn't a big, dramatic thing to go to [Salvation Army] training college; it kind of felt like the right next step," Katie says.
"I don't have any memory of not being with Jesus. There's no big moment; it's always been there – a relationship and steady faith.
"I've always known I was a leader. I was fortunate to have a really good kids and youth pastor in our corps who saw my leadership ability when I was eight – and they had me helping out at Kids Club and being on the worship team early.
"By the time I was 13 or 14, I was running youth groups, and at the 16/17 mark, a group of us developed a divisional youth church that ran once a month! It all comes back to the fact I was so blessed to have people in my life who spoke words of encouragement and really drew out those [leadership] giftings to develop them."
Her commitment to leadership explains Katie's first tattoo – an owl on her inner left arm. Below is Katie's life verse, 2 Chronicles 1:10, when King Solomon asks God for wisdom.
"I want to be the best leader I possibly can be. Especially when it comes to God's wisdom versus humankind wisdom," she says.
After our time together, it is clear to me that Katie has been called to the mission field as a leader. But I decide to ask a taboo question – something that I know Katie is more than happy to grapple with.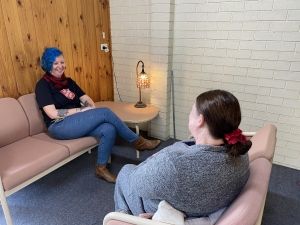 Katie sees her God-ordained ministry as a calling and has witnessed people experience the "mother heart of God" through her leadership as a female.
"Why did you choose The Salvation Army as the vehicle to fulfil your calling?" I ask. "You could have – and were – living out your calling. Why become a Salvation Army officer?"
"God has created me as an advocate, and I felt officership gave me a seat at the table for system change," she says. "I want to be part of tough conversations about why things are broken instead of giving up." 
I am grateful for Katie's candour because her honesty comes with conviction and action. And that is when I know I have chosen the perfect person to profile for Founders' Day. Because on 2 July 1865, William and Catherine Booth, equally partnered, forged a movement of tangible salvation in East London – a movement based on the Gospel of Christ, to create a church for the down and out.
Which leads us to Katie's final answer to my question: Why The Salvation Army? And naturally, it all comes back to the Salvo tattoo from World War One that started our chat.
"When the world was in crisis, The Salvation Army was there practically supporting [people], but with this ethos of, 'We do this with the love of Jesus.' Our job in The Salvation Army partnered with the Gospel is to actually say, 'I see this is you. You are not too far gone'," says Katie.
"We are not raised to be the megachurch; the beautiful, pretty, middle-class church. We are raised for the down and the out. This tattoo reminds me that there's no one who is ever too far gone in God's kingdom."