Renae's passions are fast cars and improving lives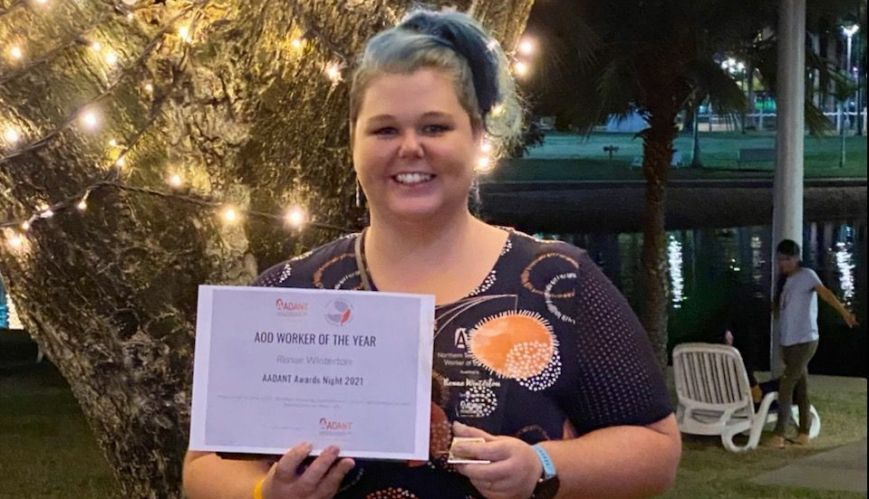 Renae's passions are fast cars and improving lives
16 June 2021
Renae Winterton, a clinical coordinator at The Salvation Army Sunrise Centre in Darwin, has been awarded the 2021 Northern Territory Drug and Alcohol Sector Worker of the Year.
By Darryl Whitecross
Renae Winterton is 100 per cent committed to her role as a clinical coordinator at the Sunrise Centre in Darwin ... except when she hears the rumble of a V8 supercar engine.
"My passion is motorsport," she admitted.
Growing up in Victoria, virtually a 'stone's throw' from the Phillip Island Grand Prix Circuit, Renae has always had a soft spot for motorsport. "One thing we always did [as a family] every year since I was little tacker was to go to the [motor] races," Renae said.
She and her husband Adam spent part of their courtship trackside at the famous Bathurst circuit: "We went to Bathurst together not long after we met and we thought: 'If we survive Bathurst together for 12 days, we're probably set for life'."
Despite Renae being a Holden girl and Adam being a Ford man, they have compromised and, although still having a 'Commie' (Holden Commodore) and once having "given myself a birthday present one year of a 6-litre SS Commodore ute", they have a "more practical" vehicle in a Toyota Prado, which they use for their many camping trips.
Renae's other passion is helping people through their addiction to alcohol or other drugs, something she loves doing at the Sunrise Centre.
This passion has resulted in her being presented with the Association of Alcohol and Other Drug Agencies Northern Territory award as the 2021 AOD Worker of the Year.
When being interviewed for this article, the V8 Supercars and support categories were about to roll into Darwin for the annual Darwin Triple Crown at Hidden Valley. "Where we [the Sunrise Centre] are situated here in Berrimah, we can hear the track from here. Sometimes I'm sitting here, and I can hear the cars or bikes going around, and I wish I was there," Renae said.
We digress.
Renae, who worked in a similar field in the Gippsland region of Victoria before moving to Darwin about four years ago, described it as a privilege being able to "share the journey and walk alongside people at a time in their life when they're at their most vulnerable ... addiction does not discriminate against anybody."
"Everyone here [at Sunrise] is very compassionate and wanting the best for that person and seeing them improve their life and their health and well-being," she continued.
"Having some sort of positive impact on people is very motivating and an honour. We might not see some of the results straight away, but later on, down the track, we might. You hear some fantastic stories and some not so good, but that's the nature of the beast sometimes.
"We've got a fantastic team here and Lorraine [Butler] is an amazing manager. Everyone is working together supporting each other but also supporting the clients together." 
The centre supports people from Indigenous and remote communities and people from other culturally diverse backgrounds. The Sunrise Centre needed flexibility around that with program delivery and an understanding of culture and cultural needs.
Empowering the client
The Sunrise Centre is also a haven for people experiencing homelessness. The centre is a 55-bed facility, with 30 beds for the homeless and 25 AOD beds, and the two programs coexist well.
The AOD facility provides a 12-week program for clients, which is a good length for many clients – after which they graduate – but not long enough for others. Still, the flexibility in the program allows for people to stay longer if required.
"It's not a problem either," says Renae. "It's about when they're ready. We're dealing with people who have significant historical trauma as well, so the 12-week program [is a space] allowing for them to grow, to feel comfortable and provide holistic care.
Renae said many clients had missed out on many of the little joys in life. She said staff were regularly asked, "'Why are you so nice to me? Why do you treat me so nice?' Our response is, 'Because you deserve it'. They're just not used to experiencing something simple like a compliment."
She said staff worked together to "empower the client and build them up" and the collaboration between the Sunrise Centre and other Army streams and programs "is really good".
Award a 'team effort'
The AOD award is presented to a worker in a non-government organisation (NGO) or partnered with a non-government organisation "who shows commitment, drive, perseverance and dedication to the role."
Renae said: "We all do that".
Lorraine said the centre could not have been more proud that Renae had received the award, describing the news as "grand".
The award was presented to Renae at a function held at the Waterfront Restaurant Wharf One in Darwin on 19 May.
"It is my pleasure to congratulate Renae on being presented with the [award]. This is a great achievement for Renae, who has worked in the industry for many years and is very knowledgeable, passionate and dedicated in the role of clinical coordinator and the AOD field," Lorraine said.
Lorraine said other staff at the centre and case workers were also nominated for the same AOD award. "We make an awesome team, and it's the teamwork [and] devotion that all staff put into Sunrise Centre that makes us unique and special," she said.