Royal wave still a standout for long-serving Penni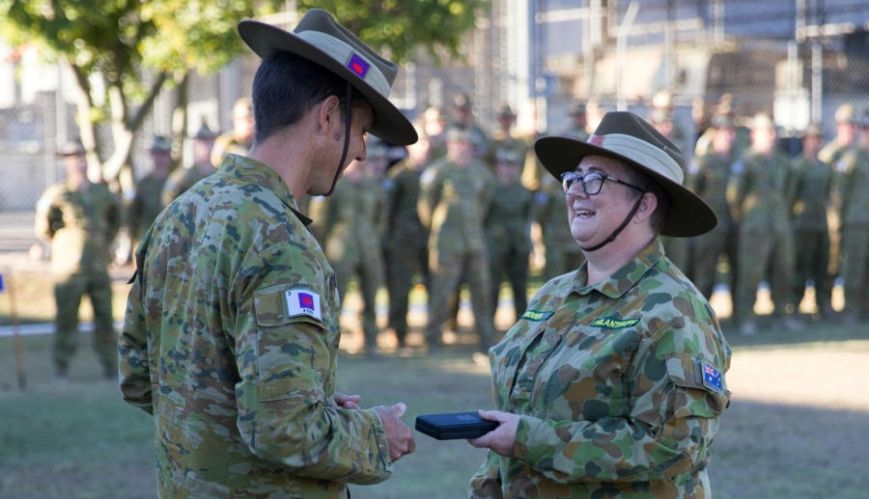 Royal wave still a standout for long-serving Penni
13 September 2021
On parade: 3rd Combat Engineers Regiment Commanding Officer Lieutenant-Colonel Ken Golder presents Red Shield Defence Services senior representative Major Penni Roden with her Australian Defence Force 15-year service medals at Lavarack Barracks in Townsville.
By Darryl Whitecross
Major Penni Roden says a wave from Queen Elizabeth II has been one of the highlights of her dedicated service with The Salvation Army Red Shield Defence Services (RSDS).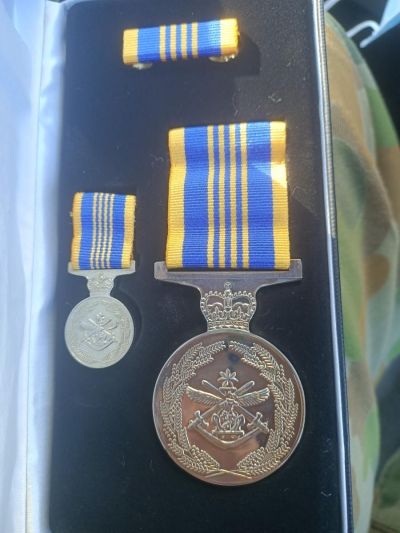 Major Penni Roden's 15-year Australian Defence Force service medals.
An RSDS senior representative at Lavarack Barracks in Townsville, North Queensland, Penni recently received her Long Service Medals marking 15 years with the Australian Defence Force (ADF).
But it was an occasion in 2011 that stands out for Penni. She and her husband Nigel were in Canberra at the Royal Military College (Duntroon), where Queen Elizabeth II presented new colours as part of the college's 100-year celebrations. 
"I didn't get to shake her hand, but I did receive a wave," Penni said.
Penni added that she would have missed the occasion but for her parents, who had travelled to Canberra from Toowoomba (Qld). "Eli [Penni's son] had his tonsils out the day before, so my dad went and sat with him at the hospital so that I could go and see the Queen."
Another highlight, says Penni, was in 2006 when Nigel went to East Timor as an RSDS representative. He was deployed with 6RAR (6th Battalion, Royal Australian Regiment) from Gallipoli Barracks in Brisbane.
Penni said the experience of that time in her life set her on a ministry path that is her "bread and butter" today.
"I was incredibly well supported by ​my corps family at North Brisbane Salvos during that deployment. I had a couple of pregnancy-related issues, and the ladies from the corps fed me and just made sure that Noah [their eldest son] and I were being cared for while Nigel was away," she said.
"This has actually been really foundational for me in my RSDS ministry because I received blessings for my family and support for my family, and so that has given me opportunities to do that in return."
Medal ceremony
Penni was presented with her long-service medals by 3CER (3​rd Combat Engineers Regiment) Commanding Officer Lieutenant-Colonel Ken Golder at a Unit Parade on 5 August.
She said the parade was a little less formal than ceremonial parades, "however, etiquette still exists ... they call your name out, and you have to step out of position and march to the spot and exchange salutes with the CO. He actually has a few little words to say one-on-one, and then, following the presentation of the medal, you step back, offer another salute and march back to position."
Penni was accompanied by Nigel, who also recently earned his 15-year service medals, and their youngest of three sons, Jacob, ​who turned 12 the previous day. Fellow RSDS senior representative​s Major Garry Johnson ​and Envoy Greg Curnow ​also attended.
"I am really pleased to receive a 15-year long-service medal because it represents 15 years of sacrifice and living life alongside ADF members and their families who go through extraordinary hardship," Penni said.
Ministry to families
Penni's ministry is primarily among families of ADF members, particularly spouses. She said it was important that families were appreciated and supported. "That's my bread and butter. That's the thing that I do best in my role," she said.
While principally attached to 3CER, she does support other regiments, as well as the Soldier Recovery Centre in Townsville: "There are too many letters in my job," she chuckled.
Penni said it had been "very eye-opening" to work with families processing the loss of a loved one killed in action or who had sustained severe injuries in theatres of war – "people that we knew personally" – and to support those back at home.
Penni and Nigel have been Salvation Army officers for 20 years, having been commissioned in 2000. Their three boys are Noah, 18, Eli, 14, and Jacob, 12. "We got married on the way to our first appointment at Atherton Corps (Far North Queensland)." This was followed by ​three years as corps officers at Calamvale in Brisbane before beginning their appointments with the RSDS. They started at the Gallipoli Barracks in Brisbane before heading south to Duntroon in Canberra. Then Townsville, where they have served at Lavarack Barracks for the past eight years.