Running the race a matter of faith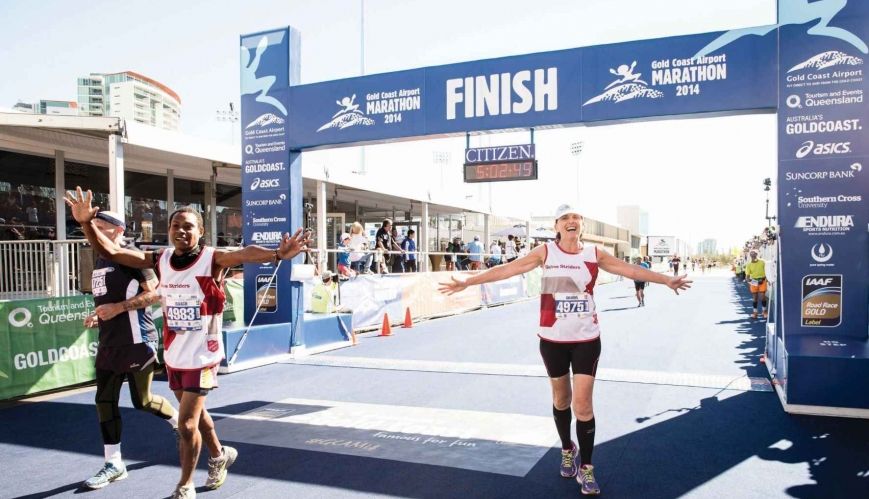 Running the race a matter of faith
29 August 2021
Sharon Callister (right) crosses the finishing line during the Gold Coast Marathon.
Sharon Callister was CEO of The Salvation Army's Aged Care Plus for 10 years (2008-18). During that time, she led her team to build a strong, vibrant and sustainable organisation that won national and international awards for the programs it ran. Sharon also introduced a wide range of new initiatives, including developing emerging leaders from Papua New Guinea through a leadership program that included running the Gold Coast Marathon. Sharon is also an accomplished sportswoman and ultramarathon runner and has completed endurance events around the world – including in the Sahara Desert and Arctic Circle.
Sharon, who maintains contact with the Salvos, shares some of her life journey.
I was born in Northern Ireland in a town about 40 minutes outside of Belfast. We moved to Australia when I was 13. It was an amazing opportunity for our family to come to this incredible country. I spent my teenage years growing up on Sydney's Northern Beaches. I lacked a lot of confidence in my ability in those years and was quite introverted.
At that time, I was training three days a week in gymnastics. I moved into swimming, a bit of running, and teams sports. Sport made me feel really good and was a way for me to make new friends as well. I got into surf lifesaving and was one of the first women back then to be eligible for my Bronze Medallion lifesaving course. I completed advanced resuscitation certificates and became a trainer.
After school, I trained to become a registered nurse. I was around 27 when my wonderful husband encouraged me to complete Year 12 maths. I went on to do a bachelor's degree in health administration and then a master's degree – between working and having a baby.
Sharon Callister maintains contact with The Salvation Army after having served as the Aged Care Plus CEO for a decade.
My faith wasn't strong in those days and far less important to me than it is today. I worked for the Australian Red Cross and then for an aged care provider in Victoria before returning to Sydney and working for the Salvos. My faith was growing, and I felt very comfortable with a Christian organisation.
I've run marathons and ultramarathons around Australia and in many places overseas. I love distance and endurance events. I guess you could say I'm on an extreme marathon journey. Two years ago, my son, then 23, joined me for seven days of running in the Sahara Desert in Morocco. Together we ran 250km. He will also join me at the next event I'm training for in Whitney, California. And my husband, even with a hip replacement, is planning to run with me – COVID permitting – in the New York Marathon.
Extreme adventures
I love to test my limits, not just live in my comfort zone. And if you want to test your endurance and you love outdoor sports, then naturally, you're going to attempt some of those extreme events.
After the Moroccan ultramarathon, I decided to do a 230km event across the Arctic Circle. This was the most challenging endurance event that I've done by far.
Running has absolutely made me a better leader. When you're really testing yourself, you think you've reached rock bottom and have nothing left and, somehow, your body responds. And that does give you a sense of confidence, calmness, self-belief and courage. And I think courage and leadership go very well together.
Faith journey
My faith has come to life more over the past decade. It has grown phenomenally and has changed me. I really believe that God brought me to the Salvos. I felt from very early on that I was coming home to a family I never knew I had. I loved the fact that prayer and worship were a part of every day in those times. And it just made me feel very confident, very warm, grateful, loved and supported to do my job.
If I were talking to my teenage self, I would say, really look inside and develop your own self-confidence and self-belief because, when you have that, you can see so many more possibilities for your life. I would also say to really value your faith – it makes you a stronger person and gives you purpose.
For me, the purpose has always been about becoming stronger and better, and also contributing and serving others. Impacting lives is what makes me feel like the richest person in the world.