Spiritual vision for Tasmania captured on canvas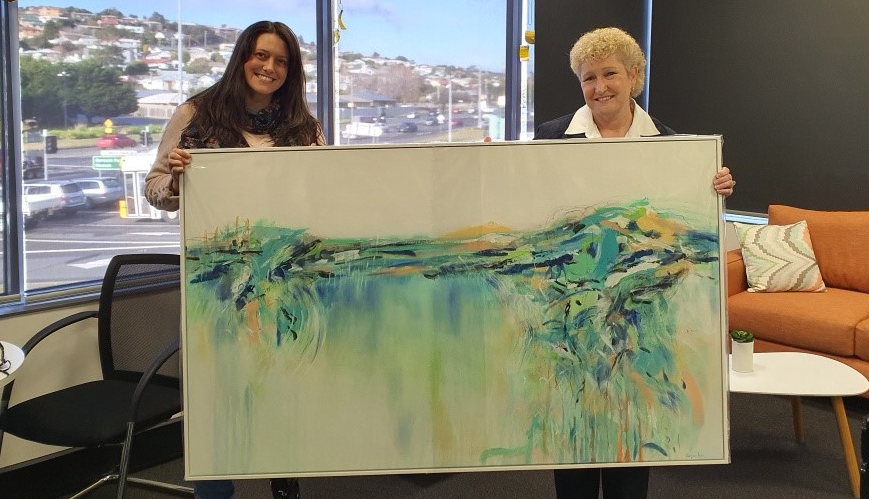 Spiritual vision for Tasmania captured on canvas
12 October 2021
Artist Candace Huber and Captain Kim Haworth hold up the first prophetic artwork depicting God's work in Tasmania called 'Breaking Through'.
By Jessica Morris
When Captain Kim Haworth received a prophetic vision from God in August 2018 regarding her new appointment as the Tasmania Divisional Commander, she knew change was coming. Three years later, and after witnessing faithfully to this vision, it has been commemorated in three artworks depicting the Tasmania Division's spiritual journey.
Painted by Candace Huber, the Volunteer Resources Advisor for Tasmania and Coordinator of the state's Organic Faith Expression Network, Kim commissioned the artworks titled 'Breaking Through,' 'Heart Matters,' and 'Catching Sparks'.
"I commissioned Candace to paint the three pieces for our DHQ [Divisional Headquarters] because she is a wonderful artist and because she has shared the journey of how God is leading us here in Tasmania," said Kim, adding that the artworks were signposts to God's faithfulness in the southernmost state.
Breaking Through
"The first piece, 'Breaking Through,' represents the vision the Lord gave me in August 2018 after I was advised of my appointment. In one of my prayer times, I had a vision of the island of Tasmania. As I was marvelling at the vision, I saw a wave coming from the north-west diagonally across the island," recalled Kim.
"It looked a lot like a tsunami, but I knew in my spirit that it wasn't destructive. I felt the Lord say to me, 'This is my Spirit. I am going to bring revival and renewal to Tasmania.' That promise has driven my leadership of the state ever since!"
Heart Matters

The second piece, titled 'Heart Matters' was inspired by a prophetic word of repentance Kim received in October 2019 after a conversation with Major Kevin Lumb, Area Officer for North Tasmania. He had received a word from years before, 'Be the people of God as you were always intended to be, not necessarily as you have become. Build my Kingdom.'
"As soon as Kevin said those words to me, it was like a lightning bolt into my spirit, and I knew the next part of the journey for Tasmania was repentance," said Kim. "As I continued to seek the Lord about this repentance journey, he gave me a prophetic word in the middle of the night calling The Salvation Army to repentance and back to our first love."
For Kim, 'Heart Matters' represents the daily journey of surrender and obedience she and the division are called to take. She believes this word was given to her for the wider Salvation Army also, and the painting acts as a reminder to continually reorient our hearts towards God.
Catching Sparks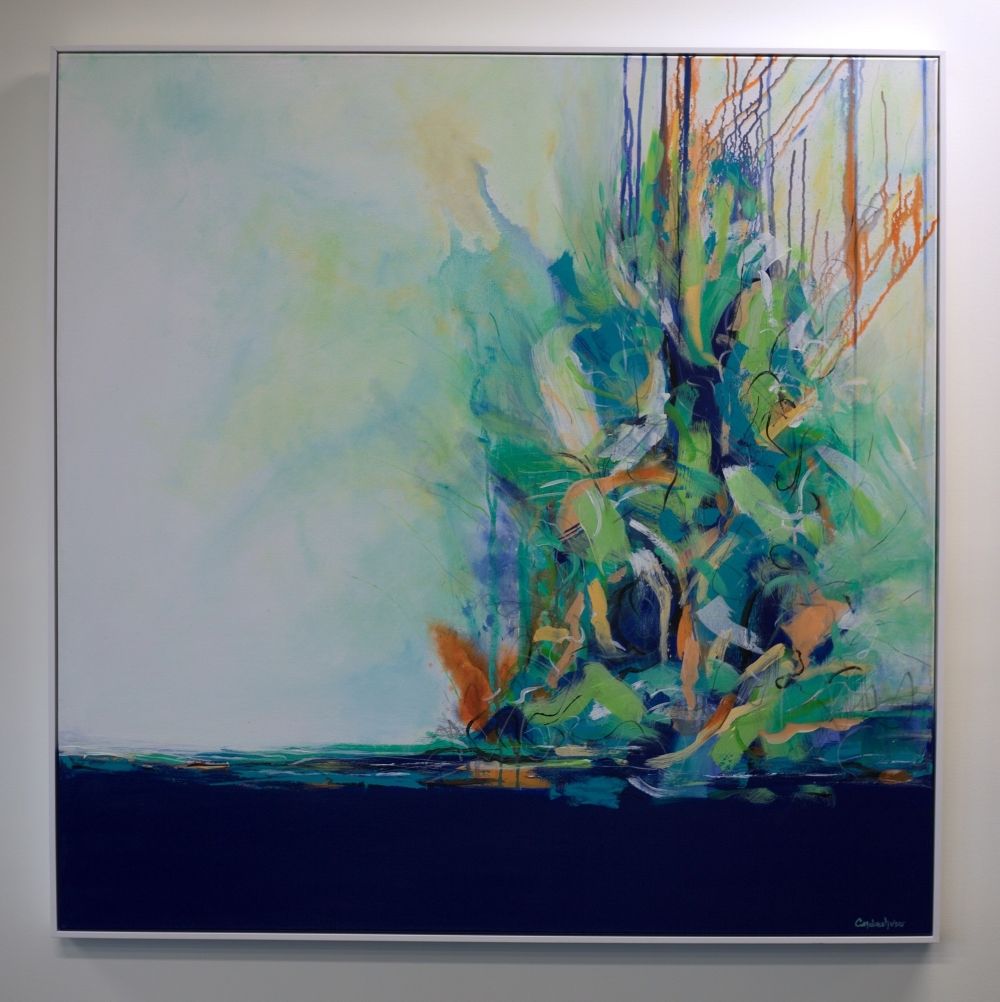 The third artwork, 'Catching Sparks', is a present and future depiction of God's work in Tasmania. Kim says it represents a call to, and fulfilment of, spiritual renewal.
"It's an image of revival and of us, as repentant and expectant people, catching the fire of the Holy Spirit and fanning into flame our love and lives dedicated to the pursuit of God and his purposes," Kim said. "It is the fire of the Holy Spirit that refines and empowers us to be the people of God, just as he intends us to be, and to do all that Jesus did and more in his name, as John 14:12 states!"
The fruit of faith
In the past three years, Kim and the divisional leadership team have witnessed God's word coming to life through actions such as the state Reconciliation Action Plan and the development of the Organic Faith Expression (o.f.e) Network. These are pivotal to Tasmania's mission plan and creating hubs of purpose-built, co-located services in areas of geographical strength. These mission expressions are "places where people come together as family to live out The Salvation Army shared mission in community, committed by faith in Jesus Christ."
Examples of o.f.e and vibrant co-located mission can be seen right along the east coast of Tasmania, the Huon Valley, and in major cities like Hobart, Launceston, and Burnie.
As the Tasmania Division moves forward in its walk with God, the prophetic artworks drive home the need for God's people to make disciples, and as Kim says, "not be satisfied with anything less". She reflects that in the midst of Australia One and COVID-19, the Army continues to grapple with a changing spiritual landscape and the need for us to seek God first wholeheartedly in the pursuit of his Kingdom.
"I believe the Lord has given us an invitation into our future – that of renewal and revival by his Spirit. That wave is coming across Tasmania – whether we are part of it or not is entirely up to us," said Kim.
One thing is clear – with these images on the walls of DHQ, Tasmanian Salvos will be constantly reminded of God's call to participate in his mission. And Kim says, "this is our focus – no matter what that looks like on the ground".
"I am so incredibly blown away by God's grace over us as a movement and the kindness of his heart in continuing to woo us to pursue his Kingdom first and fulfil our destiny as his Salvation Army!" she said. "We have incredible social work and amazing opportunities to strengthen our spiritual impact through local mission delivery. I pray we will take hold of this and really go for it!"