Strategy is vision in action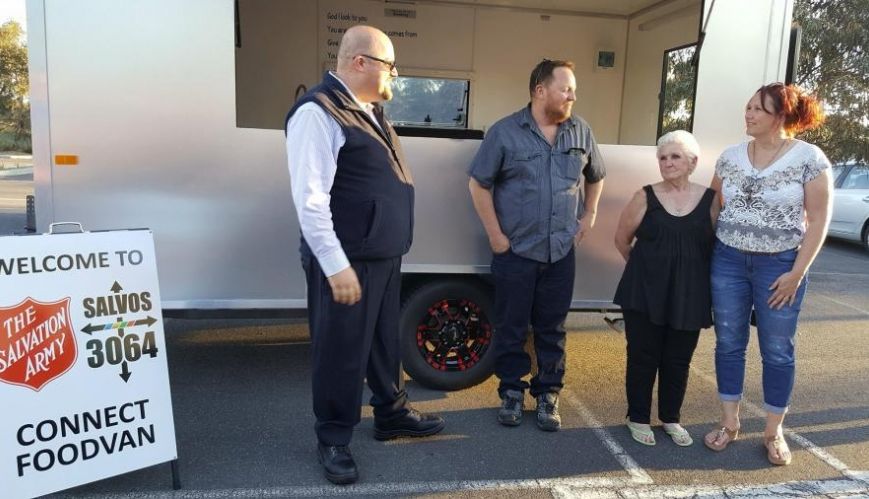 Strategy is vision in action
10 August 2018
Craigieburn Corps Officer, Captain Pete Brookshaw with Terence who donated the trailer for the corps community ministry along with Di who runs the Craigieburn Salvos community meal and Terence's wife Susie at the launch of the Connect Van last year.
By Pete Brookshaw
We were getting our food van ready to serve soup.
A lady in her mid-30s saw The Salvation Army T-shirt and approached us. With a sunken look on her face she described how she'd been couch surfing for weeks, and that she needed to find sustainable housing. She had fled an abusive relationship and had not been able to get back on her feet.
This lady wants a holistic response from The Salvation Army. She doesn't care if we label ourselves as "corps", or "social". She just wants help from us. That's why our new National Strategy includes an imperative to deliver holistic mission.
Consider dealing then with the affordable housing crisis. Strengthening the Army's voice on national issues will make a real difference. That's one united voice to peak bodies of influence, state and federal governments and other stakeholders.
When considering this lady's plight, I wonder how we can learn to be a follower of Jesus in that context. We are intent on making disciples (also part of the strategy) within the ministry of The Salvation Army and those conversations can provide opportunities to integrate our faith in Christ with every day interactions.
Let me give you another story. I went to the optometrist once and had a test. I was excited when I received my new glasses. As I wore them I wandered around the shops, but found myself rubbing my right eye continuously. I travelled back to the optometrist and questioned why my glasses were out of focus. The man behind the counter looked at me and said, unequivocally, "Sorry, we put the wrong lenses in!"
God has given The Salvation Army a new set of glasses! We can see with clarity, for instance, that we must foster Christian spirituality in our movement. Take, for example, one of my local thrift shop volunteers named Andrew. Andrew is in his 40s, and while he's looking for full-time employment he's been helping regularly in our shop. How do I nurture Andrew in his faith in Christ? Is there something I can do to help his faith flourish?
Furthermore, how do I focus our efforts in our thrift shop and utilise our resources for greatest impact? Andrew has helped us recently in a working bee at our shop. While I ate the homemade biscuits in the tea-room (I was trying to empower the volunteer that made them), Andrew was tirelessly focused on improving the quality of the thrift shop.
It's volunteers like Andrew that we celebrate across Australia, who possess a deeply compassionate heart and a genuine passion for making a difference. One question we are asking in Craigieburn is, how can we build leadership capability in the Andrews of the world? What if we emulated the very ministry of Jesus and invested in a small number of potential leaders? What would that look like?
We are in essence a pioneering movement, founded by leaders who were willing to try new ways of doing things. When William Booth was troubled by "fellows ... sleeping out at night on the bridges" in London in 1888, he challenged his son, "Do something, Bramwell, do something!"
We need to encourage innovation. We need to stop saying 'No' to new ideas and start saying, "Tell me more."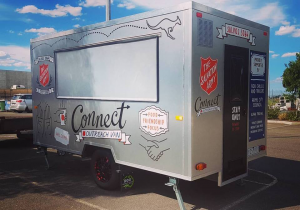 Towards the end of 2017, the Craigieburn Corps was gifted with a new food van (pictured right). This has enabled us to sell 400 burgers at the local Craigieburn Festival, bake 1200 ANZAC biscuits and serve more than 500 cups of soup to our local community.
We want to pioneer and grow partnerships with other organisations, businesses and groups. In recent months the local Woolworths store has donated fresh food for our community lunches. Bunnings have three staff members that volunteer with us monthly. A local accounting firm is giving 18 of their staff a couple of days of service to the community. Best and Less gives us free underwear, Big W clothing, Coles bread and Muffin Break provides muffins. I'm working on the coffee shops!
Our strategic intent is to work alongside others and create sustainable leadership in the process. We can establish a new food van ministry, a vibrant thrift shop and a plethora of donations, but if we are not pioneering new ways to engage rapidly changing generations, then we have missed the mark. That's why it is one of the four pillars in our new national strategy.
The Salvation Army is not a building or a bureaucracy and there are not some who do the mission and some who do not. We must renew culture so that when we look at The Salvation Army we see a movement of people who are committed to transform Australia one life at a time with the love of Jesus. Everyone is responsible for the mission.
Not only that, but everyone is therefore responsible for improving stewardship and sustainability. We're all in that together: Finding ways to increase the revenue streams and keeping the expenditure under control. That's all part of being accountable to each other. Like, for instance, if I spend more on coffee, my wife and I need to spend less on groceries.
The further challenge is how do you measure the effectiveness of that mission, or rather, how do you enhance measurement? We must measure what matters and spend less time worrying about the things that don't. We're saying locally, "Don't just tell me how many came to your program, tell me what purpose it achieved. Did people grow in their faith? Was there some social benefit?"
We're on that journey locally. Mary is the support worker of a disability group that partners with The Salvation Army. Now Mary describes herself as a swearer. She holds her tongue most days, but there has been the occasional word slip while cutting the onions. I stood next to Mary the other day as she dropped something on the floor. She then opened her mouth and said... "Ahh, sugar!"
Without flinching, she looked at me and exclaimed, "Pete! I didn't swear!" I said to her, "Mary, that's because God's doing a work in you."
Now, I don't know how you measure that, but God is clearly at work. The National Strategy is vision in action! We will transform and focus. We will pioneer and be accountable.
Let me encourage you then on that journey with these words from The Message version of the Bible (Romans 12:2), "Don't become so well-adjusted to your culture that you fit into it without even thinking. Instead, fix your attention on God ... Readily recognise what he wants from you, and quickly respond to it."
Captain Pete Brookshaw is the Corps Officer of The Salvation Army Craigieburn. He blogs at www.petebrookshaw.com