Striving to live the vision in Queensland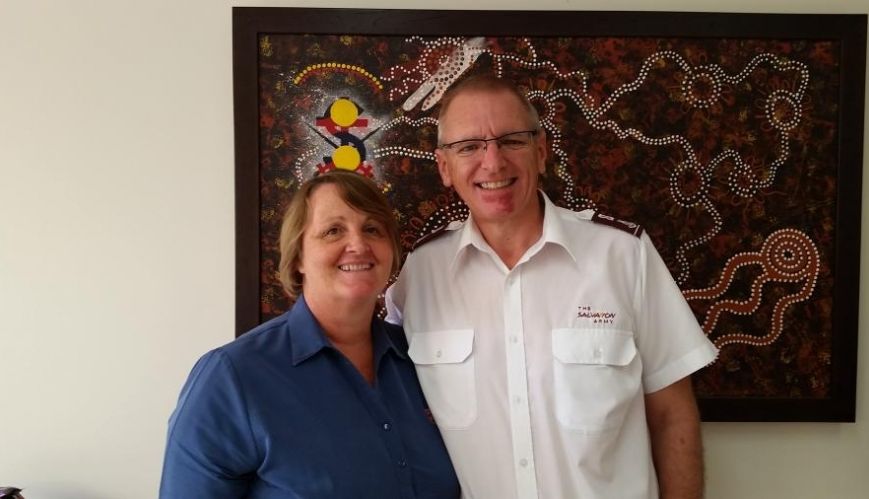 Striving to live the vision in Queensland
2 February 2018
Q&A with Queensland Divisional Leaders, Lieutenants-Colonel David and Sandra Godkin
Others Online: How long have you been divisional leaders in Queensland?
Sandra: We are now into our fourth year, having arrived in 2015. For the first year we were divisional leaders of the South East Queensland Division. From 2016, we have been leaders of the Queensland Division.

Others: What are some of the focus areas for the Queensland Division?
David: Indigenous Ministries is definitely one. Many of our corps are still learning and growing in their understanding of how to connect better with Indigenous communities, both in rural and metropolitan areas. We have to build relationships with Indigenous peoples to understand how we can work more closely and effectively with them. This is happening as more of our corps engage in this area. Learning to live alongside the Indigenous is key. We've had times here where we've invited Indigenous elders to DHQ and other centres, and we've been invited to their places to yarn, to listen and to learn. We have good connections with Elders, including Eddie Koiki Mabo's daughter and granddaughter.
Sandra: In Reconciliation Week last year, some Elders came out and we held a yarning circle with them and our staff. Anyone could ask anything they wanted, without the fear of it being the "bad" question. It was a precious time. With our Indigenous Engagement Coordinator, Lucy Davis, this ministry is moving forward. And Lucy has become an adherent!
Paul Maunder, Team Leader at Streetlevel Brisbane, leads a growing missional community. Photo: Jon Redman.
David: A return to our Salvation Army roots where we focus on the vulnerable and those experiencing hardship and injustice, is also a focus area. This is the embodiment of our Australia One vision statement. The areas we are embracing and engaging with, such as ministries that serve those experiencing homelessness, addiction and disadvantage, is where we are seeing a pattern of solid kingdom growth. Our soldiers are on board with this, as are our volunteers, employees and our board members too. Together we are striving to live the vision to transform Australia one life at a time. This means healthy faith communities engaging with the wider community with faith-based programs and activities. And this is increasing. For example, we have one corps that wants to sell its comfortable worship centre to move into the centre of the suburb where the greatest need is and establish a mission centre. This is mission focus.

Others: What are some of the challenge areas in Queensland?
Sandra: One of the challenges is around what healthy faith communities look like in the many rural areas of Queensland. Many of the people there are experiencing great hardship and injustice, and their communities are in decline. We have to do rural ministry differently, but what this might look like is a challenge. Perhaps one option is how it's being done in Northern Queensland, around Ingham, Ayr and Charters Towers where we just have family stores, but the mission leader, Katrina Mcintosh, is bringing people together around a table to have faith-based discussions.
The young people of the remote Atherton Tablelands Corps are sharpening the missional focus of the corps.

Others: Where do you see God specifically at work in Queensland?
David: God is at work in our communities. God is a "sending God" – he is calling us to go out into our communities and build relationships. It's those relationships that are attracting people to Jesus, not the church. The mentality of "they will come" and building an attractional church doesn't work anymore. We need to be going out to wherever there is hardship and injustice. And we do see him working there, and kingdom growth happening.
Sandra: And we shouldn't limit that hardship and injustice to a socio-economic framework. There are some rich businessmen and women experiencing terrible hardship and injustice in other areas of their lives.

Others: What drives you both to get up every day and face the challenges ahead?
David: Seeing lives transformed as healthy faith communities connect with the wider community. The hope and the vision that discipleship will be the norms in our corps and communities; that we will be externally focused and not internally entrenched; that our officers will be intentional about developing healthy spirituality; that our leaders will speak life, wisdom and grace into others; that young people will step up to lead; that our communities will be inter-generational; that generosity will be lived and not spoken, not just with money but with time, spiritual gifts, faith and love; and that being people of grace and forgiveness as the body of Christ will be normal – not something we have to roll out every two years in a vision statement.
Sandra: I am motivated by hope, and the desire to make a difference. Life could be so different for so many people. We need to live and model a healthy culture based on grace and forgiveness that can help change the lives of so many, including our own.
David: Our heart as divisional leaders is to do whatever it takes to save souls, grow saints and serve suffering humanity. We want to facilitate, support and enable people to do whatever it takes to transform lives with the love of Jesus.
Sandra: We are excited by what the future holds for Queensland as we give people an open door to be Jesus to their community.