Taking back control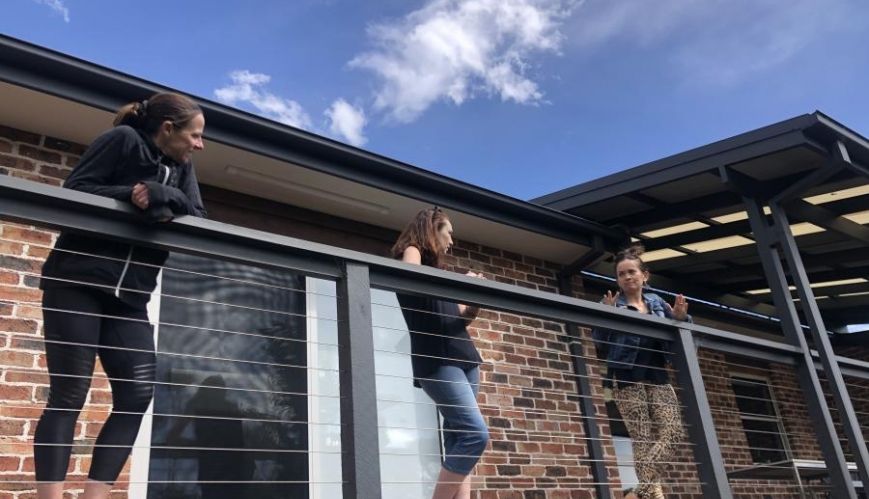 Taking back control
12 October 2020
When possible during the COVID-19 pandemic, and adhering to social distancing regulations, members of 2508 Salvos in New South Wales met at each others homes to support and encourage each other.
By Simone Worthing
October is Mental Health Month in Australia. This week we continue to run articles from Salvos Magazine, looking at different aspects of mental health, and the help that is out there for everyone.
"I feel constantly anxious and fearful, even if it's just below the surface, and I'm always exhausted."
"I'm just so tired all the time; I just can't seem to shake it off."
"Ironically, I feel like I have constant jetlag!"
As we progress through the pandemic in Australia and adjust to new routines – or the lack of them ­– more and more people are feeling consistently tired.
Unless this is the result of a serious medical condition, mental health experts say that lethargy and lack of energy may be coming from the knock-on effects of the pandemic.
The social and political upheavals we are seeing around the world could also be contributing to people's feelings of sadness, frustration and being overwhelmed.
Lyn Beasy, a psychologist in NSW with more than 20 years' experience, says that the pandemic, which has brought with it a prolonged period of new challenges, stress, fear and anxiety, has changed many people's lives and routines without providing a sense of certainty as to what the future may hold, or any sense of control over it.
"A lack of routine, even if it involves a slower pace in work and social life, is emotionally and psychologically unsettling, and takes a lot of mental energy and headspace to navigate," she explains. "This leads to feelings of exhaustion, especially when there is no real break from it.
"A lack of control can lead to feelings of anxiety and stress, which can then trigger what is basically a burnout response."
Lyn explains that feelings of anxiety can also release stress hormones, which can compromise a person's immune system and lead to a range of physical ailments. Stress also causes lack of sleep, which just adds to overall tiredness levels.
Add to this financial struggles, job losses, isolation, relationship breakdowns and worry over illness, recession, climate change and often just getting through the next day, and conditions are almost 'perfect' for a range of mental health struggles.
Challenges and joys
For some, the impacts of the pandemic have had surprising positive impacts.
Many who have been able to work from home and, despite the challenges, juggle work with home-schooling and adjust to social restrictions, the pandemic has slowed down an over-scheduled and frenetic lifestyle.
"These families have found a new rhythm, with less expectations and demands on their time," says Lyn. "This had led to spending more time as a family, cutting back on expensive or unnecessary activities and changing life priorities.
"Many families are trying to keep this going as they come out of lockdowns and restrictions."
For others, anxiety through the pandemic has exacerbated existing personal, work-related and relationship issues. Lyn, and other mental health professionals, report seeing an influx of clients who are coming to see them for help with these issues that stress has brought to the surface.
Taking control
Understanding what we can control, and what we can't, is vital to maintaining mental wellbeing and adaptability through the pandemic and beyond.
"If we just focus on things that are out of our control, we open the door for anxiety and stress," says Lyn.
"The pandemic is happening but we can, for example, control our awareness of health advice and make sure we are responding to the advice around hygiene, social distancing and self-isolation. Those things are in our control.
"We can maintain a good diet, exercise regularly, establish a sleep routine and manage our exposure to technology.
"We can also reach out to those who are on their own and do what we can – helping them, and ourselves, to stay connected to people and have social contact at least every day.
"Self-care is critical – laughter, having fun, expressing joy and a sense of humour – these are the simple things we can do in that space, however difficult it might seem.
"If we keep it simple and basic, with routines we can maintain and control, we can get through this time and help others to do the same."
Simone Worthing is Assistant-Editor of Salvos Magazine