Taking worship arts to the next level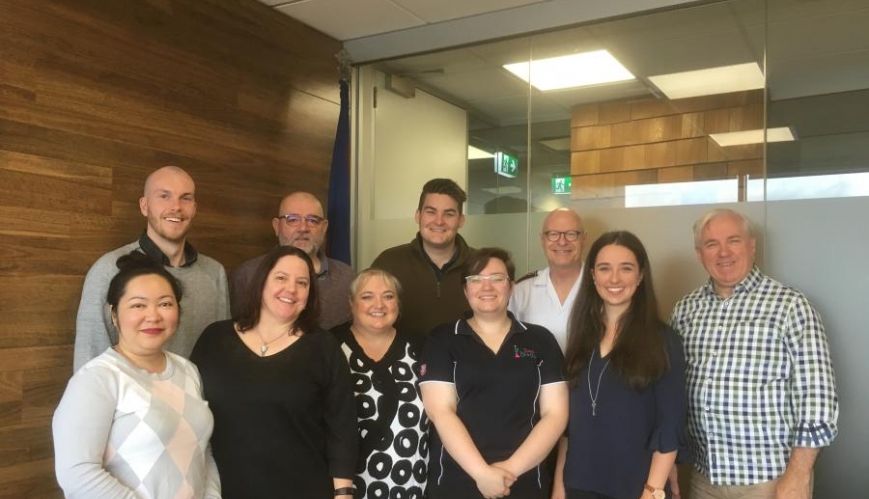 Taking worship arts to the next level
11 March 2020
The National Worship Arts Team at a recent gathering – Back row from left: Daniel Casey, Brian Hogg, Campbell Barnes*, Commissioner Robert Donaldson (visiting); Front row from left: Carlene Butardo, Louise Mathieson, Julia Roper, Britteny Ling, Shushannah Anderson and Ken Waterworth. *Campbell's contract with the team has concluded.
By Bill Simpson
A team of eight people with wide-ranging experience in Salvation Army worship styles has been brought together to advise and encourage individuals and groups to develop creative arts throughout the Australia Territory.
To be known as the National Worship Arts Team, the group, formed from various divisions, will operate under the leadership of Ken Waterworth, Territorial Manager of Worship Arts and long-serving bandmaster of Melbourne Staff Band. It is part of a new faith communities development stream within the Territorial Mission Support Department and replaces the Creative Arts and Worship Arts departments of the previous two Australian territories.
Ken says the team has already held its first meeting, designed to help each member discover the skills each brought to the group, how they can work together and the impact they could have on the mission and vision of The Salvation Army. Territorial Commander Commissioner Robert Donaldson also attended the first meeting.
"His heart for worship arts as a tool to engage and connect people in their faith journey encouraged the newly formed team as we begin our work together," Ken says. "The Worship Arts Team will seek to explore and implement effective use of the arts in contextual models of innovative missional faith communities. It is our aim to encourage, support, challenge and develop individuals and faith communities in their use of the worship arts."
All forms of worship arts would be explored. Some team members come from previous roles in the former two territories, while others have been recruited to fill new positions. Members of the team are:
Ken Waterworth
(team manager):
Box Hill Corps.
Strong background in music education, over 40 years of ministry and leadership in The Salvation Army, including the Melbourne Staff Band. Passionately committed to music ministry and a desire to work with young people to develop their creative arts gifts.
Brian Hogg
(music publications consultant):
Mooroolbark Corps.
Music educator and composer. Many years of experience in brass, vocal and contemporary music. Heads up all Salvation Army music publications. Bachelor of Education. Worked as high school music teacher.
Shushannah Anderson
(worship arts coordinator, NSW/ACT):
Sydney Congress Hall.
Bachelor of Performance. Professional experience in Sydney theatre scene. Background and training in drama and dance. Spent time at the Glory Shop (arts and discipleship) in New York developing her craft. Passionate about seeing the arts used as a strong evangelical tool.
Louise Mathieson
(worship arts coordinator, Queensland)
:
North Brisbane Corps.
Leader in corps worship and preaching teams, using opportunities in singing, playing piano and creative writing.
Dan Casey
(worship arts coordinator, SA/NT):
Ingle Farm Corps.
Passionate about enhancing current worship arts expressions and creating new pathways. Involvement in secular music. Hopes to bring support, encouragement and a 'new voice' to The Salvation Army.
Julia Roper
(worship arts coordinator, Victoria):
Ringwood Corps.
Over 30 years experience in various worship arts, including vocal, brass band, timbrels, dance, drama and worship band. Julia has extensive experience in community theatre productions, as well as composition and creative writing.
Britteny Ling
(territorial Just Brass consultant):
South Barwon Corps.
Currently bandmaster. Aspiring composer. Loves singing and playing piano. Heavily involved with Just Brass, instrumental music teaching and directing bands.
Carlene Butardo
(Just Brass administration and training coordinator):
Administers 29 Just Brass programs. Attends Stairway Church in Vermont (Melbourne).
Ken Waterworth says each team member will work as a support partner with local mission expressions. "The team will be based across the country as they encourage and develop individuals and faith communities in their use of the worship arts," says Ken.
Bill Simpson is a contributing writer for Others.