Ten years of bringing hope to the bush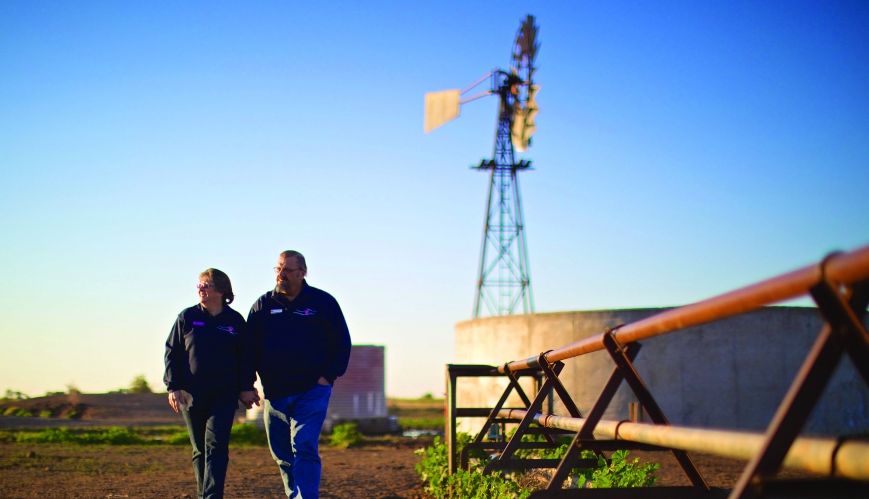 Ten years of bringing hope to the bush
8 July 2016
Majors Peter and Jean Ridley reckon they have driven more than one million kilometres around NSW in their role as rural chaplains – most of it with a caravan in tow. Celebrating their 10th year in rural chaplaincy, the Ridleys recently moved their base from Narrabri to Dubbo, their area of ministry now covering more than 60 per cent of NSW, stretching from Forbes, to Wilcannia and up to the Queensland border. "It's a mind-blowingly vast area to cover," Major Peter says.
The Ridleys (pictured above) initially served as corps officers, and then spent six years in Papua New Guinea. Over the past decade, they have worked passionately to bring "Hope to the Bush", which has become their motto. While the couple say that care for rural families after tragedy or natural disaster has become the major part of their chaplaincy, one of their greatest joys remains simply "doing life" with people.
Long-term journeying, Major Jean says, is essential to building trust. In turn, that trust allows them to share authentic friendship as well as offer welfare support. They also share their faith openly and deeply with often proud farmers. They have also developed a ministry of farm-sitting, so that farmers can have the opportunity of a break, or visit medical specialists or loved ones who are unwell.
Although both have city backgrounds, the Ridleys have learned to help with fencing, work stock and carry out farm repairs. "We often roll our sleeves up on the farm and get alongside people. Or if they just want to sit down and have a chat, we are there for their mental and emotional health. But we are chaplains, so we also care deeply about their spiritual health," Major Jean says.
Major Peter says: "In many areas, the grief and pressures rural communities in general now face really is unimaginable. In the Walgett Shire, the word I would use is 'devastated' and the desperation is beyond belief. When we can't get there to support someone in person, we both keep busy with phone calls and emails from desperate farmers just needing the assurance that we are still there. Just to have the opportunity to pray over the phone has been such a blessing and help to them and us."
In the face of such grief, Major Peter says that the couple also know they need the support of others. "The anchor we have to hold on to is our relationship with the Lord, and God's hand is often so evident," he says. "But we also need 'Jesus with skin on' at times. Recently, two very precious friends, faithful intercessors, came from Tamworth to spend some time ministering to us. They and the others who pray and support are like a healing balm for us in the tough times." 
If you would like to volunteer or donate to the Ridleys' ministry, contact Major Peter Ridley on 0423 293305.