The Arctic Circle of life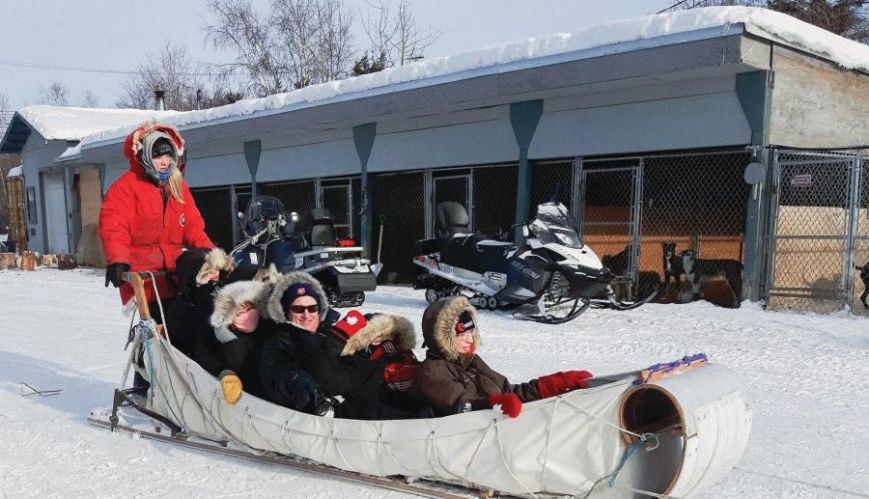 The Arctic Circle of life
22 February 2019
In Yellowknife, Canada, territorial and divisional leaders experience the local dog sleds.
The land of the midnight sun, the Northern Lights, months of darkness, snow, ice and reindeer – the stark beauty, extreme climate and remoteness of the Arctic Circle create an aura of mystery that draws people from around the world. Seven territories of The Salvation Army have corps inside or close to the Arctic Circle. Here, officers are often issued with snowmobiles, and corps serve the homeless, the lonely and the addicted in some of the harshest conditions on the planet. Others international editor Simone Worthing takes a look at some of these corps, the unique challenges and joys they experience, and the work God is doing through those committed to serving in these remote locations.
yellowknife canada: canada and bermuda territory
Yellowknife is located in the Northwest Territories of Canada, 4900km northwest of the capital, Ottawa, and 400km south of the Arctic Circle. About 25-30 people attend the corps, with most being long-time members.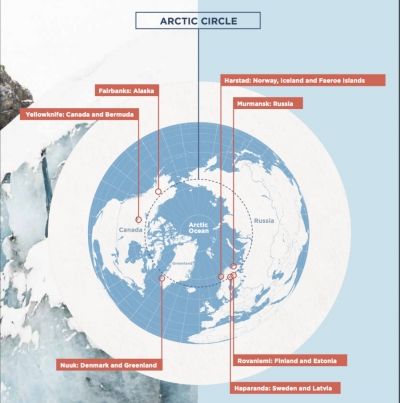 As in other places within or close to the Arctic Circle, residents face unique challenges. "In many remote northern locations in Canada one of the greatest challenges is not the cold or the isolation, it is the regular turnover of individuals who move north for work and leave at the end of their term," explains Major Al Hoeft, Area Commander.
"Over the years the congregation has been as large as 150 on a Sunday morning, but continually replacing those who move away is a neverending task." There are, however, many "wonderful" elements to living so far north.
"There is a real sense of community – people spend a lot of time together and strong bonds develop over the years," says Major Hoeft. "We [also] have access to some of the most wonderful parts of God's creation – 24-hour daylight in the summer and the Northern Lights in winter.
And the corps owns a snowmobile for the officers!" Corps ministries include an emergency shelter, soup line, food bank, parole supervision, community-based mental health support, withdrawal management services, and a Christmas hamper program, both locally and "fly-out" to several isolated communities across the North.
"We are also always very conscious of the unique cultural elements of our area and strive to honour the First Nations cultures of our region," says Major Hoeft.
Fairbanks, Alaska: USA Western Territory
Fairbanks Corps is approximately 250km from the Arctic Circle and has been operating since the 1950s. The Corps Officers, Captains Dana and Lance Walters, lead worship each Sunday, with between 15 and 25 people in attendance.
"This is a place of incredible beauty," says Dana. "Moose in your front yard, the Northern Lights, native culture and foods, winter sports, hunting and fishing. The 24 hours of sunlight in the summer means we grow amazing plants and vegetables.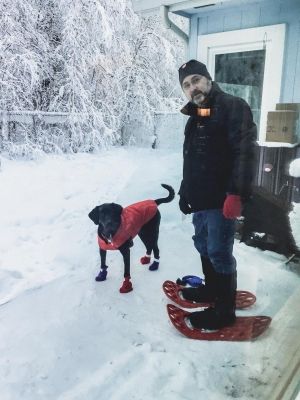 Captain Lance Walters with his dog, Spencer, go for a walk.
"The temperatures in the winter, though, are well below zero and snow does not melt for months at a time. Our homeless population is at risk of frostbite, freezing and even death. [During winter], almost 24 hours of darkness adds to depression and alcohol abuse.
"Getting from one place to another can be a challenge if you have to walk because of the ice. The airport closes at 45 degrees below zero so you can lose access to the already limited medical support and specialty care. The cost of electricity or heating oil can be prohibitive for lowincome and even middle-income families."
The corps is a busy one, with church services, Bible studies, women's and prayer groups, community food boxes, seniors' ministry, a thrift store, hampers for Thanksgiving and Christmas, school supplies, rent and utility assistance grants, and summer camps.
The corps is also active in the local community. "We are part of the Fairbanks Local Emergency Planning, and Lance is head of the Northern Alaska Volunteers Organisation at disasters," says Dana. "We participate in community health fairs and are a shelter for the elementary school adjacent to us."
Haparanda: Sweden and Latvia Territory
Haparanda is the most north-eastern city of Sweden, approximately 1000km from the nation's capital, Stockholm, 162km from the Arctic Circle and only 2km to the Finnish city of Torneå. The city's 9800 residents speak both Swedish and Finnish.
Winter extends for almost seven months here, with large amounts of snow. Snowmobiles and skis are almost as common as cars. Ice is on the ground until May, summer arrives in the middle of June, and the long winter season is very dark with less than one hour of daylight in December and January.
"When the light comes back it is lovely, but I meet so many wonderful people and I have such an interesting work that the darkness doesn't worry me," says Maud Fennvik, Haparanda Corps Officer. "The churches, local authorities and different organisations work closely together which helps make our work secure and stable."
Haparanda Corps is not large numerically – up to 40 people attend church services each week. When a wave of refugees entered Sweden in 2015, the population of Haparanda increased by about 40 per cent.
Many of these people were traumatised asylum seekers, having arrived from a range of other countries, particularly Syria and Afghanistan. "This was a big challenge, and a gift as well," says Major Fennvik.
"When they arrived, our elderly and others got busy with everything from giving them lifts in cars, to language training, food, clothing, activities, Bible studies, prayer and conversation and everyday care.
My experience is that our corps is a good meeting point to which people feel that they can come regardless of different backgrounds.
The lonely ones quickly get new friends and meet people they get to know." Asylum seekers representing about 15 nationalities began worshipping at the corps, with several becoming actively involved.
The corps also offers regular fellowship groups, Bible studies and prayer groups, children's activities in partnership with the Swedish church and local municipality, and, with another church in the city, cooking and baking groups. Up to 65 people visit the corps daily to attend different programs.
- Carina Tyskbo (translated by Karin Larsson)
nuuk: denmark and greenland territory
Greenland is an autonomous country within the Kingdom of Denmark. 
Its main population centre, Nuuk, is the world's most northerly capital city and only 240km from the Arctic Circle.
The Salvation Army established itself in Nuuk a little over five years ago, partly in response to a direct request from the Greenland Government, to assist with the homeless population. "It's quite simple, really," says Major Kurt Pedersen, Nuuk Corps Officer.
"If we don't feed them, they starve." There are showers available at the corps hall and blankets and winter coats for emergencies.
Through a partnership with Queen Ingrid's Hospital, tuberculosis nurses visit the corps to offer general advice on health and hygiene. Major Helle Pedersen, Kurt's wife and co-leader at the corps, is exploring partnerships with local artisan craft communities about sharing their skills with the homeless to help them regain self-esteem and develop some basic life skills.
The Salvation Army has also recruited a volunteer youth and families worker who is starting to build more relationships in the local community. On Sundays, the worship hall is full, with 85 per cent of attendees being homeless.
Several have committed their lives to following Jesus. Read a full report on the work in Greenland. – David Giles
Harstad: Norway, Iceland and the Faeroe Islands Territory
In Harstad, or Hárstták, the winters are "mild" due to the Gulf Stream, which means the temperature is often only between 0 and -5 degrees.
"There is also literally no springtime; we go from snow to an explosion of grass and leaves in approximately a week," says Captain Marit Byre Myklebust, Harstad Corps Officer with her husband, Major Helge Byre Myklebust.
The city is in almost complete darkness from November to January. "Most people call this the winter darkness, but I call it the winter light, as it's actually a very beautiful time of the year," adds Marit.
The Salvation Army has been in Harstad since 1894. Its impact in the community over the past three years has increased substantially, particularly through "Stedet" (The Place), a thriving program run by Salvation Army social services from the corps building.
"The idea [behind Stedet] was to make a come-and-contribute arena for those who have sought to fight their drug or alcohol addiction, a place to meet, to do meaningful activities together and to help each other stay sober," explains Marit.
"It's sometimes chaotic and we are certainly not on top of things, but it has a Kingdom scent to it. We are so blessed to meet all these new people." In addition to weekly services, the corps also runs a foodbank, a seniors' meeting, and knitting club for women.
The territorial Fretex program runs a thrift store, while Stedet's employees facilitate the street football team, "Armeen Harstad". Serving in the far north in a town like Harstad can be challenging, particularly the distance between neighbouring corps and to family.
"We have made a home here and I think that is the key to wellbeing and Kingdom building wherever you live, be it in outback Australia, downtown Sydney or in north Norway," says Marit. Also in Norway, 400km inside the Arctic Circle, is Kirkenes Corps.
murmansk: russia command
Two degrees north of the Arctic Circle lies Murmansk, Russia's northernmost city and, with a population of over 300,000, the largest people base in the Arctic by far.
Captains Andrei and Tatiana Slashchev are the Corps Officers at Murmansk, where around 20 people attend each week. The corps programs focus on serving the homeless, underprivileged families, and people with disabilities.
Members of the Murmansk Corps with Command leaders and visitors from Norway.
Together with the Norway, Iceland and Faeroes Island Territory, The Salvation Army operates a thrift store, and SPAtex, based on similar lines to the well-established Fretex rehabilitation and recycling program run by The Salvation Army in Norway.
SPAtex brings in funding for Salvation Army programs with the goal of providing employment and rehabilitation opportunities [through relationships with government labour departments] particularly for people with disabilities.
"The extreme weather in Murmansk is a challenge for many in this city, but the joys include supporting and helping people and working on joint programs with the Norway Territory," says LieutColonel Alexander Kharkov, Russia Officer Commanding.
rovaniemi: finland and estonia territory
Rovaniemi Corps, in Finland, is just 6km outside the Arctic Circle and is the country's northernmost corps. Rovaniemi is recognised as the official home of Santa, and the Santa Claus Village tourist attraction brings in around half a million visitors each year.
With a rapid rise in tourism since the 1980s, the corps has also seen the demand on its services increase. Many of the city's immigrant population have found their way to The Salvation Army, where they have been given assistance with learning the Finnish language and culture lessons, as well as the practical support of food, clothing and toys for children.
New members have been enrolled during the past few years, with many of them in the 20-40 age bracket. This has brought new life to the corps. "The plan is to train these new corps members so they can take on more responsibility at the corps for the future," says Major Pirjo Mikkonen, Corps Officer.