The four factors that drive youth ministry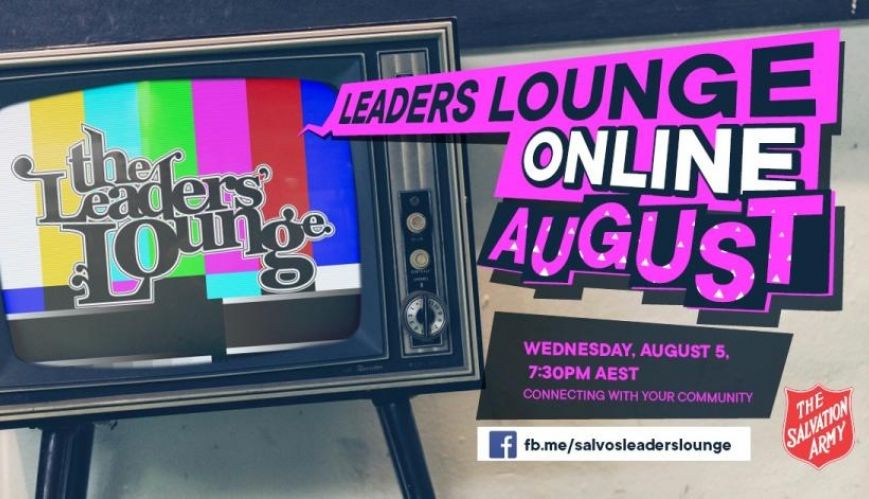 The four factors that drive youth ministry
10 August 2020
The Leaders Lounge aims to equip and disciple youth leaders in order to disciple other leaders.
By Claire Hill
Five years ago, Adam Purcell had a morning he will never forget. He was working for The Salvation Army Oasis Hunter youth service at the time. He and his wife, Mel, were also the volunteer youth pastors at nearby Northlakes Corps on the NSW Central Coast.
Adam phoned three high schools, offering to run a breakfast program for students. To his surprise, all three school principals said 'yes' without hesitation. "As a youth pastor in other churches I couldn't even get a meeting with the local high school," Adam explains. "Principals didn't want the local church coming into their schools." But these principals were jumping at the chance to work with The Salvation Army.
Adam and his team were soon connecting with 700 teenagers in schools every week. Students joined the corps' youth ministry, made decisions to follow Jesus and joined small groups. "Schools and community groups kept opening up their doors for us and we'd just go in and tell young people about Jesus," he says. It stirred Adam and Mel and they began to ask, "Why isn't this happening everywhere?"
In January 2019, Adam and Mel stepped into a new role – Australia Territory Youth and Young Adults Secretaries – and brought this passion and vision into the job.
With their team of state-based youth and young adults secretaries, they are still dreaming big. They want to leverage the relationships The Salvation Army has in the community. "We want to see The Salvation Army in schools and out in the community, building relationships and letting young people know about Jesus," says Adam.
What youth of today need
Early in their role, the team immersed themselves in a listening project. Forty young people from around Australia were interviewed. "We looked for first-generation Salvos who embody
the national vision [statement] and we really listened to their stories," Mel says. "They were young people who had been in hardship or injustice, who then encountered the Salvos and had their lives transformed by the love of Jesus."
When the team analysed the interviews, it found four common themes. All the young people said they had found:
• a place where their wellbeing was cared for;
• an atmosphere of fun;
• a sense of belonging and family; and
• opportunities to experience faith in Jesus.
Wellbeing. Fun. Family. Faith – the team now refers to these as 'The Four Factors'. These factors frame everything the team does. Youth leaders have grabbed hold of it too. It's a simple, but tremendously helpful question for anyone looking to reach this age group: "How are we going with The Four Factors?"
In 2020, the team has been pouring energy into developing leaders. "More youth leaders mean more young people we can journey with and see discipled," explains Adam.
They are calling their team to be leaders of leaders. "Some people say that the youth and young adults secretaries need to be amazing at connecting with young people," says Adam. "I would disagree with that. Yes, they need to understand youth culture, but their most important skill is leadership development."
Developing leaders
Youth and young adults secretaries will raise up leaders of leaders. Each of those leaders will then disciple young people. "This shift in focus will increase our reach exponentially," says Adam.
The team also wants to increase leadership competency. One key strategy for this was 'Leaders Lounge', a Melbourne-based youth leader training event that was tracking for October. The COVID-19 crisis crushed their plans for the event, but Mel says the cancellation cleared the path for something more. "We launched 'Leaders Lounge Online' and it has been a huge success", she says.
Each month, youth and young adult leaders across Australia connect online via the Zoom video conferencing platform.A guest speaker presents training, and then youth leaders (there were 70 at the last gathering) scatter into virtual 'breakout rooms' for discussions in smaller groups.
Mel felt the benefits immediately. "At the first one I was in a breakout room with a corps officer from Kalgoorlie and youth leaders from Perth and Sydney," she says. "It blew me away. I would never have had this opportunity in the past."
Unlike the annual event, Leaders Lounge Online is free, volunteers can attend, and it happens every month. The team is also producing a weekly podcast for leaders and has a Leaders Lounge Facebook page, with 250 youth leaders following. They use the page to share resources and tips.
"Even though COVID has interrupted our plans for this year, it's made people creative and given us space to stop and plan well," Mel says. "We are really excited for the future."
Are you a youth leader? Head to the Leaders Lounge Facebook group for regular tips, updates and training: Facebook.com/salvosleaderslounge
Claire Hill is the Mission Program Development Coordinator