The green Army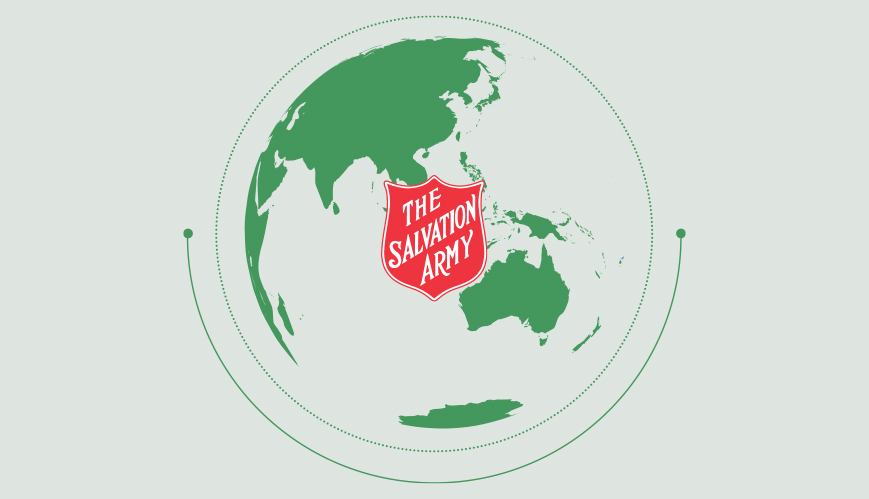 The green Army
5 June 2020
The Salvation Army Australia is becoming more environmentally responsible, from corps right through to territorial advocacy and mission enterprises.
By Darryl Whitecross
The Salvation Army in Australia is actively involved in promoting and advancing the cause of environmental sustainability on a number of fronts. Corps, missions and centres across the country are planting community gardens, installing solar panels, water tanks, running bottle and can recycling collection points, even composting and starting worm farms as the Army seeks to become yellow, red, blue and green.
Even Salvationists working through social-isolation restrictions around the country due to COVID-19 have found their environmental awareness deepening as they rediscover their gardens, re-evaluate their in-home energy usage, recycle items no longer required as they find time to do an early spring clean and go walking and cycling instead of using their cars.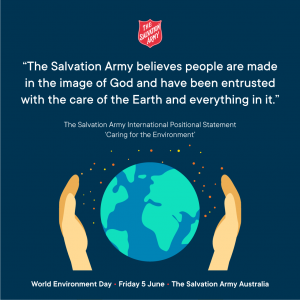 The spotlight is turned on these ideas as the planet pauses to reflect on 5 June, which is United Nations World Environment Day.
Behind the scenes, Army teams including its Policy and Advocacy stream's work around the environment and climate change, are revisiting policy on the environment and climate change to present to government at various levels. In May last year, The Salvation Army joined other leading social sector organisations to call for "stronger action to tackle climate change and build greater resilience to the climate change already locked in".
Earlier this year, Salvos Stores presented a submission to the Inquiry on Innovative Solutions in Australia's waste management and recycling industries. It told the inquiry it was Australia's largest charitable recycler, having dealt in second- hand items for more than 150 years.
New Army buildings are required to be more energy-efficient and environmentally friendly in their design and fittings and, where possible, include water recycling in order to have a minimal impact on the environment. There has been some discussion within the Army about the introduction of hybrid-electric vehicles to its fleet. 
Corps leading the way
At Sunbury Corps on the outskirts of Melbourne, water tanks, compost facilities and solar panels have been installed. Sunbury Corps Officer Lieutenant Andrew Webb says the water collected is used on flower beds and the community garden, which has a number of leafy vegetables and some young citrus trees. These are kept healthy using the rainwater, worm urine from the corps' worm farm and kept relatively pest-free by using sonic pest repellent rather than chemical control.
Andrew, who was an environmental chemist before becoming an officer, says the produce from the community gardens was distributed within the corps and through its community programs, including its emergency relief centre. Food scraps are collected for compost and to feed the worm farm.
A solar panel system meets the corps' daytime electricity needs and excess power is fed back into the grid. LED lighting and a high-efficiency split- system heating and cooling system has also lowered electricity demand. Andrew says the corps has been trying to reduce its eco-footprint for several years, but the solar panels on the worship centre roof and LED lighting were only recent additions.
Some of the 'green' projects at Sunbury Corps include solar panels and community garden beds.
"The solar panels have saved the corps thousands of dollars on bills," he says. "Our water bills are incredibly low, too. We acknowledge that every little bit makes a difference, so we also print double-sided on recycled paper wherever possible."
Sunbury Corps is not alone in the implementation of eco-friendly programs and recycling centres. Jennifer Kirkaldy, General Manager of The Salvation Army Policy and Advocacy stream, says her team is working on a statement that outlines the Australia Territory's thinking on climate change, "which is one of the most pressing issues facing the world today".
Jennifer says its position would "naturally align strongly" with one of the Army's international positional statements – Caring for the Environment.
"We recognise that climate change is the result of systems that have both harmed creation and human dignity," she says. "It is having a disproportionate effect on those who are already experiencing hardship and injustice in Australia and across the world, particularly in terms of health, livelihood, shelter and the opportunity to make choices.
"It is our belief every part of Australian society – governments, communities and individuals – has a role in working towards practical and tangible solutions concerning climate change. Many [Salvation Army] mission expressions are already setting an example of good stewardship of the earth and its resources through strong sustainable policies and practices. We want to encourage Salvos and others to continue to build sustainable practices and habits into their lives and speak out on behalf of those most affected by climate change."
Becoming environmentally responsible
Dr Matt Seaman, an environmental advocate, academic and Salvationist, has been involved at local, state, national and international levels to help champion the need for the Army to be more environmentally responsible as a church. Matt has a paper before General Brian Peddle, the world leader of The Salvation Army, for consideration.
In Australia, at a territorial level, there has been and continues to be, activity in developing a policy that mandates The Salvation Army's approach to caring for the environment. It includes a proposal that was recently presented to the Australia Territory Board for consideration. Territorial Commander and board chairman, Commissioner Robert Donaldson, says the policy is being reworked to identify an achievable target.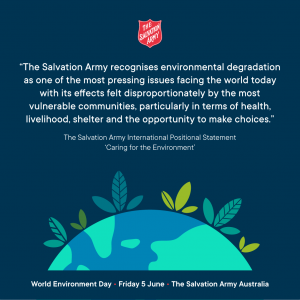 "The proposal was highly aspirational, but the board did not think we could achieve the standard that was being set, namely that The Salvation Army in Australia would achieve carbon-neutrality in a quite short time frame," he says. "Yes, there is plenty we could be doing and should be doing with regard to our responsibility to care for God's creation. There is as much at a local level through local action as there is through policy. It needs to be both. I don't want The Salvation Army to simply be part of the choir without actually making a measurable contribution to reducing global warming."
Internationally, the Army is working in a number of key areas to improve how it views and approaches environmental sustainability by drawing on practical, academic and scientific information to create policy. The Army has had an International Positional Statement on Caring for the Environment since 2014.
In the document, the Army aims to be "more consciously involved in seeking a changed attitude that will lead towards a more responsible use of the environment and its resources". It includes encouraging all Salvationists to be a part of this, through training, education and increased awareness and helping in practical ways people who have been affected by environmental mismanagement.
Caretakers of Creation
As part of the move to bring about change, the Army has sought to introduce policies and practices across the globe, which include recycling programs, purchasing policies, waste management practices and the development of innovative ways to reduce "the destructive use of natural resources" and work with governments and other "organisations of goodwill" in these areas.
Dr Laurelle Smith, a research analyst with The Salvation Army International Social Justice Commission based in New York, says that Salvationists can make a difference in the world by taking seriously God's command to be "caretakers of creation". "We can do more than what our governments are telling us to do, we can go above and beyond what our worldly culture expects and we can inform, inspire and partner with those around us to do likewise – live out Kingdom culture," she says.
Colonel Richard Munn, Director of the International Social Justice Commission, says the Army has produced a paper, Caring for the Environment, which is designed for group discus- sion and teaching. "Salvation Army concern for the environment is based upon moral and biblical convictions," the paper says. Richard points out that 'green community gardens' projects around Australia are given special mention in the paper.
The paper concludes, although caring for the earth was the responsibility of everyone, Christians should lead the way, having a "genuine responsi- bility to serve God and the community in this 'vital matter'," adding that "The Salvation Army has an opportunity to become a leader in this field."