The humble idea that's changing the face of The Salvation Army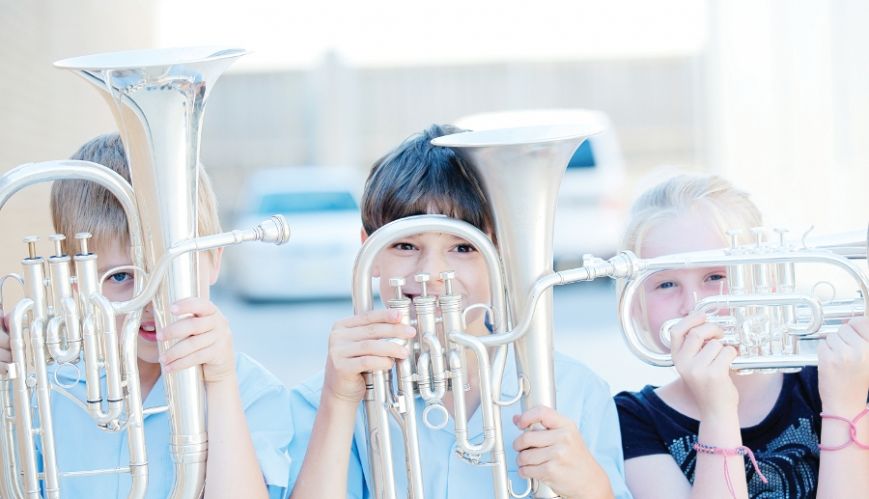 The humble idea that's changing the face of The Salvation Army
3 March 2017
Watching children tumble out of a big, white bus and make their way into South Barwon Corps on a Thursday afternoon is akin to witnessing a mini-stampede. All are dressed in varying school uniforms, and each carries a stately black case in one hand. It's their most treasured possession - their musical instrument.
When John Collinson began Just Brass in 2010 at the corps, located in Geelong's southern suburbs, it was a humble idea – give children the ability to play an instrument and you also provide them with a new social group that supplies the values, skills and qualities they need to flourish in life.
Today, Just Brass is an international movement. But for all its media coverage and well-intentioned furore, this fades into the background as soon as the kids arrive at the corps where it all started.
"I stuck my head in the door at Whittington Primary School where my wife worked, which is in one of the state's most disadvantaged areas, and thought I better offer some of the kids free lessons," explains John, who is now the Just Brass Consultant, based in Melbourne.
"I'd been away from the Salvos for about eight years and got invited to South Barwon Corps in Geelong. I reconnected and then the Army appointed my brother and sister-in-law (Captains David and Kylie Collinson) here, and we just put our heads together. We talked about ways to change the world, and the idea came out of that."
Previously a member of the Royal Australian Air Force and Co-Director of the Melbourne International Festival of Brass, John has music running through his veins. So when it came time for the corps to engage the community, the unlikely lure of the brass band was their "foot in the door".
"We had about 15 guys in the band here, and 18-20 instruments in the cupboard, so we did a little information night. We opened it up to schools, Mainly Music and fringe people," John explains. "They had hardly any kids music programs at the corps at the time, and about 30-something people turned up and off we went."
Grant Herron (left) met John Collinson when he joined the first Just Brass program in 2010. Photo: Jacob Dyer
Volunteers step up
Though simple, the premise of Just Brass is extremely effective. Go into a primary school, offer students free music lessons once a week, and form a school band. Every term they perform for a community group and their school.
"There are lots of kids coming into the program who never get out of Geelong or rarely get out of their community," says John. "For me it's giving them an experience of life."
Students also attend Thursday afternoon rehearsal at the corps, where they engage with other students across the region. Divided into a communal band based on their skill level, they finish each term with a concert where accomplishments are celebrated and members graduate into higher-level bands.
"These kids want to be part of a team," explains John. "That's how we developed a leadership [culture] too – because the band is beautifully set up. You can have the leader of the trombone section and the leader of the cornet section, so it breaks up like a football team." When the children graduated to high school, the need for a next-level youth band became clear, and later the corps' senior brass band was also included in the program.
"We've got seven kids who have come through Just Brass who are in the senior band. They're knocking on the door, 'When can we join?'" laughs John.
As Just Brass continues to grow, the need for funding and manpower has become imperative, but that's the beauty of The Salvation Army, John explains – everyone is willing to lend a hand. And, ultimately, that has made Just Brass the thriving enterprise it is today.
Just six years into its existence and the program has expanded to where it now reaches more than 600 children across Australia. It is estimated that by 2020, this figure will rise to around 2500.
"The Salvation Army have the hall, the bus, the music stands and instruments, and the thing that we've got is people. Salvos are generally people who want to do something," John says.
Community outreach
John's statement certainly rings true the day I visit South Barwon. Long before the ragtag bunch of kids arrive, bandmasters are setting up, grandparents are cutting fruit slices for afternoon tea, and parents are making themselves comfortable in the lounge.
The sense of community is palpable, and I soon discover that there is only one band leader on staff who also teaches weekly lessons at four primary schools. Everyone else is a volunteer, either a member of the corps or a family member, who believes in the mission of Just Brass.
"We're constantly working on the pathways for these kids. For me, the program has never been about how many kids can we get to church in seats. I think that stuff will look after itself in a sense.
We're about transforming lives and building these relationships," says John. "There's 650 kids doing Just Brass at the moment across Australia. I think we can probably double that in the next year. I think we've set up what I hope will be a long-lasting leadership development program in the Army."
Just Brass certainly didn't start as a conventional outreach program. Instead of expecting people to come to them, John and the team went out to give children the chance to belong to something bigger. Not just a brass band, but a community of people who believe they can achieve anything.
And this doesn't just transform their communities; it's changing the face of the Army, too.
Read another article about the spread of Just Brass around Australia and overseas.