The problem of sin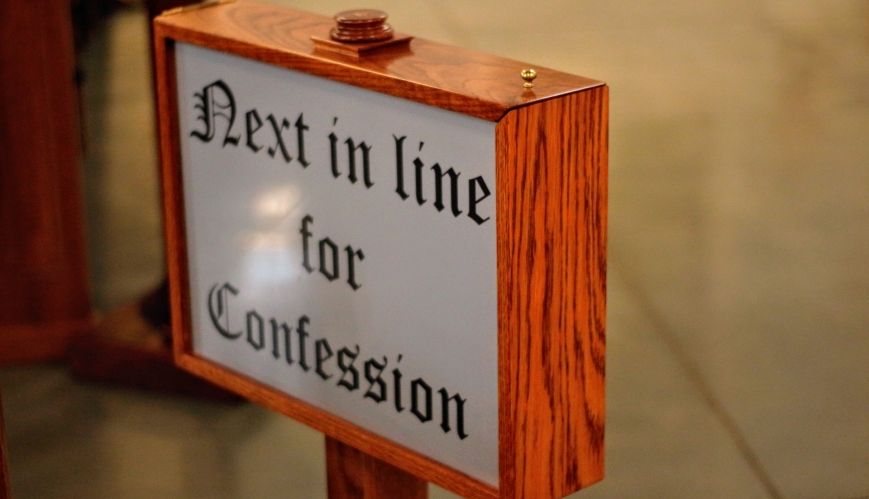 The problem of sin
13 March 2020
Major David Woodbury discusses evangelism in a no-fault society. Photo Shalone Cason. 
By David Woodbury
In my early teens my parents decided that I, along with my elder brother, should meet my mother's brother, who had been a prisoner-of-war for five years in the Second World War and now lived in Queensland. In due course, we arrived at Sydney Central train station to board the Brisbane Express and found our way to our allotted seats, which were in a compartment accommodating eight people.
As the long journey progressed, the occupants of the compartment began to converse. The two girls sitting opposite seemed familiar and, during the dialogue, identified themselves as fellow Salvationists. This engendered a conversation about religious affiliations and all eight in the compartment identified with a denomination of some kind.
I have pondered recently that if you were to put eight strangers together today, how many, if any, would identify with a Christian denomination? I suspect not too many. Why is that? Perhaps we live in a society that fundamentally rejects God and any personal responsibility for wrong thoughts, attitudes or actions. There is a sense of self-righteousness prevalent today that was not so predominant in previous times. People today are loath to confront their own dark side. If they do something wrong there is an inclination to blame someone else, their environment or circumstances, rather than confront their own thoughts, attitudes and actions.
We live in an age of a no-fault society; we've all seen it play out in the media. A noted sportsperson, who has committed crimes while on a drug or alcohol-fuelled bender, is brought before the courts to account for and be punished for their actions. They refuse to acknowledge their wrongdoing and enter a not guilty plea on the grounds of mental impairment, regardless of the fact they have been able to perform at the very apex of their chosen sport previously.
There has also been an over-balance on positive affirmation to the point that any sense of failure is negated and people soon lack any sense of real accountability for their failures or misconduct. We have come to the point where people will use any excuse to dissociate themselves from taking responsibility for wrong behaviour. Over the years of my ministry, I have seen a determined effort to steer away from any style of preaching that makes people feel guilty. The corollary to this is that if we remove any sense of guilt from a person's life, there is no motivation for them to change wrong or sinful behaviour.
The end result is this; if people do not feel or understand they are sinners, the message of salvation has absolutely no relevance to them. In the second chapter of Mark, we have the story of Jesus calling Levi, a tax collector. In accepting the call to discipleship Levi throws a dinner party, which Jesus attends. There were a large number of dinner guests, along with many tax collectors and other disreputable sinners. The Pharisees saw Jesus eating with these people and asked his disciples, "Why does he eat with such scum?" In reply, Jesus states one of the fundamental truths of Christianity and evangelism: "Healthy people don't need a doctor – sick people do. I have come to call not those who think they are righteous, but those who know they are sinners" (Mark 2:17 NLT).
In the age of a no-fault society, how do we move people from thinking they are righteous, to knowing that they are sinners in need of redemption? I put this question recently to one of our Salvation Army leaders, who promptly replied: "That's the work of the Holy Spirit." Theologically correct! Or is it? In 2 Corinthians 5, Paul has that wonderful verse about our salvation: "... anyone who belongs to Christ has become a new person. The old life is gone; a new life has begun!"
However, it is verses 18-22 that follow that impinge on our subject: "And all of this is a gift from God, who brought us back to himself through Christ. And God has given us this task of reconciling people to him. For God was in Christ, reconciling the world to himself, no longer counting people's sins against them. And he gave us this wonderful message of reconciliation. So we are Christ's ambassadors; God is making his appeal through us. We speak for Christ when we plead, 'Come back to God!' For God made Christ, who never sinned, to be the offering for our sin, so that we could be made right with God through Christ" (NLT).
I am not sure just how you can appeal to people to "Come back to God" if they think and feel
they are not sinners and have been quarantined from any feelings of guilt. It seems to me that to simply shrug it off as the work of the Holy Spirit is reneging on our God-given task of reconciliation. Somewhere, somehow, people have to acknowledge they are sinners and deal with the sense of guilt that will inevitably engender.
ACKNOWLEDGING SIN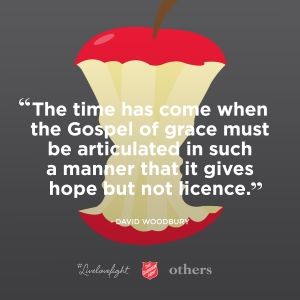 In previous times, fire and brimstone preaching probably scared people into the kingdom, but it would not work in today's society. There is a need for a more like-minded approach that acknowledges our common sinfulness. Recently, Major Gavin Watts, who at the time was responsible for The Salvation Army Dooralong Transformation Centre on the NSW Central Coast [he is now Area Officer, Sydney Wide], was a guest at a seniors meeting at our corps. He commenced by saying, "My name is Gavin Watts and I am a sinner", a variation of the introduction used at AA (Alcoholics Anonymous) meetings. It seems to me that this is an ideal place for us to start challenging people with their sin and need for salvation; a common meeting ground of personal confession.
I am reminded of the words of an old chorus, which states a very fundamental and crucial truth: "Only a sinner saved by grace! Only a sinner saved by grace! This is my story, to God be the glory – I'm only a sinner saved by grace!"
Many have read the Bible as a rule book and not understood that it acknowledges that humanity is incapable of keeping the rules. In the book of Romans, Paul addresses this fact, and enunciates a way humanity can be put into a right standing with God through grace, and it may well be that contemporary Christianity has not explained it too well. All too often we have been guilty of presenting the Gospel in such a way that people think they have to jump through theological hoops. The time has come when the Gospel of grace must be articulated in such a manner that it gives hope but not licence.
The promise of a right relationship with God is a free gift that comes by no other means than that of faith in the redemptive death and resurrection of Jesus Christ. It is given regardless of whether or not we live according to the law of Moses. It is given by him who brought this world into being and has the power to bring the dead back to life and who creates new things out of nothing. Here is the great eternal truth; God can do the impossible, even with the weakest and most sinful of all humanity. Here is not only the Gospel of grace but also the Gospel of total redemption for the most sinful of all humanity.
The law was given by God so that humanity might know and understand how sinful they were. But God offered a way back to him that did not depend on the law but rather on the grace that comes through the death and resurrection of Jesus. The law cannot be ignored or devalued, it simply means that by its presence, like King David, we acknowledge our sin and it is ever before us (Psalm 51:3). The reality is that it is impossible to profoundly appreciate grace until we have faced up to the enormity of our sin. If our sin is ever before us we will never lose the amazingness of grace.
Is there a sense in which modern Christianity has, regardless of good intentions, projected itself in such an idealistic manner that many have just simply turned away from that which they see as an impossible lifestyle? I believe that in our pursuit of a life of holiness it may well be that we can reflect such idealism. That is not to say that the life of holiness be abandoned, far from it. However, it needs to be pursued in a practical, down-to-earth and comprehensible approach that can be easily understood and feasible.
Paul writes, "We speak for Christ when we plead, 'Come back to God!' "There is a strong sense of compassionate entreaty here which we cannot ignore. If we are to speak for Christ we must do so in terms and the vernacular that non-Christians will understand and find engaging. However, there is a danger here that we must monitor. In seeking to be more understandable and relational we need to be on guard that we do not allow current worldly thinking and mindsets to infiltrate our Christian communities. Given the ability of human nature to push the boundaries, the reality is that current worldly thinking and mindsets can easily dilute and degrade our biblical principles.
With the fast declining numbers and the fading influence of Christianity, we need to seek out ways in which we can engage with what is basically an indifferent, and at times, atheistic community. It is my belief that the Gospel of grace with its intrinsic message of hope is the best channel of communication. How we best do that is open to authentic and courageous creativity and Holy Spirit-inspired action.
Major David Woodbury is a retired Salvation Army officer and former editor of Salvation Army publications.