This is Gawler 2020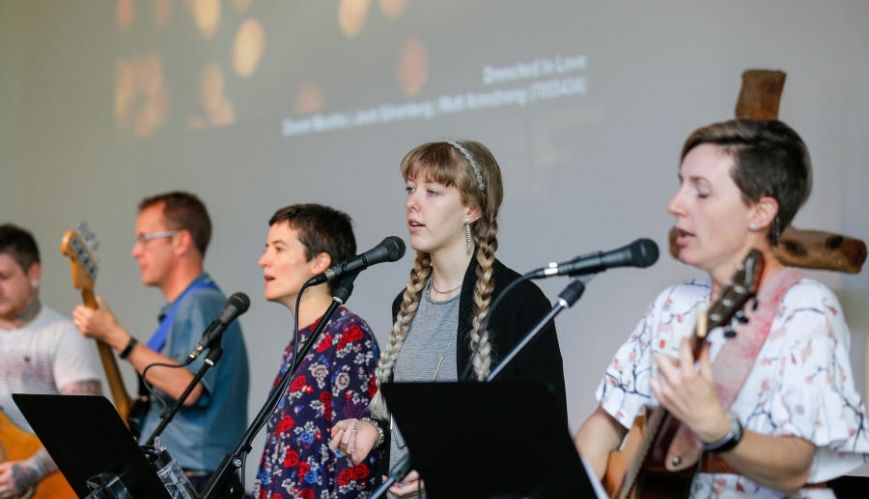 This is Gawler 2020
24 January 2020
Gawler worship leaders, including Major Darren Cox's wife Katie (far left), sing during the Sunday morning church service. Photos: Duan Kereru 
By Bill Simpson
As we sat at the back of the church hall after a Sunday morning service, Mark told me he had a string of convictions for illegal activity. He was now 56. "But, I am not a bad man," he said. "Please don't think that I am a bad man."
There were tears, even at this early stage of our conversation. "I'm sorry," he said, "but it's been tough." The word 'tough' turned out to be an understatement.
Mark Stanley was born and raised in a brothel environment. His mother was a brothel madam. Brothel life is what he knew growing up. He didn't know his father. He didn't know real love. Nobody had ever told him that he was loved.
He moved easily into a life of crime. He was married and divorced. He and a girlfriend had a baby girl 11 years ago. The day his daughter was born, his girlfriend asked him to help her do something illegal. He pleaded with God to protect his little girl. He recalls hearing a voice that he believed to be God saying that his daughter would need a lot of protection.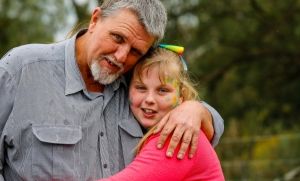 Mark Stanley and his daughter, Patricia.
He did his best, he says, but due to wrong and difficult decisions, he lost custody of his daughter several times. Four years ago, there was a series of unpleasant events, he says, that convinced him the world was against him. He decided to end his life. He told me how. I won't pass on the details. "I didn't want to live any longer," he says. At the last minute, he remembered he had an appointment with The Salvation Army. He set aside his suicide attempt and went to the appointment, just in case there was something better.
It was at Gawler, 50km north-west of Adelaide. Gawler Corps Officer Major Darren Cox walked into the room. "Darren said that he had been waiting for me. He just hugged me," Mark told me. Mark needed time to compose himself before our conversation could continue.
"Darren understood. He knew what I had been through. He told me that I was a good man. Nobody had told me that before. I am a good man, and I just needed a chance to show it." With Darren's help, Mark was given the chance. He was rescued, not only by Darren, but by the entire Gawler Corps.
Mark joined the Gawler congregation and they embraced him. Now, he's a regular worshipper on Sundays. His daughter Patricia worships at Gawler every Sunday, too. Mark has full-time custody of Patricia. "And Major Darren," Mark told me, "I would take a bullet for that man. I would die for him. I didn't know what love was until I met Darren and his family. I had a horrible life. Horrible things happened to me for most of my life – until I met Darren and the people at this church. I might have tears right now, but I am the happiest I have ever been."
This is Gawler 2020.

The real deal
I also met Cameron Brewis at the back of the church. Cameron is 32. He's been going to Gawler Corps for six months. Cameron grew up in a church family. At 21, he walked away from church and into a life of drugs and alcohol, and, like Mark, marriage and separation. Cameron has two daughters, one who lives with him and another of whom he has 50 per cent custody.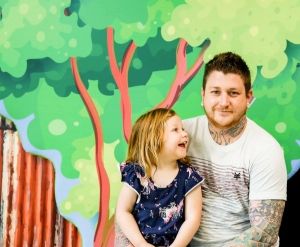 Cameron Brewis, who plays guitar in the Sunday morning worship service, and his daughter Aubree.
Twelve months ago, Cameron ran into Darren, who was doing his Friday night pub ministry. They talked and they kept talking every Friday night at the pub after that, Cameron often giving Darren an earful about what he thought of church and Christians. Darren listened. Sometimes it wasn't pleasant.
Cameron gradually saw Darren as authentic, because he listened. "He was the real deal," Cameron says. "He invited me to his church. When I had to appear in court for some criminal activity, Darren came with me. I hated church and every- thing to do with it, but Darren changed my whole idea about church. I gave his church a go."
Now, Cameron plays guitar in the Sunday morning worship band. Cameron's daughters – Aubree, 3, and Grace, 7 – attend church with their dad every Sunday.
This is Gawler Corps 2020.
Gawler 'church plant'
Darren Cox came to Australia from England on appointment in 2012 to grow Gawler Corps, which was in rebuilding mode. After first opening in 1883, it closed in 1984. It reopened in a small office in 2001, struggling to make progress for the next decade. It was operating from a thrift shop with only a few people when Darren arrived.
Gawler Corps Officer Major Darren Cox.
His first appointment after graduating from Salvation Army Officer Training College in Britain 20 years ago was to plant a corps near Bolton, in northern England. Darren met an Aussie girl, Katie, and they married in 2005. Although not an officer, Katie played an integral part in the ministry at Bolton, as she has done at Gawler. They brought with them from England two children – Jessie, now 12, and Joseph, 10.
Darren was told to treat Gawler like a church plant. He believes his gifting from God is planting and growing churches. When he arrived seven years ago, he estimates the congregation at about a dozen "committed individuals". Today, there are 130 or so attenders. In his time as Gawler Corps Officer, the congregation has moved from the thrift shop to a cinema, then a primary school. In October 2018, the corps moved into a beautiful new building, with facilities for ministry, mission and community service. "The foundations [of a corps] are in place, the leadership team is in place and we have a home," Darren says. "We have a faith goal for a church of 250 in 2020, a vision for over 500 and a desire to plant out from Gawler. Our mission is to love Jesus, grow together and share hope."
Growth comes, says Darren, through people sharing Jesus with their family and friends. The corps has implemented a deliberate discipleship pathway focused purely on reaching out to people who need the Lord through to discipling to maturity those who make the discovery.
Growth through relationship
Rachel Nelson and her mother were among a handful of people who attended when Gawler Corps reopened in the thrift shop 12 years ago. She's now 23. A few years ago, Rachel met Josh Watkins. They are now close friends and worship together at Gawler.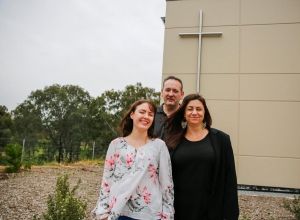 Rachel Nelson, Anthony Jaeschke and Amanda Whiteman.
Three years ago, Amanda Whiteman returned to the Gawler area to escape from domestic violence in Sydney. She knew Josh from school days. They talked. Josh invited Amanda to his church. She went.
"I almost lost my life to domestic violence," Amanda tells me. "This church has saved my life. This church has been a huge part in my healing. I am starting to love myself." Amanda met Anthony Jaeschke, who was having problems. Amanda invited Anthony to her church. He went. Now they are engaged and worship together on Sundays at The Salvation Army.
This is Gawler 2020.
God at work
There are plenty of other stories of people, mostly newcomers to The Salvation Army, who have found God through somebody at the corps. As I was leaving the building about an hour after this Sunday morning meeting, I spied an elderly lady in full white Salvation Army uniform standing quietly by the front door. She stood out because she was one of the very few people in uniform. Her role was to ensure everybody that morning felt welcome.
The lady's name was Joy Cameron. Joy has just turned 80. She had spent most of her life at another church. Twenty years ago, she decided to go to The Salvation Army with a neighbour. It led to soldiership and a supporting role in The Salvation Army Gawler Corps.
Faithful soldier Joy Cameron.
Joy would like a few more traditional hymns during the Sunday morning service, but accepts most of the congregation are new to The Salvation Army and are comfortable with contemporary songs. "New people keep coming. That's what is important," she says. The Sunday I was there, uniforms were sparse but worship was robust, the preaching was challenging and the response was inspiring.
"It's great to see so many new people in our corps," says Corps Officer Major Darren Cox. "But, really, we ride on the shoulders of Joy and people like her. They love the new people and the spiritual maturity Joy and people like her bring is amazing. The Father [God] is at work in Gawler and we have been partnering with him in what he is doing rather than doing what we think is best."