Young people feeling the pressure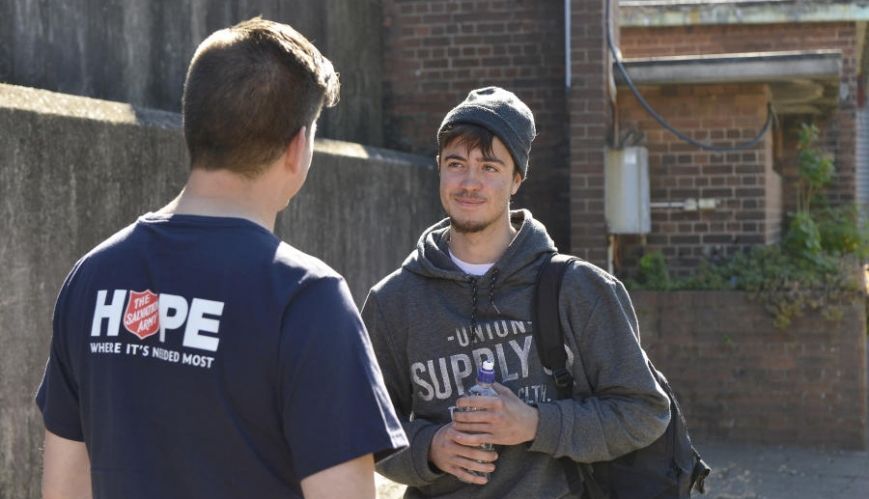 Young people feeling the pressure
26 October 2020
Salvation Army stock image.
By Simone Worthing
October is Mental Health Month in Australia. This week we continue to run articles from Salvos Magazine, looking at different aspects of mental health, and the help that is out there for everyone.
The COVID-19 pandemic has, and is, taking a mental and emotional toll on many people, but it has become an especially tough time for vulnerable youth. On top of fears around education and employment, many of these young people are also battling to find stable housing, build life skills and develop a strong and supportive community around them.
"Many of the youth in our services, including two youth refuges in Melbourne, have been let down, often by family and caregivers, as well as other systems designed to support them," says Angie Jarman, clinical psychologist and case consultant with The Salvation Army's youth services across Victoria.
"Our services have the beautiful opportunity to come in at this point to help those youth find different ways of being, different options on the journey to becoming fully functional adults and alternate ways of finding jobs and housing.
"This is a time of change and we want to work with them to help break the cycle of homelessness."
A growing concern
During the pandemic, mental health organisations and services such as the Salvos, have seen an increase in the volume of calls they receive from young people, and experts have warned of increases in anxiety, distress, self-harm and indicators of suicide-vulnerability and behaviour.
Patrick McGorry, Executive Director of Orygen Youth Health Research Centre and Professor of Youth Mental Health at University of Melbourne, said recently that authorities are predicting a 15-25 per cent increased risk of suicide and are expecting the need for mental health for young people to increase by almost a third (abc.net.au).
"Our vulnerable young people are certainly feeling the pressure," says Angie. "Some of this comes from often not having had the best care and start in start in life for a whole range of reasons, which has led to unhelpful coping strategies and mental health issues. The young people are often not used to connection as they are estranged from their families and many have been abused. Some may be using substances such as drugs and or alcohol and so can't sustain education or employment. Many have lived on the streets and dropped out of school.
"The 'usual' structures of a stable upbringing, including employment, school, family, health and sport, just aren't there for many young people. These factors are some of the drivers behind many challenging behaviours and mental health struggles they face."
Angie explained that there is still a lot of stigma around homelessness, even youth homelessness, and, while many show compassion to the young people, others are embarrassed by them, pity them, or blame them for their circumstances.
"We try to link the young people in with services and community groups where they can connect and feel valued, cared for, heard and respected," says Angie.
Pandemic resilience
Even though many young people are finding the impacts of the pandemic to be adding complexity and desperation to their mental health struggles, some are finding themselves more equipped to work through some of the challenges than they first thought.
One of the biggest difficulties facing young people throughout lockdowns and restrictions has been disconnection from family and social structures.
"In our vulnerable young cohort, who sadly are already disconnected from family and support, many are finding that they have already developed resilience in that space. Social isolation is not new to them and their resilience is helping to protect them."
Many of the young people accessing the Salvos services, particularly the youth refuges, have also adapted well to online groups, courses, appointments and support.
"This is a digital generation with everything at their fingertips so it hasn't come as that much of a shock and adjustment for many," says Angie.
"It's also been easier for them to get additional government support, through the provision of bulk-billing psychologists, health resources, hotel accommodation and housing support, and financial subsidies. We are working with our young people to help them save some money to get out of debt and work towards private rental."
Digital dissonance
Despite the huge advantages of being digitally savvy and able to access a range of resources and interactions online, Angie does not support the virtual-living lifestyle.
"Our society is emotionally disconnected, which is leading to a lack of community and an overwhelming tide of loneliness," she says. "This applies to us all, not just young people. We're not good at connecting face-to-face and the places where we can connect are disappearing.
"The pandemic has shown that the need for people to connect in person has grown, but we are living much more virtually. There is less eye contact, physical proximity and hugs. The chemical changes in our bodies those things create are less, impacting our health as well.
"As a society we don't know our neighbours, we are more wary of each other, we aren't turning to church for social connections and we just don't have the time to put into community with all our work and family responsibilities."
Angie believes that, for most people, a ratio of around 70 per cent face-to-face relationships and 30 per cent online, would be optimal for good mental health.
"For young people, though, this ratio is often the opposite, and can lead to so much isolation and loneliness," she says.
Simone Worthing is Assistant Editor of Salvos Magazine