Tribute - Arthur Dixon Tribute - Arthur Dixon
Major Arthur Dixon was promoted to glory on Sunday 26 September 2021, aged 96.
Arthur was born on 6 October 1924. He entered The Salvation Army Officer Training College in 1945 as a cadet in the Fearless session and commissioned as a pro-lieutenant on 2 January 1946 and then to the rank of lieutenant on 10 January 1947.
Arthur married Dorothy Bennett in 1949 and their first appointment was to Liverpool Corps as the corps officers. Arthur and Dorothy ministered in differing corps appointments including Lithgow, Narrabri, Leeton, Crookwell, and Bowral. They were blessed with two children – Robert born in 1952 and Richard born in 1953. Sadly, while stationed at Leeton Corps, Richard passed away at the age of two. Robert passed in 2011.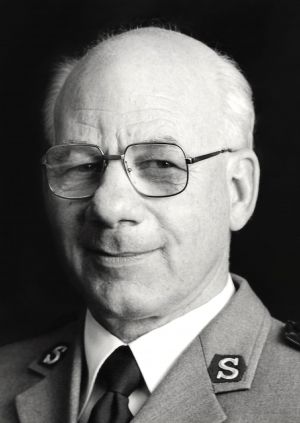 From 1946 through to 1968 Major Arthur ministered at 13 corps appointments before being appointed as the Residential Officer at Territorial Headquarters because of Dorothy's ill-health. After Dorothy's passing, Arthur remarried Captain Helen Anderson in 1970. After an extensive period of self-education, Arthur qualified as a draughtsman, a property surveyor and a project manager. These skills led to being appointed as the Assistant Property Secretary in December 1972, which was then followed by Secretary to the Property Board in 1975, Assistant Property Secretary in 1981. Major Arthur's last appointment in 1988-1995 was as Property Secretary in Sydney. Majors Arthur and Helen retired in December 1995.
In retirement, Arthur and Helen soldiered at the Springwood Corps and enjoyed developing their cottage, which Arthur built, and block of land in the Blue mountains into a productive orchard. They also enjoyed travelling around NSW in their caravan with other retired officers. The cold winters in the mountains necessitated a move to Weeroona Village at Bass Hill, where they both continued to serve in Bankstown Corps and in the retirement village.
Arthur served as maintenance manager, relieving manager and often led services there. He lectured at the training college on Salvation Army history and was instrumental in the research for the development of the Memorial Garden. He was also an active member of the Retired Officers Group until Major Helen's health deteriorated.
In recent years, he gained fellowship with his local men's shed where he was the acknowledged expert on the lathe. Many are the beautiful bowls and pens that he gave as presents to family and friends.
Our love and prayers along with our heartfelt sympathy covers Roselyn, Jason, Justin, Moises Ethel, and Alf, and their families today.
"His master said to him, 'Well done, good and faithful servant.
You have been faithful ... enter into the joy of your master" (Matthew 25:23).