Tribute - Bruce Hodges Tribute - Bruce Hodges
On Sunday evening 25 July, Major Bruce Hodges was met by his Lord and taken to his heavenly home – promoted to glory. A humble, gentle, graceful, godly man, Bruce was 77 years of age.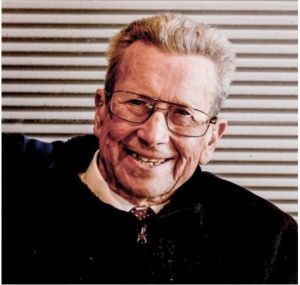 Bruce Hodges was born to a strong Salvationist family on 2 May 1944 in Barraba, NSW. He entered Officer Training College as a cadet in the Messenger of the Faith session in 1967. After commissioning in January 1969, Lieutenant Bruce was appointed to the Broken Hill Corps.
Lieutenant Bruce served in ministry as a single officer, being appointed to the Cowra Corps in 1971, Assistant – Grenfell Region in 1971, Bexley Boys Home in 1972 and Uralla Corps in 1973. It was in Uralla that Captain Bruce met the love of his life, Lillian Vickery. Lillian entered the training college and was commissioned in 1974. They were married on 3 January 1976. They were blessed with four children – Fiona, Rusty, Graham, Brad (and their spouses) and six grandchildren, who he adored.
Captains Bruce and Lillian were appointed to the Glen Innes Corps in 1976, Clermont Corps in 1979, West End Corps in 1981, Manager – Hilldale Village Mulgowie in 1983, Narrabri Corps in 1987, Manager – Moyne Aged Care Centre Canowindra in 1989, Lithgow Corps in 1991, Assistant Manager – Pacific Lodge Dee Why in 1995, Manager – Campsie Community Services in 1998, Manager – Inner City Community Services Centre in 2000, Chaplain – Macquarie Lodge Aged Care Plus Arncliffe in 2005 and his final appointment in 2006 was as a retired officers chaplain. Major Bruce retired in January 2012 having served as an active officer for 41 years. In addition, he completed two years of active service in retirement.
In retirement, he enjoyed tending to his roses with loving care and enjoyed when his kids and grandkids popped in for a visit. He loved relaxing by reading and watching Gaither Homecoming videos. He continued his faithful ministry as a soldier of the Tuggerah Lakes Corps and is remembered as a gentle, loving and encouraging man. A man who loved Jesus and others deeply.
Our love and prayers along with our heartfelt sympathy covers Major Lillian, Fiona, Rusty, Graham Brad and their families today.
His master said to him, "Well done, good and faithful servant. You have been faithful ... enter into the joy of your master" (Matthew 25:23).
A committal service with immediate family only will take place on Thursday 29 July at 11.30am at Tuggerah Lakes Corps, to be led by Lieut-Colonel Cheryl Carpenter.
A live-streaming of the service can be seen through the following link: https://www.livetoair.com.au/brucehodges
The family will have a Celebration of Life for Bruce once COVID restrictions have lifted, to remember his life, his impact and service to others. We will let you know the date as things become clearer.