Tribute - Evelyn Joyce Tolputt Tribute - Evelyn Joyce Tolputt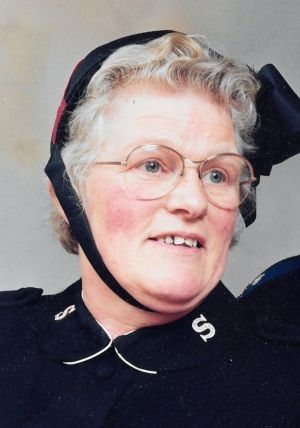 Auxiliary-Captain Evelyn Tolputt was Promoted to Glory peacefully from her home at Barrington Lodge, Hobart (Tas.) on Wednesday 19 August 2020. She was 86 years of age. Her funeral was held on Thursday 27 August.Evelyn and Reginald Tolputt were actively involved in all aspects of The Salvation Army all their lives. When they emigrated from England in 1966 (sponsored by the Glenroy Corps) they arrived and settled in Melbourne, and later in life accepted a commission as Envoys; first Divisional (1986), and then Territorial (1987).
In 1987 they also accepted an appointment at Queenstown (Tas.) where they faithfully served for four years, while also completing the Mature Age Training Course and in 1990 they received their commission as AuxillaryCaptains. In 1991, they were asked to relocate to Cornwall/St Marys (Tas.) where they continued to faithfully serve, even after retirement on 1 June 1996. Reg was promoted to glory in 2009.
Evelyn moved into care in 2019 (Barrington Lodge, Hobart) where her daughter Angela ministers as the chaplain. Our love, sympathy and prayers are with Malcolm, Angela, David, Trevor (dec.), Jenny, Sally, their partners, grandchildren, great-grandchildren, extended family and friends.
"So do not fear, for I am with you; do not be dismayed, for I am your God.
I will strengthen you and help you; I will uphold you with my righteous right hand" (Isaiah 41:10).