Tribute - Gijsbertha van den Hoek Tribute - Gijsbertha van den Hoek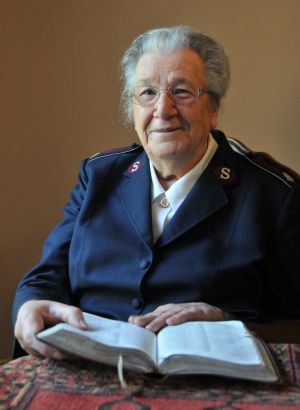 Lieut-Colonel Gijsbertha van den Hoek was peacefully Promoted to Glory from her home at Livingstone Gardens, Vermont South (Vic.), on Saturday 5 September 2020. She was 91 years of age.
Born on 3 April 1929, Cadet Gijsbertha 'Bep' Govaars commenced Salvation Army officer training with other cadets from the Intercessors session in the Netherlands, Czech Republic and Slovakia Territory in 1951. Another such cadet was a young man, Barend van den Hoek, with whom Bep formed a special connection.
Commissioned in May 1952, Bep was appointed to the Utrecht Corps II. Bep and Barend were married in May 1955 and together served at the Zierikzeen Youth Centre until they were accepted for overseas service. So, on 10 November 1959, Bep, Barend, and their two young boys, Barend (Jnr) and Josephus (only 4 months old) moved across the world to Hong Kong to begin what would be 15 years as overseas reinforcement officers. They spent 12 months in language study, during which time Gijsbertha (Jnr) was born, and then in 1961 were appointed as Social Services Officer and Corps Officer Wanchai (1961-65).
In December 1965 the van den Hoek family relocated to the Taiwan Region, with Bep taking up an appointment in the Women's Ministries department. During their time there, they welcomed the safe arrival of Melody, thus completing their immediate family.
In July 1974, Bep, Barend, and their four young children transferred territories to the Australia Southern to take up an appointment as Assistant Superintendent, and then Superintendent, at the Anchorage (1974-1979), followed by State Social Secretary, Victoria (1979-85), Divisional Director Women's Organisations, and Divisional Home League Secretary, Melbourne Central Division (1985-88), and Director of Women's Organisations, Tasmania (1988-94). This finalised Bep's formal ministry, as Lieut-Colonels Bep and Barend retired from active service on 1 May 1994, after 42 years of ministry for God and The Salvation Army, across three territories.
In retirement, Bep and Barend enjoyed camping, gardening and hosting dinners with friends and family at their home in North Balwyn. Barend was Promoted to Glory in 2015, after 60 years of marriage.
Our love, sympathy and prayers are with Barend, Jos, Bep, Elly, their partners, grandchildren, great grandchildren, extended family and friends.
So do not fear, for I am with you; do not be dismayed, for I am your God.
I will strengthen you and help you; I will uphold you with my righteous right hand. (Isaiah 41:10)
A private funeral will be held on Thursday 10 September, 2020, at 15:45 Eastern Standard Time, conducted by Lieut-Colonel Xuyen Pho. This will be live-streamed at https://oneroomstreaming.com/family-and-friends, using the following email address and password: ian.deblaquiere@lepinefunerals.com.au Password: LUBTUO