Tribute - Stella Green Tribute - Stella Green
Major Stella Green was promoted to glory from her home in Bankstown (NSW) on Tuesday 23 March 2021. She was 94 years old.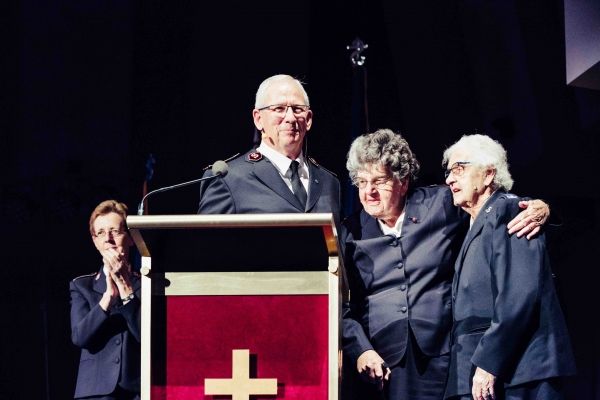 Stella (centre) stands with her arm around her sister as she receives the Order of the Founder from General Brian Peddle. Photo: Carolyn Hide
Stella Green left the North Sydney Corps in 1948 to join the Kings Messengers session of cadets in training. After being commissioned, Stella served in a variety of appointments throughout NSW. These appointments included Young Corps, Yass Corps, Forest Lodge Corps, Bowral Corps, Leichhardt Corps, Coffs Harbour Corps and Cremorne Corps. At one point without initially having a driver's license, which was hastily arranged in five days, she was sent out on the field unit truck to Condobolin Corps with her sister, 2nd Lieutenant Olive Green. While in Sydney, Stella felt an overwhelming call from God to offer herself for Missionary service. In 1958, Stella left Australia for the Philippines Territory, first as Secretary to Commander (December 1958–April 1962), and then as Young Peoples' Secretary (April 1962–August 1964).
In August 1964, Stella returned to an appointment in Australia in the Office of the Chief Secretary, to assist with the organisation of the 1965 Centenary Congress. But after her life-changing experience in the Philippines, Stella found it hard to settle and the call back to Missionary service grew stronger. In September 1965, Stella was transferred to the Hong Kong Territory, accepting various positions within the Hong Kong Command, and this is where she ministered for the next 14 years. Stella fell in love with the Chinese people. She learned their language and totally integrated into the Chinese community. Stella described herself as more Chinese than Australian. Some of those appointments included Secretary to the Officer Commanding; Command Secretary for Youth; Principal of the Training College and Regional Officer for Taiwan.
In July 1979, Stella returned to Australia and an appointment as Territorial League of Mercy Secretary at Territorial Headquarters (18 months), before being appointed as Special Services to Refugees (1981–March 1984). In this appointment, Stella commenced The Salvation Army, Sydney Chinese Corps. Her main objective was to win as many people for the Lord as she could so that the corps became self-sustaining. Stella lived to see that by God's grace this Chinese initiative flourish into many corps around Australia and her first enrolment Donni Pho, enter the training college and with her husband rise to the rank of lieutenant-colonel.
Stella's last active appointment was as manager at Karingal Court (ACT), a role she fulfilled until her official retirement in June 1986, but Stella never really retired from ministry and her love for the Chinese people was only outshone by her love for her Lord and Saviour Jesus Christ.
In 2019, Stella was award the Salvation Army's highest honour – the Order of the Founder by General Brian Peddle.
Our love, sympathy and prayers are with family Marge and Gordon Turner, as well as the many friends honouring Stella's life. May God bring comfort to those who mourn her passing, confident in the knowledge that Stella is now with her Lord and Master.
The faithful love of the Lord never ends! His mercies never cease. Great is his faithfulness; his mercies begin afresh each morning.
I say to myself, "The Lord is my inheritance; therefore, I will hope in him! (Lamentations 3:22-24).
The funeral for Major Stella Green was held on Thursday 1 April at The Salvation Army Campsie, conducted by Lieut-Colonel Laurie Robertson.