Tribute - Wesley Harris Tribute - Wesley Harris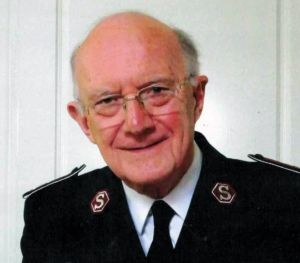 Commissioner Wesley Harris was promoted to glory from his home at Livingstone Gardens, Vermont South (Vic), on the morning of Friday 14 May 2021. He was 92 years old.
Bramwell Wesley Harris was born on 25 November 1928 in Cardiff, Wales, and in 1947 he entered training as part of the King's Messengers cadets session at The Salvation Army training college in London.
After commissioning, Lieutenant Wesley had many appointments as a corps officer throughout the UK and Ireland Territory. In 1955, Wesley married Captain Margaret Sansom and thus began their united ministry. Their son, Peter, was born in 1957 followed by a daughter, Christine, in 1967. In 1968, the Harris' accepted the appointment at Exeter Temple Corps and Area Commander, followed by three years as corps officer at Regent Hall, and then three years as General Secretary. It was from here that Lieut-Colonel Wesley Harris was appointed as the Assistant Editor in Chief, International Headquarters, followed six months later by the appointment of Editor in Chief.
On 31 August 1978, Colonel and Mrs Wesley Harris had their first overseas appointment and Wesley started as Chief Secretary of the Australia Southern Territory. They then moved to be the Territorial Leaders of UK and Ireland Territory, followed by New Zealand, Fiji and Tonga Territory, and then the Canada and Bermuda Territory, until they entered honourable retirement on 1 December 1993. returning to the Australian Southern Territory.
In retirement, Wesley continued his ministry – formal and informal – helping out multiple times and in multiple locations including Eastern Victoria, South Australia and Northern Territory. He also continued to write, publishing books, articles for journals, periodicals, maintaining a blog and Facebook even in retirement. His passion for writing came from an early age and never waived. It was a natural, God-given gift that he used for God's glory.
Our love, sympathy and prayers are with Margaret, Peter, Christine, their families, and friends honouring Commissioner Wesley's life. May God bring comfort to those who mourn his passing, confident in the knowledge that Wesley is now with his Lord and Master for whom he lived, all the days of his life.
"'Where, O death, is your victory? Where, O death, is your sting?' ...Thanks be to God! He gives us the victory through our Lord Jesus Christ." (1 Corinthians 15:55 & 57).
The funeral service for Commissioner Wesley Harris will be held 11am, Tuesday 25 May at the Camberwell Corps, to be conducted by Commissioner Brian Morgan. The service will be live-streamed via the following links: Tuesday (11am AEST) https://youtu.be/50nFliL0bDo or a link to view later https://www.youtube.com/channel/UC1IJVrgyWZdRD0V1i97Pb2A - under the section labelled 'Past live streams'.