You are here:
Home › Global Focus › Army In Norway Takes Street Soccer Into Prison
Army in Norway takes street soccer into prison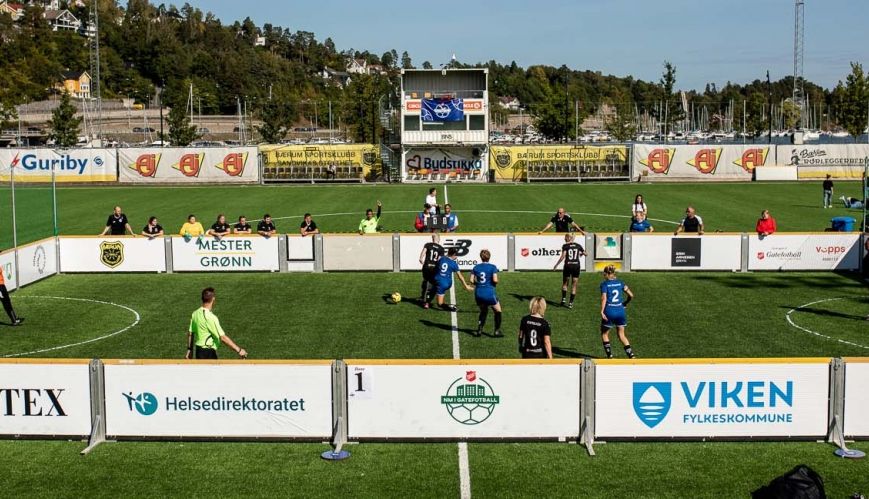 Army in Norway takes street soccer into prison
Action from last year's National Street Soccer Championships in Norway, hosted by The Salvation Army. The Army is to take its popular 'gatefotball' program into a low-security prison in the Norwegian city of Kongsvinger.
By Darry Whitecross
The Salvation Army in Norway is kicking off a new ministry initiative by taking its street soccer program behind bars.
Major Yury Zelentsov, the Army's Director of Prison Ministries in Norway, said 'gatefotball' [Norwegian for street soccer] would be officially launched today at Kongsvinger Prison, 95km north-east of Oslo.
Street soccer has been a popular Army ministry program for many years. Yuri said it had been "a well-tried project" within the Army's Addiction Rehabilitation Services since 1980 and was "a natural next step" to take it into the prison system.
There are more than 20 Army-run street soccer teams for men and women across the country. The Army has also been responsible for the national team since 2005, and in 2017 hosted the Homeless World Cup in Oslo.
Yury said the Army believed a person could not be "a competing sportsman" and be addicted to drugs and alcohol. Its catchcry is: "Want to compete? Keep it clean."
The Army has forged a strong relationship in recent years with Kongsvinger Prison through the visitation of ministry teams. Last year, he met with prison authorities and discussed the possibility of introducing a street soccer program. "They accepted it with open arms," Yury said. The Army then set about securing finance to construct a pitch and buy equipment.
"This project comes with a price," Yuri said. "The street soccer pitch costs money; equipment costs money; a coach costs money." But he said the Army was prepared to absorb these costs to "see the lives of players being transformed; people regaining meaning in life".
Yury said the pitch installed in the prison was about 22m long by 16m wide, which was smaller than a standard street soccer pitch: "They didn't have enough space for the full-size, so it is a bit narrower."
"The first game will be between the inmates and prison staff," he said. "I cannot wait to see them play."
Once the ministry is established, a prison team will be allowed outside once a week to use the Army's community pitch to train and play against other community teams.
"As we say in Russia [Yuri is from Russia]: In the healthy body, there is a healthy spirit. You learn to set goals and learn to achieve them; you learn to take responsibility for your actions on and off the pitch. You get a new positive network."
Yury said the goal was that inmates, after being released, would be introduced to a street soccer team in their area so they could "continue with their rehabilitation".