Anyone for a spot of pickleball?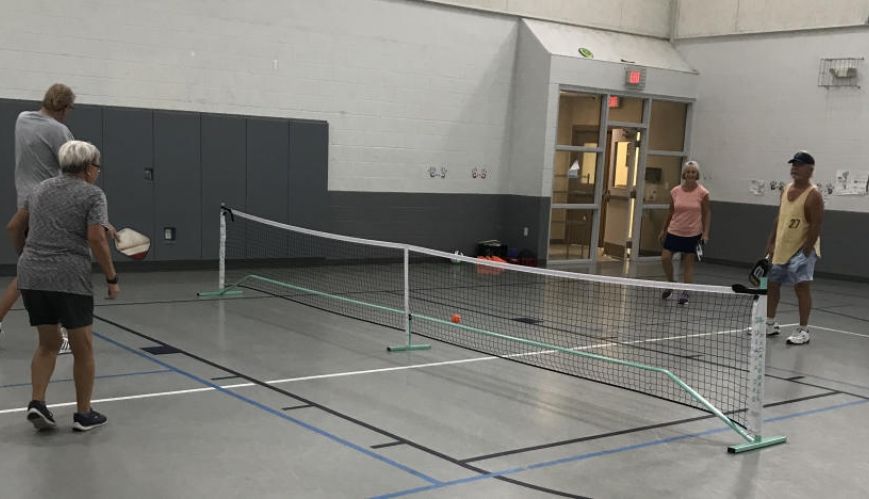 Anyone for a spot of pickleball?
A pickleball game in progress at The Salvation Army Community Centre at Venice Corps in Florida. 
By Darryl Whitecross
Venice Corps in Florida, USA, has just resumed its pickleball competitions as COVID-19 restrictions have eased in that part of the world.
The immediate question from most people would be: What on earth is pickleball? Considering its roots are American, one could be forgiven for thinking it was something country folk did and involved throwing some type of processed food.
Well, it's not. An internet search will reveal that pickleball is a sport – and it's got a grip around Australia – and Bob Mendelsohn, the chairman of Pickleball Australia (yes, there actually is a national association for the sport!) was the man who claims credit for officially starting off the craze Down Under.
Bob said the mother of an American champ in the sport – that's Morgan Evers who's an Aussie, by the way – is given credit for having introduced Australia to the sport. Morgan convinced her to get it going in 2015-16. She lives in Cairns.
Not far behind, he said, was Western Australia with someone kicking if off in Perth.
Anyway, on the eve of World Pickleball Day, the Army's Community Centre in Venice re-opened its courts and its centre director Kyle Rousseau expected players starved for competition to rush back on day one. 
A pickleball paddle and ball.
"Pickleball really is a huge program here," Kyle said. "Before COVID hit, we would have 40 people easy here. None of our current pickleball players come to church; however, all proceeds from the program benefit our after-school program so it's a great program for us."
Kyle said pickleball was "a paddleball sport" that combined elements of badminton, table tennis and tennis for two to four players and can be played inside or out on a court about 10m wide by 20m long – significantly smaller than a tennis court but around the size of a badminton court.
The centre provides balls and paddles but welcomes players to bring their own equipment.
In the good, old US of A, the sport has been around "forever" but it snuck into Australia two or three years ago – with the Pickleball Australia Association established in January this year. Already there are indoor and outdoor courts where the sport is played and tournaments have sprung up. There are even pickleball holidays to Mexico and the US for Aussie pioneer fanatics.
Morgan, Australia's own champion player, is from Perth and was a Pro Doubles Gold winner at the 2017 Tournament of Champions in the US and followed that up with wins at the US Open in 2018 in mixed age and was a silver medallist in Pro Doubles at the Atlanta Open and SoCal Classic. He also is considered an elite coach.
Morgan is quoted as having said he began playing the sport in late 2014 in Palm Desert, his new hometown, and was "instantly hooked".
Bob said the sport originated in Washington State in 1965: "It's the best game you've never heard of," Bob said.
Bob arrived in Australia from Kansas City for work about 22 years ago. He returned about three years later to the US for a speaking tour and spotted people playing an "odd sport" he'd never seen before. After having asked about it and having a go himself, he, too, was instantly hooked.
Back in Sydney, he wasted no time planning and getting a team around him to officially introduce the sport Down Under on a national scale. Ryde Community Sports Centre put its hand up to host the fledgling sport. "Now there are 13 places a week in Sydney alone run pickleball competitions," Bob said. He said pickleball was "matching a need".
Now there are pickleball associations in each Australian states attracting more than 2500 players and national championships have been held since 2018.
Bob said the PAA was a not-for-profit body that aimed to grow and develop the sport across Australia and eventually become recognised as a National Sporting Organisation.