Army releases year book for 2020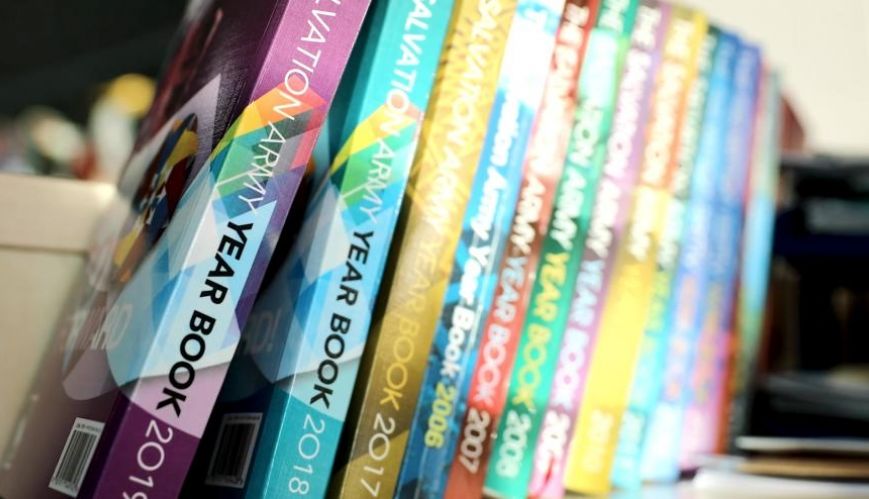 Army releases year book for 2020
The Salvation Army has released its year book for 2020.
According to General Brian Peddle's foreword, the newly published Salvation Army Year Book 2020 is "a statistical and programmatic representation of The Salvation Army", but the facts and figures recorded in its pages are "of little value if they are not saturated with the pervading presence of a holy God". 
Throughout its 368 pages, this latest version of the annual publication includes details of the organisation's work and ministry in 131 countries, with facts and statistics supported by reports, articles, colour maps and a selection of vibrant photographs. International overviews sit alongside details of every Salvation Army territory, command and region, together with historical information and a helpful Salvation Army glossary.
The fold-out cover highlights General Brian Peddle's Call to Mission – which is explained more fully in one of four in-depth articles. The other articles are 'Gender Equity Emphasised in The Salvation Army' by Commissioner Eva Kleman; 'Women's Ministries Responds to Holy Urging with "Reimagining" Initiative' by Commissioner Rosalie Peddle; and 'Salvation Army Responds to Humanitarian Crisis along USA/Mexico Border' by Lieut-Colonel Allen Satterlee.
"I celebrate the ministry of The Salvation Army," writes the General. "I am privileged to lead this international movement and I thank God for his faithfulness and his hand of blessing."
Copies of The Salvation Army Year Book 2020 are available from all Salvation Army territorial headquarters and trade stores and can be purchased from amazon.co.uk. The e-book version, which can be downloaded to most smartphones for added convenience, is available from Amazon sites worldwide and – for non-Kindle e-readers – through the Kobo.com website.
Report by IHQ Communications International Headquarters