You are here:
Home › Global Focus › Army Rushes To Help In Wake Of Hurricane Hanna
Army rushes to help in wake of Hurricane Hanna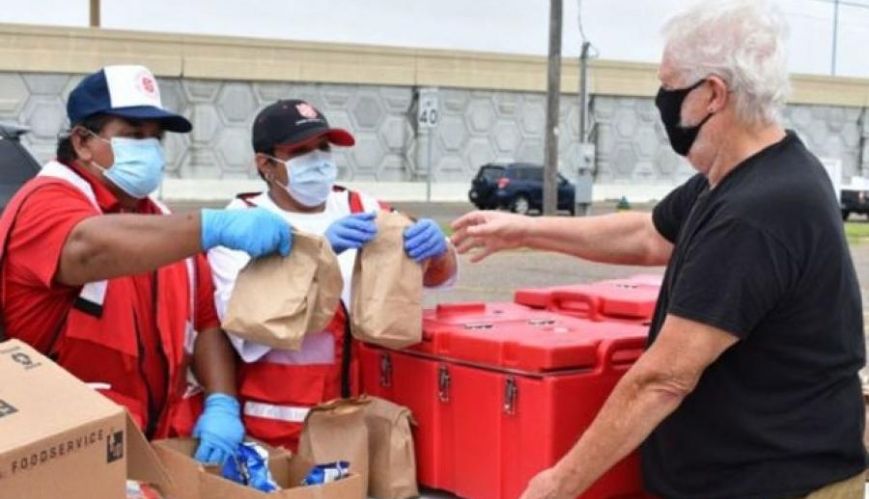 Army rushes to help in wake of Hurricane Hanna
Salvation Army volunteers hand an assistance pack to a victim of Hurricane Hanna. Picture: salvationarmyusa.org
By Darryl Whitecross*
Staff and volunteers from The Salvation Army in America's south are assisting in clean-up operations in the wake of Hurricane Hanna, which battered parts of southern Texas and northern Mexico at the weekend.
The category one storm, the first of the Atlantic hurricane season, ripped roofs off houses, overturned semi-trailers, caused widespread flash-flooding and left tens of thousands of residents without power in an area already struggling with tens of thousands of COVID-19 infections. There have been no reports of injuries.
The Salvation Army has several mobile kitchens in operation, each with the capacity to serve up to 1500 meals per day.
A satellite image of Hurricane Hanna as it makes landfall in the US.
Emergency services teams had been closely watching the slow-moving storm so were ready to move quickly into the affected areas once it hit. The US National Hurricane Center said Hurricane Hanna struck with wind gusting between 95km/h and 150km/h, bringing with it up to 150mm of rain in some areas.
Alvin Migues, the Army's Emergency Services Director in Texas, said Army teams were helping out in several counties across Corpus Christi and Rio Grande Valley.
"We anticipate ramping up mobile feeding in affected communities once we are able to fully assess the damage and flooding caused by the storm," Alvin said on the Army's International website.
Additional supplies, such as clean-up kits, bleach, tarpaulins, rubbish bags and fans are being provided.
Meeting the need
In Corpus Christi, Salvation Army volunteers spent much of Sunday serving free hot meals, drinks and snacks from the Rock City Church parking lot in Flour Bluff.
Captain Patrick Gesner, Corpus Christi Corps Officer, said the Army would continue helping those affected and the first-responders in the clean-up "for as long as we are needed and expect to be out here for several days".
In the Rio Grande Valley, along the Mexican border, many communities were flooded due to the heavy rain associated with the storm. Army volunteers and staff in McAllen prepared and delivered meals to those without power, including residents of a local shelter.
Lieutenant Adolph Aguirre, McAllen Corps Officer, said his team, which was already working hard to help the community affected by the COVID-19 pandemic, was confident they would meet the need caused by Hurricane Hanna too.
The Army said that, despite doing everything it could to help wherever it could during the hurricane response effort, its staff and volunteers would continue to follow COVID-19 safety protocols including wearing personal protective equipment and practising social distancing.
Close call
Meanwhile, Hurricane Douglas, the northern Pacific Ocean's first for the season, narrowly missed the Hawaiian archipelago. The islands experienced strong winds, driving rain and large surf as the storm passed by, but the National Weather Service and Central Pacific Hurricane Center said the eye of the storm passed by about 65km off the coast.
News agency CNN reported that, had the storm's centre made crossed the coast, it would have been only the third hurricane "in modern history" to make landfall in Hawaii. It said there had been "a handful" of tropical storm landfalls on the islands and several hurricanes had "come close" but an actual eye crossing the coast "is quite rare".
Compiled from a USA Southern Territory website and other news agencies