You are here:
Home › Global Focus › Army Takes Vaccine Program To Prague Streets
Army takes vaccine program to Prague streets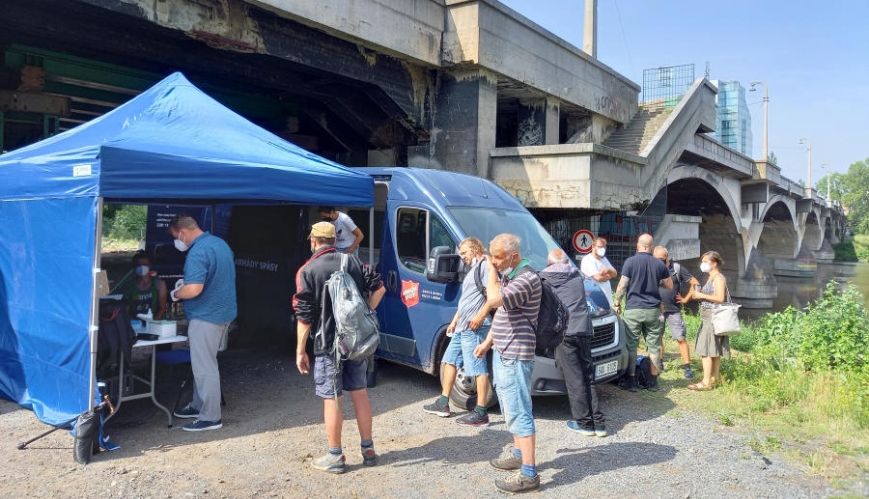 Army takes vaccine program to Prague streets
A street team from The Salvation Army administers COVID-19 vaccines to people experiencing homelessness in Prague as part of the city's pilot Low-Threshold Vaccination project.
By Darryl Whitecross
The Salvation Army in the Czech Republic is one of three organisations taking part in a mobile COVID-19 vaccination service for people living on the streets of the capital, Prague.
Jan Desenský, director of the Army's Karel Larsson Centre for Social Services, said the pilot project, 'Low-Threshold Vaccination', involved the Army providing about 200 doses of the single-dose Janssen vaccine. He said up to 55 doses of the vaccine can be administered in one three-hour session.
"In collaboration with GPs, three dates were identified for vaccinating people experiencing homelessness who do not have paid insurance and proof of identity," Jan said. "We see it as important that the most vulnerable group, people without homes, are vaccinated. This protects not only people who are experiencing homelessness but also the public."
The homeless population was considered a high risk of contracting the virus as they were often in poor health, and many were elderly.
"It is also important to us that as many people as possible are vaccinated before the winter programs start, where winter sleepovers open and larger numbers of people are in one place. This also increases the risk of COVID transmission," Jan said.
The two other organisations involved in the service are Nadeje (Hope) and Drop In.
Milena Johnová, City Hall's social policy and healthcare councillor, said Prague was using the one-time Janssen vaccine because street people often did not stay in one place long enough, limiting the chances of them being available for a second dose.
"Vaccinating homeless people will help protect their fragile health and at the same time contribute to the overall higher vaccination coverage of the population of Prague," Milena said.
The Army is involved in several ways. A mobile vaccination team is working with health workers and doctors to visit residential services, and the team also sets up a 'vaccination tent' on the street for 'walk-ins'.
Jan said GPs, in collaboration with nurses or medical students, are part of the Army teams with social workers assisting in administrative roles. He said the pandemic was "currently under control" in Prague due to the measures the city had taken, including setting up humanitarian hostels and quarantine houses and forming testing teams.
Jan said the Army had run three "vaccination events for the homeless" and planned to continue for as long as required.