Aussie officer flying the flag in Bulgaria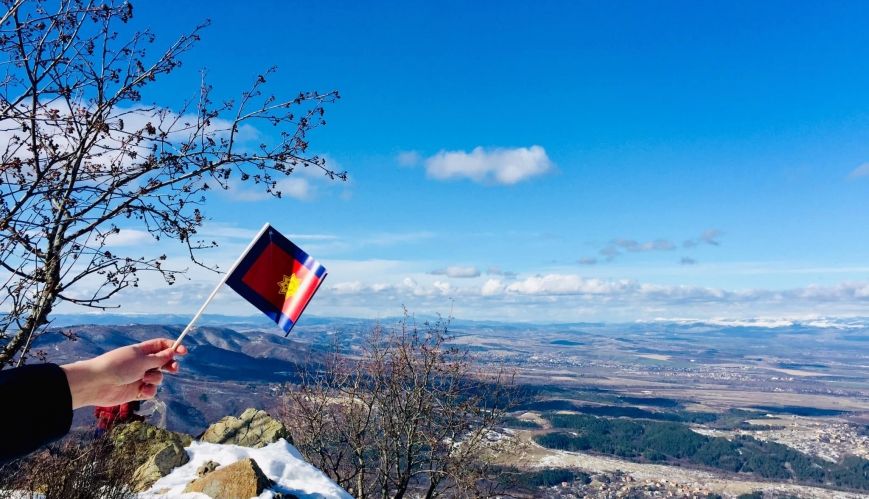 Aussie officer flying the flag in Bulgaria
The Salvation Army flag is now flying over Bulgaria after the eastern European nation became the latest country in which the Army is officially at work.
By Simone Worthing
Captain Kathleen Johansson grew up in Australia and became a Salvation Army officer before moving to Sweden, marrying Captain Erik Johansson and becoming an officer of the Sweden and Latvia Territory. Kathleen and Erik, with another officer couple from the Eastern Europe Territory, are now pioneering the work of The Salvation Army in Bulgaria. Others Magazine recently interviewed Kathleen to hear her story:
OM: Can you tell us briefly about growing up in Australia and any connection with The Salvation Army?
KJ: I found The Salvation Army as a teenager. Some of the teachers at my school were part of the nearest corps and invited me and my brother to come along to youth group and to play and sing with the bands. After a dramatic spiritual encounter with God at a youth event at the beginning of 2003, I knew I needed to give my all – 100 per cent of me – to serving God.
When I looked around and asked the question – what does 100 per cent look like? – officership was the obvious answer! I was only 17 and not a soldier yet, but I was convinced that that was the way forward for me. With great compassion and guidance from my corps officer, I eventually started training college six years later at the beginning of 2009, in the Ambassadors of Holiness session.
What took you to Sweden?
I became friends with Erik on Facebook, as one sometimes does with fun-looking Salvos from across the world. We'd first seen each other in the "WARdrobe Army Apparel" group where people would share pictures of how they'd creatively adjusted their civilian clothing to be more 'Salvation Armyified'!
Apart from that, we'd not interacted on Facebook much at all until one day, Erik shared a fantastic photograph of a group of Salvation Army soldiers marching in Zambia. I wrote to him privately to see if he could send me a higher-quality version of the picture, and after he sent me the picture, a bit of an email conversation started.
Very shortly after that, we recognised that we liked each other and had arranged for him to come and visit me in Tasmania from Sweden. He had arranged to stay the whole 10-week Swedish summer (read: winter in Tasmania!) and two weeks into his trip we were engaged. I applied for international service so that I could move to Sweden to marry him, and about five months later I touched down in Sweden. We had made a mutual decision to make Sweden our home.
What was it like for you serving in another country, culture and language?
The first few months of being in Sweden (early 2013) are a complete blur for me. Not only was I in a new country, with a new culture and language, dealing with organising bank accounts and getting a national ID sorted, I was also organising a wedding!
But, in total, I had just over seven-and-a-half years in Sweden and have enjoyed so much, even through the hard bits of learning and adjusting to a new country, culture and language. Of course, having a Swedish husband through it all helped me greatly.
Bulgaria's Pioneer Team Members Captain Kathleen Johansson and Lieutenant Erik Johansson.
How did you learn the language?
As soon as I arrived in Sweden, I was given an appointment as an associate corps officer and told that I could take an evening course for learning Swedish. This way of learning was very slow and didn't really work at all. I couldn't really engage in the work 100 per cent because I couldn't understand anything, and I had a hard time engaging in the study because I was so tired from trying to work and understand everything!
Another thing that made it difficult to learn in the early days was that I was living in Stockholm where everyone wanted to practise their English on me! Eventually, thanks to the leadership of the territory, I was able to take around four months to study Swedish full-time, which sped things up.
I was then given a new appointment as corps officer in the very north of Sweden. I still only had a very basic knowledge of Swedish, but here I was forced to use my Swedish and learn even faster because most of the people I was working with didn't switch to English! Carrying around a dictionary in my pocket became the new norm. Being forced to use a language is really the fastest way to learn, and after that point, it took me only about one more year to become almost fluent.
When did you transfer to the Sweden and Latvia Territory?
My husband Erik was commissioned as an officer in the June of 2017. At that point, the Salvation Army's regulations required us to be officially serving in the same territory. So, I chose at that point to transfer my officership.
How did you come to be serving in Bulgaria?
For a while, Erik and I had known that we would eventually love to serve God and The Salvation Army abroad – but perhaps especially in Eastern Europe (where Erik had lived and served in different capacities for around six years before we met).
In June of 2019, Erik and I had the privilege of attending The Salvation Army's yearly congress in Norway as official delegates from the Sweden and Latvia Territory. While we were there we encountered Colonels Jostein and Magna Nielsen, the territorial leaders of the Eastern Europe Territory (EET) at the time. We shared with them a little of our passion and desire to one day serve God in Eastern Europe and Colonel Jostein Nielsen, with a glimmer in his eye said, "Maybe you'll be part of starting the work in Bulgaria?"
I must admit that after that conversation, I had to google where Bulgaria was and what its capital city was called! For many years, Colonel Jostein and the EET team had dreamed about starting the work in Bulgaria, but we, at that point, had no idea what his question could mean for us.
A few months later, after I had broken my leg (in four places) on holiday in Kirgizstan and been taken off work for three months to recover, we decided to officially apply for international service together, despite the physical setbacks. We requested to be sent to the EET, and particularly Bulgaria. We had been told by our leaders that they had received our application positively, but that it might be a few years until the right opportunity came up. Only a few short months later, however, our chief secretary came for a surprise visit and asked us if we would be willing and prepared to help start the work of The Salvation Army in Bulgaria, and in June 2020! We, naturally, said a resounding YES!
How did you prepare for the role?
We were able to take an online course, through a university in Sweden, that covered some basic language, as well as the culture and history of Bulgaria. This was an amazing opportunity. Because of COVID-19 and some other logistical issues, we also ended up with nearly two months without an appointment before we were able to travel to Bulgaria. We spent a lot of that time working on the language and reading up about history and current affairs, and making online connections with other Christians who were already living and working in Bulgaria.
What have you been doing since you arrived in September 2020?
After an official two weeks of 'settling in', we began the work of networking, meeting people and working on some of the administrative work. For example, each of our team members needed to be approved by the Bulgarian Ministry of Religion to be able to undertake religious work in Bulgaria.
We have also been working through the long and complicated process of opening a bank account for The Salvation Army, which is not as easy as it sounds! The networking and meeting people part has been a little more fun. Making connections with churches and non-government organisations (NGOs) and trying to figure out where The Salvation Army will be able to fit in the bigger picture.
We've also found two senior soldiers here, who had met and joined The Salvation Army in different countries. They're not living in Sofia, so we have planned to start an online meeting with them, in English, that we can also invite others to in the long run.
What do Bulgarians think of The Salvation Army so far?
Even though the majority of Bulgarians have never heard of The Salvation Army, there are surprisingly many who have met the Army in different contexts, or who have an idea of what we're up to because of media and television. However, the average Bulgarian, when we explain who we are and what we're doing here, is only positive to the idea. Christians who want to help people is only a good thing! There are even people here who, over the years, have met The Salvation Army in different countries and have actively contacted IHQ asking them when The Salvation Army is going to be sent to Bulgaria! Who knew that we would be an answer to their prayers!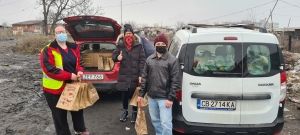 The Salvation Army is beginning to make its presence felt in Bulgaria by being out and about in the community.
What are some of the early challenges and joys of serving and pioneering in Bulgaria?
So many of both! One of the greatest joys is having found some wonderful like-minded people here who have a passion for God's Kingdom and are willing to partner with us on many levels. We've had many wonderfully inspiring conversations that have helped us to understand what God is doing in Bulgaria and how we can possibly get involved in that.
Another amazing blessing is the freedom we have in the early stages of something brand new. Almost anything is possible ... which is also a challenge, because the question of prioritising and focus and resources also comes into play, of course!
The greatest challenge is, and will probably continue to be for a while, the problem of language. When it's not possible to even have a simple conversation with our neighbours, my heart hurts. 
How are you going with the language?
Very slowly. The difference for me this time is that I don't have a Bulgarian husband to answer all my questions! And, I haven't yet been forced to use Bulgarian every day because much of our networking has been able to happen in English, and all of our correspondence with our territorial headquarters is in English. I've learned the alphabet – a big first step – and I've had some lessons, but the next step now is just to give it the time and energy it needs.
What do you miss most about Australia, and do you get to come back sometimes?
We've been to Australia three times since I left. I normally say, and it's of course hard to explain, but I miss the 'way' in Australia. The Australian 'way' to do things, and the 'way' of being. More laid back than Sweden in many ways, but also just more 'natural'. I guess it might always feel that way, no matter how long I've been away. I, interestingly enough, find more similarities between Australia and Bulgaria, than with Australia and Sweden.
Of course, I miss my family, and especially my new little nephew, but they've also taken the opportunity to visit us in Sweden several times, and we've even met in the middle once. So, it's never gone too long without a good family hug. Although now, because of COVID-19, I'm certainly feeling the distance, less because I haven't seen them and more because I simply can't. That feeling is not fun.
How do people react to you being an Aussie?
To be honest, people don't have a common reaction to that realisation. And, also, for convenience, I more often than not actually say "Sweden" in answer to the question "Where are you from?" – simply because we just came from there. Once a deeper conversation develops, I'll then explain I'm originally from Australia. Mostly, people say, "It's cold there", when you say you're from Sweden, and "Oh, they have kangaroos there", when you say you're from Australia. Not very original!