You are here:
Home › Global Focus › Aussie Officers Around The World Italy And Greece Command
Aussie officers around the world – Italy and Greece Command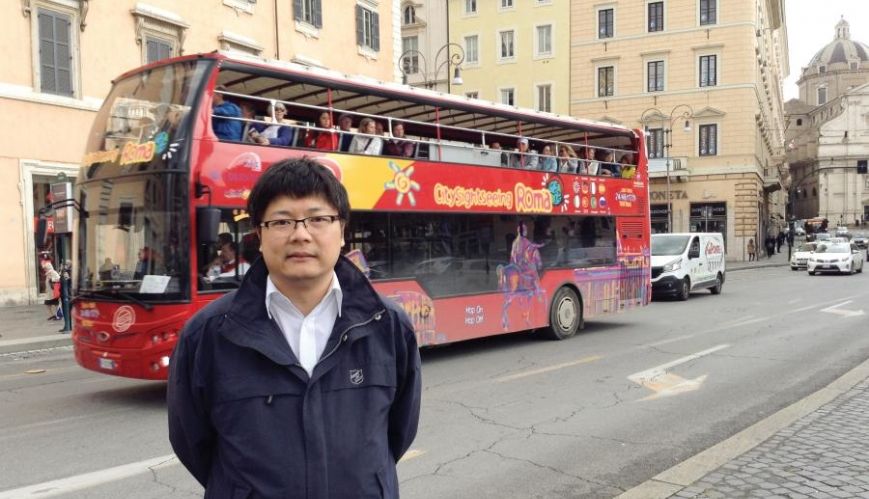 Aussie officers around the world – Italy and Greece Command
Rome is home to Australian Salvation Army officer Captain Andrew Lee, who has been the Finance Officer at the small Italy and Greece Command since January last year.
By Bill Simpson
Think of Rome and you may think of it, as Romans do, as the Eternal City or even Vatican City – centre of the world's estimated 1.3 billion Roman Catholics, with the Pope as its pontiff. Bible students may think of the Apostle Paul and his imprisonment and probable execution there.
You may think of Rome as the world's most expansive open air museum, with its colosseum, pantheon and forum dating back almost 2000 years. Across the road from my recent visit were the ruins of the site where Roman ruler Julius Caesar was reported to have been murdered.
There's history – and alleged history – everywhere. Turn every corner and there is history we in young Australia can scarcely comprehend.
There's also St Peter's Basilica, the Sistine Chapel and the catacombs – and its estimated 900 Catholic churches within the city limits, many 100m long, 100m high and almost 100m wide monoliths painted from floor to ceiling with incredible Bible-story artwork. It's not likely, though, that you will think of The Salvation Army.
We don't hear exciting stories of daring Salvationists on the streets of the Italian capital – or anywhere in Italy, for that matter.
But The Salvation Army is there and among the small Italy (and Greece) Command team is a lone officer from the Australia Territory. Captain (known locally as Capitano) Andrew Lee has been Finance Officer at the small Italy (and Greece) Command, since the beginning of last year.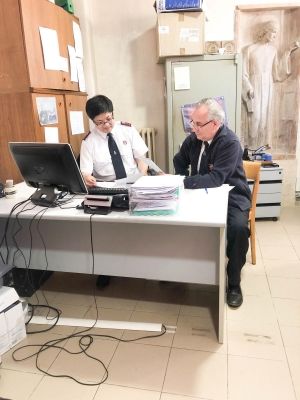 Captain Lee with Command General Secretary, Major David Cavanagh.
He went as an Australia Southern Territory officer and will return as an officer of the new Australia Territory.
His responsibility is to oversee the finances of The Salvation Army in Italy and Greece. Ironically, Andrew was raised a Roman Catholic – in Singapore, then Perth.
His faith in his church waned as he grew into a young man. In his final years studying accountancy at university in Perth, his parents encouraged him to find work to support himself financially.
He started volunteering for The Salvation Army's Family Stores. After university, he was offered a full-time job at the Family Stores headquarters at Noble Park, in Melbourne's south-eastern suburbs.
It was a lonely time, at first, living alone and not knowing anybody outside work colleagues. But Family Stores receptionist Mavis Sanders offered a young and shy Andrew an opportunity to meet like-minded people.
Songster pianist at Box Hill Corps, Mavis suggested Andrew show up to a Sunday worship service and she would introduce him around.
He did – and she did. Immediately, Andrew was connected with appropriate groups within the corps.
It made him feel welcome, wanted, accepted – all the things people come looking for at The Salvation Army. Eventually, he became a soldier.
That was in 2004. While working, Andrew started further university study, including a Masters in International Community Development and a Masters in Theology.
As his life was dramatically changing direction, Andrew felt the call to missionary service. The Salvation Army offered him the lay role of Chief Accountant in Pakistan. Within two years, Pakistan had been devastated by flood, displacing 22 million people.
Andrew was made national manager of The Salvation Army flood rehabilitation program. It was 2010. After four years in Pakistan, Andrew returned to Melbourne to train as a Salvation Army officer, serving as assistant Corps Officer at Alice Springs, then at Palmerston (Northern Territory).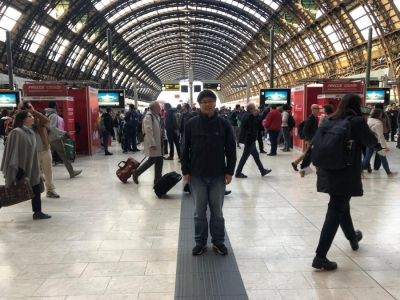 Between then and Rome, he also served as Projects Officer with the Bangladesh Command and Territorial Multicultural Ministries Consultant at Territorial Headquarters in Melbourne. His Rome appointment started in January 2018.
Seeking to serve through The Salvation Army – and as a finance officer – in a city dominated by the Catholic Church with almost 2000 years of amazing history, Andrew explains it like this: "The significance of The Salvation Army in Italy is that even though we are part of the universal church and Caritas (Catholic welfare) is involved in similar mission, social work and social justice, our understanding of the poor not only means that we seek to assist those who cannot be helped by other organisations due to limitation of resources, but seek to help the poorest of the poor.
"From a personal serving perspective, I think it is always difficult to demonstrate that a finance role can show Jesus because it is a back-office, desk-bound job. Being in a finance role, it is not easy, as it tends to focus on the inside; on the cogs and wheels that run the organisation. But I believe it is a supporting role that tries as best it can to provide the necessary assistance to those out in the field winning souls for Christ."
But Andrew says The Army is impacting Italy. The needy are being assisted, new soldiers are being added and two couples are studying for officership in Rome.
And Andrew is confident Pope Francis would approve of his presence and position as a Salvation Army officer in Rome.
"Pope Francis has spoken affectionately of The Salvation Army's work in his homeland of Argentina. And, as a Jesuit priest, he would support The Salvation Army's objectives in assisting the poor," he says. "I'm content with that."
On a personal note, Andrew and recently announced his engagement to  Italian officer, Captain Manuela Castaldo. The captains plan to marry in June 2020.
HISTORY
The Salvation Army flag was unfurled in Italy on 20 February 1887, although subsequent difficulties necessitated withdrawal before work was re-established in 1893.
A presidential decree in 1965 recognised The Salvation Army as a philanthropic organisation. It received legal status as a religious body in March 2009.
The Salvation Army began operations in Greece in 2007, in the city of Thessaloniki.
Greece was recognised as part of the Italy and Greece Command in February 2011, with operations beginning in the capital, Athens, in February 2012.
COMMAND SNAPSHOT
The Italy and Greece Command focuses on major social issues such as human trafficking and modern slavery, refugees and asylum seekers, and homelessness.
It operates a centre for the homeless in Rome, which includes hostels for men and women, a day centre and social canteen, and a day centre for refugees in Athens.