You are here:
Home › Global Focus › Aussie Officers Around The World Major Drew Ruthven
Aussie officers around the world - Major Drew Ruthven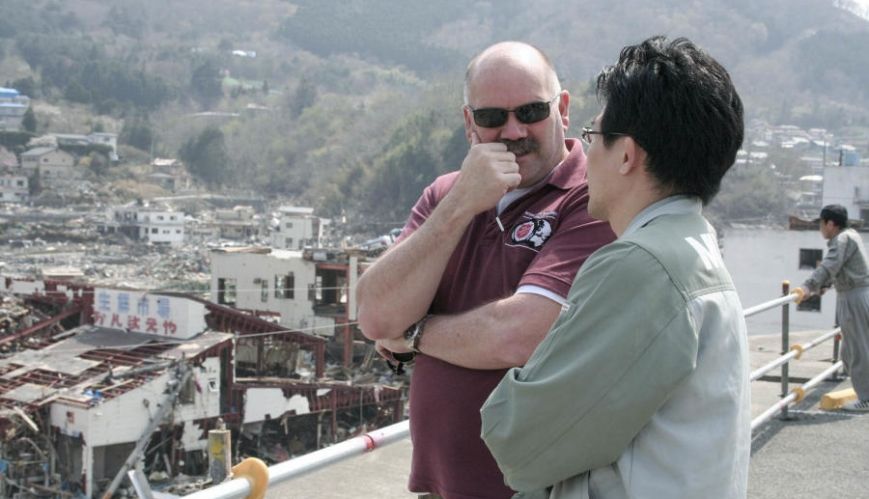 Aussie officers around the world - Major Drew Ruthven
Major Drew Ruthven spent time in Japan working with local colleagues as well as the International Emergency Services team.
By Simone Worthing
Others Online continues to profile the work of some of the Australian officers and personnel serving around the world. This month, we take a look at The Salvation Army International Emergency Services (IES) where Major Drew Ruthven, based both in Melbourne and at International Headquarters in London, serves in the IES Program Office – Strategic, Security and Field Support.
As the world responds to the COVID-19 pandemic, the IES team of five people, usually based at The Salvation Army International Headquarters, is now working from home. They are continuing their work of monitoring world events, particularly through their Salvation Army connections, in preparation to respond to natural disasters.
Drew was in Pakistan after the 2010 floods, for emergency assessments and response.
When major disasters occur around the world, there is often a need to support impacted territories or mount Salvation Army responses by deploying international emergency teams. IES relies on the generous support of many territories and is grateful to have personnel who are well trained, experienced and available to deploy.
"When there is a natural disaster in a territory, the team contacts that territory to see whether they require any assistance in their emergency response, and to let them know of the team's availability," explains Drew.
"We only get involved if we are invited and if the event goes beyond the territory's capacity to respond. We are in a unique position in the international NGO (non-government organisation) world, in that The Salvation Army is already in many of the countries where disaster strikes, has local contacts and is trusted, and can mobilise resources quite quickly.
"We also regularly get offers of financial assistance from different territories when disasters happen around the world, which is just wonderful and a story that we don't often tell." 
Strict training
Training personnel around the world is another essential role for the IES team. Territories and commands nominate people to undergo the training and so build capacity to improve local response. This also adds to the international database of trained personnel able to be deployed fairly quickly when disasters occur.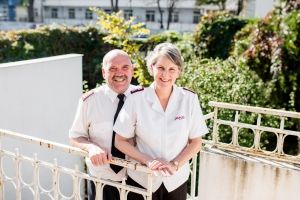 Majors Drew and Leanne Ruthven served together in Romania, part of the Eastern Europe Territory.
"We are looking for generalists, not specialists," says Drew. "We do use specialists, but not immediately after a disaster, and we try to find local specialists first. In the early stages of response, we need people who are able to respond in many different ways and are flexible, adaptable and can work in demanding, and changing, environments. "For example, in Haiti after the 2010 earthquake, our team was running a camp for 20,000 people. For nearly 12 months, everyone was basically living on a football oval. Not everyone can do this."
Trained personnel are usually deployed to an area for two to three months. Salvation Army officers make up the majority of those deployed as it's usually easier to release them from their appointments quicker than it is for employees to apply for and get time off work.
In the past five years, IES has deployed 62 people from 15 different territories to respond to the Ebola epidemic, a cyclone in Vanuatu, earthquakes in Nepal, the refugee crisis in Europe, cyclones in Mozambique, hurricanes in Haiti and the Bahamas, a Ugandan refugee response and an earthquake and tsunami in Indonesia.
The natural disaster scene is, of course, always unknown, so it's often difficult to plan for the long term. "Disaster work is a priority around the world and The Salvation Army in Australia has been part of that for more than 20 years," says Drew. "We have a network of trained people around the world with large international resources going into this work."
Local disaster responses are smaller and in Australia are managed by Salvation Army Emergency Services teams.
Missional growth
"Emergency response and helping others without imposing conditions is clear throughout Scripture and we strongly hold on to that," says Drew. "That's part of why I love this role – I get to see local communities responding in faith and the Army at its best.
"The Salvation Army around the world has gained a reputation for being leaders in the localised emergency response field, our exposure in communities around the world has grown and nearly everywhere we've responded strongly the Church has grown too.
"The central corps in Haiti's capital, Port- au-Prince, had around 500 attending. After our emergency work in the community there, the numbers rose to 1500. I recently heard that this number has reduced a little but the growth in the early days after the earthquake was remarkable.
"In Japan, after The Salvation Army's response to the 2011 earthquake and tsunami, the government offered us land to build a corps. The Salvation Army could open in Kuwait because IES teams working in Iraq were based in Kuwait. The mission wins every time." The IES teams provide assistance to all, without any discrimination. The goal is to keep people alive and to help them regain dignity in life.
Global teamwork
As part of his role, Drew travels to London – under non-COVID-19 circumstances – twice a year. He is part of a European security forum where NGOs discuss how they're working with security issues around the world. This information feeds into decisions around whether The Salvation Army will go into certain places, or not, and the best way of approaching the issues involved. The basic principle is usually that they will go unless there are strong reasons not to.
"Jet lag is part of my life," Drew laughs. "I am away a lot. My wife Leanne [Major Leanne Ruthven] doesn't mind having the house to herself. She knows I love this work and recognises the value of what I do. We do, though, both get tired of the separation from time to time."
Drew's background in emergency response began at a local level in Melbourne. After the Indian Ocean earthquake and tsunami in December 2004, he received intensive training and was deployed to the Andaman Islands for three months.
Drew has also worked in "something like 35-40 countries", including Brazil, Haiti, Indonesia, Iraq, Japan, Malawi, Papua New Guinea, Philippines, Romania and Uganda.