You are here:
Home › Global Focus › Aussie Officers Around The World Solomon Islands
Aussie officers around the world - Solomon Islands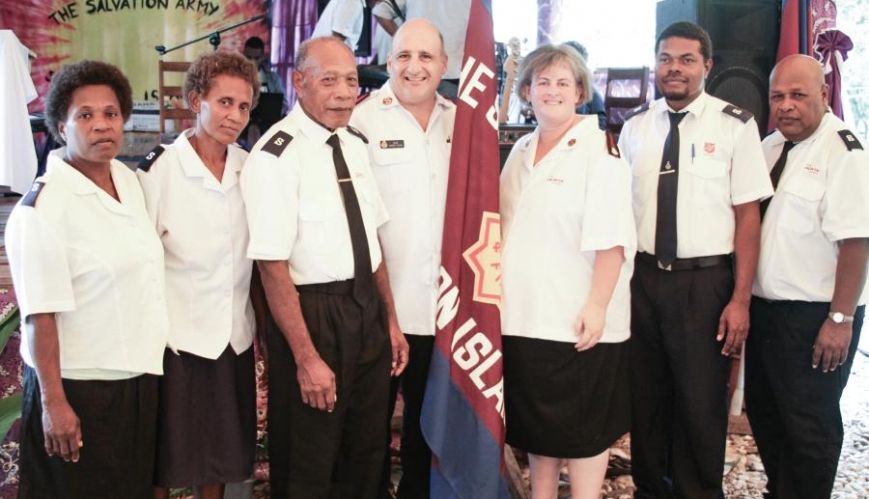 Aussie officers around the world - Solomon Islands
Majors Robert and Vanessa Evans (either side of the flag) with corps/congregation leaders of The Salvation Army in the Solomon Islands.
By Major Robert Evans
Jeremiah 33:3 says: "Call to me and I will answer you and tell you great and unsearchable things you do not know."
A little over two years ago, Vanessa and I called out to God in response to an international service opportunity that we thought was leading us to an appointment in Indonesia.
What we didn't know at the time was that God had other plans. As we sat at Territorial Headquarters, having just been asked to consider serving in the Solomon Islands, we could never have imagined the amazing journey ahead.
The past two years have simply been extraordinary. We have had the incredible privilege of leading a passionate group of local Salvationists in expanding the reach and impact of The Salvation Army in the Solomon Islands.
In this time, two new churches have been planted, 12 invitations received from rural villages to expand our mission into the provinces, six Neighbourhood Fellowship groups established across Honiara, 59 senior soldiers and 48 junior soldiers enrolled throughout the district, six envoys commissioned, a coconut oil plant constructed, a Salvation Army Emergency Services team recruited and trained with two national deployments this year, two Learning Space programs set up offering literacy and English classes, and a brass band learners program introduced in partnership with the Royal Solomon Islands Police Force Brass Band.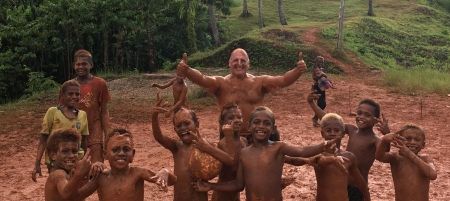 Major Robert Evans playing mud soccer with the boys from Moscom Fellowship in East Areare.
Among all this activity, The Salvation Army International Headquarters officially granted 'District' status to Solomon Islands Ministries in the Papua New Guinea and Solomon Islands Territory, and we also hosted our first District Congress and Father and Son Weekend this year.
Serving and leading in a context of prolific growth is both exhilarating and challenging. We feel like we are surfing a massive Holy Spirit-driven wave, while learning how to surf as we ride that wave.
On one hand we feel that God has been preparing us for this appointment throughout our entire officership, but on the other hand we are navigating so many new cultural and leadership experiences that it almost feels like our first appointment.
The Solomon Islands has a rhythm of life and deeply entrenched cultural values that couldn't be more different to what is familiar and natural to us.
This reality creates a perpetual environment of cultural tension that stretches us on a daily basis. Even the simple things like shopping and driving in Honiara confront us with the lack of options that contribute significantly to the vulnerability of this country.
This becomes even more confrontational when travelling beyond Honiara into the provinces, to visit our remote churches and to follow up new mission opportunities. Our closest church outside of Honiara is a five-hour voyage on the crowded deck of a ship.
Our furthest church can take anywhere from 24 to 38 hours to reach, depending on sea conditions and the volume of passengers and cargo on board.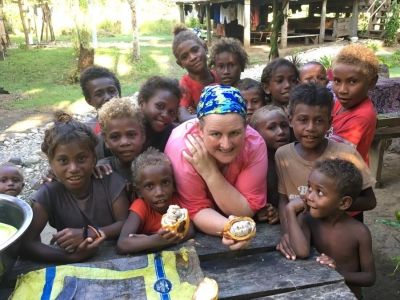 Major Vanessa Evans with children from Gateway Corps in North Malaita tasting a cocoa bean.
Our churches in the provinces present us with the simplicity and beauty of village life. Between the sago palm-leaf roof panels and dusty, stony floors, seated on rough-cut hardwood benches, we've experienced a richness of worship unlike anything we have known in our modern, comfortable corps buildings in Australia.
The simple sound of an acoustic guitar accompanying the melodic tones of Solomon Islander voices is truly a heavenly experience.
The worship is a natural extension of lives completely and utterly dependent upon God as Creator in a subsistence culture where survival is more closely connected to God's creation than ours.
Quite simply, in these remote villages if you don't grow it, catch it or gather it, you don't eat! In this context, there is a symbiotic relationship between God, community and environment that forms an organic atmosphere of worship that flows into and out of every area of village life.
As a family, serving in the Solomon Islands has come at a personal cost. Vanessa and I left our children in Melbourne right after they finished high school.
Vanessa lost her father to heart failure six months before we left Australia and I lost my father to cancer a year after we arrived in the Solomon Islands. Both our families and our children feel our absence deeply.
Yet, we know that our children share our mission heart and support us unconditionally, making them genuine partners in mission.
In this space, God constantly reminds us that "we must be about our Father's business" and affirms that he has our children firmly in his hands.
With a renewed work permit and residency visa approved in October, we look forward to another two years of God-glorifying mission and ministry in the Solomon Islands.
HISTORY
Work began in the Solomon Islands, out of the then-Papua New Guinea Territory, in 2010.
An 'Opening Fire' weekend was held in November 2011 with territorial leaders from Papua New Guinea (Commissioner Andrew Kalai), Australia Eastern (Commissioner James Condon) and Australia Southern (Commissioners Raymond and Aylene Finger) participating in the celebrations.
The work was officially recognised by The Salvation Army International Headquarters on 1 February 2011, with the Solomon Islands becoming the 123rd country in which The Salvation Army has an official presence.