You are here:
Home › Global Focus › Aussie Ofiicers Around The World Brazil Territory
Aussie officers around the world - Brazil Territory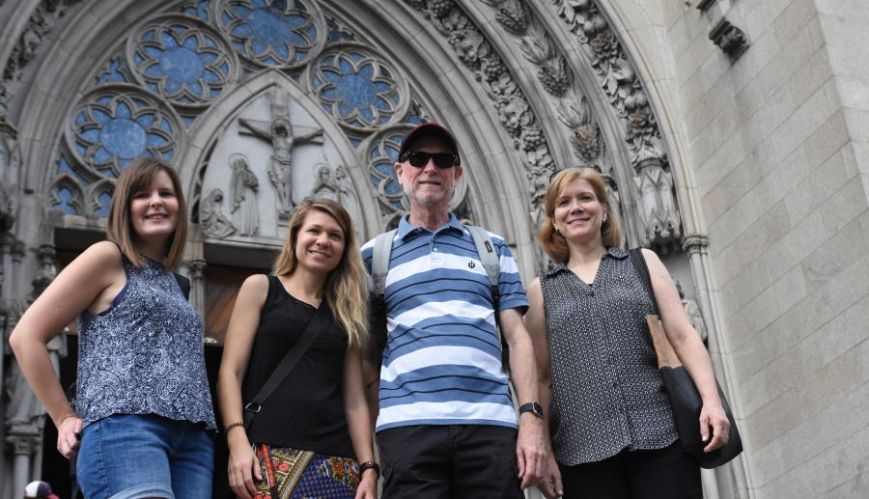 Aussie officers around the world - Brazil Territory
Australian officer Major Peter Davey outside a church in São Paulo with some friends.
By Major Peter Davey
I have had a long sense of calling to Brazil. It originated while I was a cadet in 1981-82, when Majors Fred and Marie Shaw and Major Doreen Campos visited my Officer Training College and spoke about their experiences of serving in Brazil.
It has only been in recent years that I have sensed again the opportunity to venture overseas was right. I have also had the opportunity to serve alongside people such as Majors Gordon and Ruth Cocking and Majors Alf and Berynice Ford, all of whom served in Brazil.
There is a lot to be said for investing in Australian culture and steeping oneself in local ministry. It is the calling of the majority and I also see it here in Brazil, where officers would never entertain going overseas to serve. But when there is a calling, there is a great opportunity to explore, share culture and develop greater understanding as to how other people live and under what circumstances they serve.
The Salvation Army is an international movement and there are unique challenges of ministering and administrating in many countries. International service brings a variety of leadership benefits to the serving country and the mixture of culture and experience enables a better flow of ideas, methods and awareness of the funding needs of ministry in our developing countries.
I have previously served overseas, as the property officer, along with my late wife, in Papua New Guinea from 1992 to 1995. It was there that both our children were born. In both PNG and Brazil, I see the vast difference in serving conditions among officers. We should be thankful to God for what we have in Australia.
I love the fact that I am living in São Paulo, a city whose population is nearly 13 million, more than half that of Australia. It is a densely populated part of the world. I love that service in The Salvation Army has taken me to parts of the world that I would otherwise never have seen. I like to live that life for periods of time, learn the culture, love the people and see the country.
Living and working at Territorial Headquarters here in São Paulo has meant that there is a community life.
It is much more so than living in suburbia in Australia. While there are cars for official use, we get around here more by foot, by the trains or Uber. Eventually I will be able to get a driver's licence and occasionally use the departmental vehicle. Although driving here is scary!
Since arriving here, I have experienced Christmas celebrations, Easter and the Bosque Corps' 76th anniversary (Corps anniversaries are celebrated annually here and celebration is an important part of community life). I have visited many beautiful sights as well as a number of sights that would break your heart. While Brazil is not what you would call a developing country, it does have a wide gap between the rich and poor and even in São Paulo there are many favelas where life is difficult, income is low and accommodation is rudimentary.
I am learning to speak Portuguese and, thankfully, haven't yet put my foot in my mouth! The most challenging part of learning a new language is getting people to speak slowly. We all take shortcuts with language and this makes it extremely difficult for learners to comprehend what is being said. Often you know the words being spoken but do not recognise them in the way or speed they are spoken.
There are many challenges to living and serving overseas. Personally, the language learning presents a challenge but not one that's insurmountable. It is essential and so I am determined to learn. Being away from family is also a great concern and I miss them a lot. In this appointment, there are serious cash-flow issues for the territory and this brings stress to the whole leadership team, including me.
I have learned to live with less, to value what I have and not live for things, the esteem of others or position. I am doing what I do here because people at home told me I was good at it. I was afraid I might not be suitable for this position, but I followed God's leading, the doors kept opening and I trust him to keep using me for the benefit of the Kingdom.
I would encourage anyone with a sense of calling to overseas service to pursue the dream until you arrive. If the doors close and you do not leave home, then God has a different plan for you; not a lesser plan, just a different one. But if there is a calling, follow it with all you have and see where God takes you, who he asks you to love and lead, as well as what he asks you to do and learn. Then, when you are done, bring it home to influence others from a heart rich with love and experience.
history
Pioneer officers Lieut-Colonel and Mrs David Miche unfurled The Salvation Army flag in Rio de Janeiro on 1 August 1922. The Salvation Army operates in Brazil as a national religious entity, Exército de Salvação, having been so registered by Presidential Decree on 27 November 1984.
All its social activities have been incorporated in APROSES (Assistência e Promoção Social Exército de Salvação) since 1974 and have had Federal Public Utility since 18 February 1991. The territory has four divisions and The Salvation Army Officer Training College is located in São Paulo.