You are here:
Home › Global Focus › Bretts Marathon For Homelessness Not Just A Walk In The Park
Brett's marathon for homelessness not just a walk in the park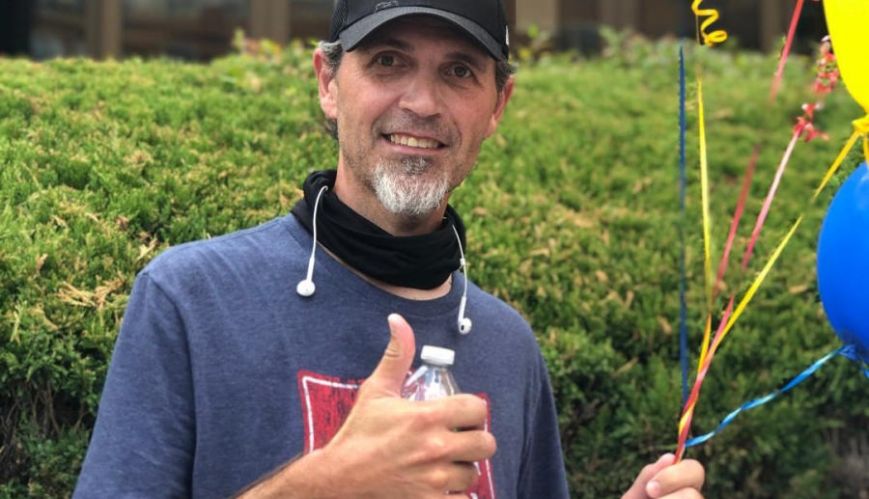 Brett's marathon for homelessness not just a walk in the park
Montclair Citadel Corps Officer Major Brett DeMichael walked 42.2km in one day to raise awareness of homelessness.
By Darryl Whitecross
Major Brett DeMichael may have just completed a marathon walk to raise awareness of homelessness but already is thinking about next year.
The Corps Officer at Montclair Citadel in New Jersey (United States Eastern Territory) went on his 26.25-mile walk (42.2km) on Saturday 8 August. He said it took him about seven hours to complete "including a bathroom break".  
"I started the walk at 8am. It was a warm day but a lot of the route is in the shade so I didn't feel the heat too much until later in the day," he said, adding that the route took on a 1.5-mile (2.5km) loop through a park with "a nice wide, paved walking path".
"I started out great and kept a steady pace but did hit a bit of a wall at about mile 22 (35km). There's a fairly steep hill at that point in the route, which was rough on the third time around the loop, but I knew that once I climbed that hill it was almost literally all downhill from there."
Brett came up with the idea around May this year "when we were released from our coronavirus 'Shelter in Place' order in New Jersey. "I used to be a bit of a runner but it started taking a toll on my knees so I started walking for exercise," he said. "I'd always wanted to do some 'stunt' to raise awareness and funds for my appointment, similar to what others have done – manning a 24-hour Christmas kettle, doing a long bicycle trip – something like that – so, the idea sprang from those two things." 
Montclair Citadel corps officer, Major Brett DeMichael celebrates his marathon walk to highlight homelessness with a drink of water with friends, corps folk and family.
After having decided to do the walk, planning the route was next. "I mapped out a route which is about eight and a bit miles (a little over 12km) and which began and ended in our corps parking lot and did that loop three times," he said. "I added a little detour here and there to make sure I got to 26 miles and didn't have to circle the parking lot a bunch of times at the end to get to that distance."
There weren't many people lining the streets to cheer him along as he walked, but the venture sparked newspaper and television interest. "About 10 minutes before I started out, I got a text from a reporter from a news radio station out of Newark who had picked up on the story. She ended up catching up with me about two miles into the walk and interviewed me as she walked alongside me for about a quarter-mile! That was pretty cool."
Brett's training consisted of "walking a lot". "I started with three to four-mile walks every other day or so and just gradually increased. I never got up to the full 26 miles until the actual walk but had done 17 or 18 a few times so I knew I could do it," he said. "About halfway around the loop, I walked right by our quarters so, between that and the corps building, I knew I was never far from anything I might need."
The aim of the walk was to raise awareness and funds for Montclair Citadel's ministry to the homeless and hungry in the community, particularly during the COVID-19 pandemic. Metropolitan New York and northern New Jersey have been particularly affected by the spread of the virus.
Montclair's team of employees and volunteers serve lunch to up to about 60 people every Monday, Tuesday and Wednesday along with the other services it provides. The corps has been running a homeless shelter called Cornerstone House since early March. It usually operates from 7pm-8am for up to 26 residents. It also provides a shower program two mornings a week with toiletries and a clean change of clothes available.
"We've added grocery distribution, offering food boxes to another 50-60 families a week," Brett said. "The food boxes, which are meant to provide 15-20 meals for a family of four, are packed and sent to the corps by DHQ [Divisional Headquarters] and then we supplement them with more provisions and frozen foods and distribute them locally.
"The problem, of course, is that so many people have been furloughed or terminated from employment that has obviously meant both an increase in need – especially for families who have never needed before – and a negative impact on donations. So, in addition to awareness of the on-going service and ministry, the walk was also a plea for financial support."
Brett said the walk was meant to be "relatively casual" but ended up getting media attention. "I'm pretty happy with the little bit of attention it did get so I think it can grow. I do hope to make it an annual event. I walked by myself this year but have already had a few people ask if they could join me for part or all of the route if I choose to do it again, which I'm planning to do next August."