You are here:
Home › Global Focus › Corps Gets Motoring With Plan To Subsidise Car Repairs
Corps gets motoring with plan to subsidise car repairs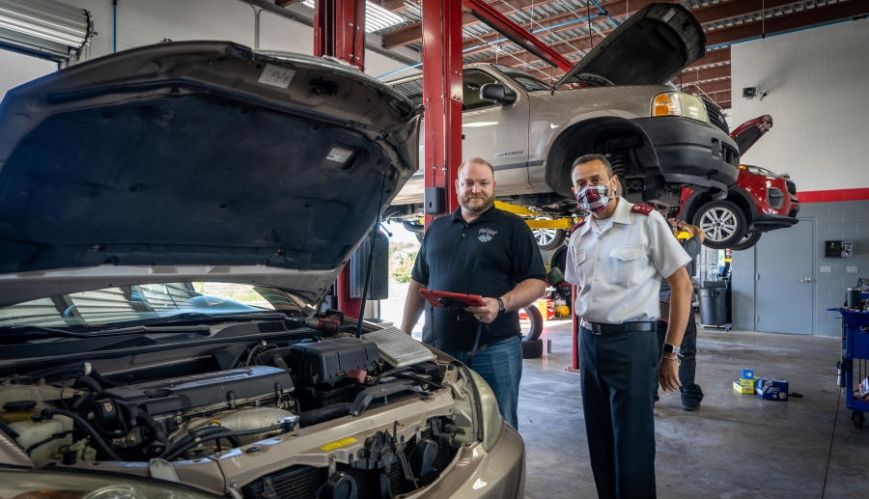 Corps gets motoring with plan to subsidise car repairs
In the hood: Captain Israel Roseno, from Charlotte County Corps, and Pit Stop Auto Repair owner Joseph Ramsay in the garage workshop on Kings Highway, Port Charlotte, in Florida.
By Darryl Whitecross
The Salvation Army of Charlotte County, in the United States Southern Territory, has thrown a spanner in the works by bolting on an initiative to its local mission delivery program to subsidise maintenance and repairs to eligible car owners.
Captain Israel Roseno, from Charlotte County Salvation Army, said the corps recently put into gear a deal with Pit Stop Auto Repair to pay up to $US250 (about $A325) of the total bill of people "in dire need" of vehicle repairs.
Israel said Pit Stop would also give its own discounts in some situations. He said eligible motorists were identified by the Army through its counselling service.
"Many of our clients depend on their vehicles for work, take kids to school and medical appointments, among many other daily tasks," Israel said. "As we continue to rebound from the effects of COVID-19, many individuals in our community are having to choose between food and other essential services such as vehicle repairs and basic maintenance.
"Our goal with the repair program is to maintain their vehicles in good working condition, offering help with basic maintenance."
Pit Stop marketing and brand manager Rusty Smith said a significant part of Pit Stop's business philosophy was being community-minded, so "working with The Salvation Army was a very good partnership match" – a "terrific relationship".
"We believe that, as we give, we inspire life-changing growth and, as we grow, we inspire life-changing giving," Rusty said. "The partnership is truly beneficial for everyone involved: The Salvation Army, Pit Stop Auto Repair and, more importantly, the individual or family that had dire need of car repairs."
As well as its partnership with the Army, Pit Stop also has its charitable foundation, which also works to support vulnerable families with car troubles and other needs.
Pit Stop owner Joseph Ramsay said the core value of the business was giving and being a support to the community in many ways.
"We desire to aid those who are most at risk and most vulnerable in our world in succeeding and thriving in ways that even they never imagined possible; to break generations-long patterns of behaviour and addiction," Joe said. "We believe that it is our moral imperative to see all people move beyond basic subsistence into a life of purpose and fulfilment and we seek to offer the care and tools to help them grow personally, professionally, mentally, emotionally and spiritually. We don't just repair cars, we work to build and rebuild lives."
Joe and Israel said the collaboration would be ongoing.
Rusty said this partnership had only been going for a few months but already there had been "significant interest" from the Army in nearby Fort Myers to introduce a similar program there.
"Perhaps this could also lead to more partnerships similar to this throughout America, Australia and the world," Rusty said.