You are here:
Home › Global Focus › Cupcake Ministry Supports Abused Women Of South Africa
Cupcake ministry supports abused women of South Africa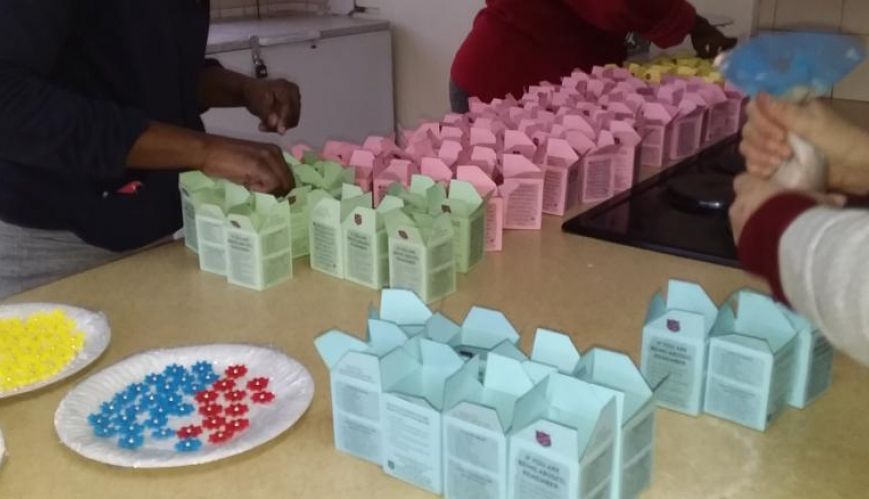 Cupcake ministry supports abused women of South Africa
The production line: Cupcake boxes and icing toppers are ready for the cupcakes to arrive as women of Pretoria Corps in South Africa work on their Women's Month Cupcake Campaign.
By Darryl Whitecross
Normally during Women's Month in South Africa, the Pretoria Corps organises a series of outreach programs in the community, but restrictions and concerns surrounding the COVID-19 pandemic caused a rethink.
This year, it's all about cupcakes – hundreds of them – which are to be given out as the Army in South Africa's north joins the rest of the nation in raising awareness about abuse of women and children and the victims of human trafficking.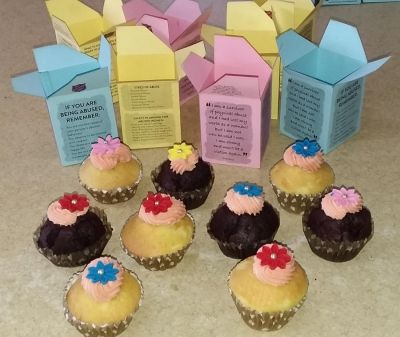 Finished cupcakes ready to be placed in their individual boxes with a message of hope printed on the side.
Pretoria Corps Officer Major Moya Hay said the corps originally planned to bake 300 cupcakes "but it seems that this number could rise dramatically – we are already booked for 450".
August is Women's Month as South Africa annually pays tribute to the more than 20,000 women who marched to the Union Buildings (government buildings) in Pretoria on 9 August 1956 to protest against extending of Pass Laws to women. The legislation had required African people to carry 'the pass', which was an identification document that restricted a coloured South African's freedom of movement under apartheid.
Along with raising awareness of abuse and human trafficking, the month also enables the country to celebrate the contributions of women to events in history and contemporary society. National Women's Day is an annual public holiday in South Africa on 9 August.
Pretoria Corps has three specific locations earmarked to receive deliveries of cupcakes over the month along with serving community lunch and handing out gifts at another.
Moya said the baking of the cupcakes was a team effort. "A survivor of abuse designed the box for us, a young man cut the boxes out for us and staff and survivors of abuse help me bake, decorate and box the cupcakes," she said.
She said the group had "a lot of fun" in the process. "Not one cupcake leaves us without being prayed over, so we are absolutely confident that God will reach those who need the message and who need him," Moya said.
The individual coloured boxes in which the cupcakes are placed have printed on them words of encouragement from abused women, the types of abuse that can be perpetrated, signs that an abuser may not be changing their ways, a plan to escape an abusive situation and contact numbers for support, including The Salvation Army.
The transportation boxes that carry the cupcakes also have helpful information attached to them. Moya said many people contacted the corps for the box template and the information on the boxes. She said having information on the boxes was part of the corps' objective of "reaching souls and getting the message of hope out there".
On 4 August, 100 specially packaged cupcakes were delivered to the nearby Hercules police station. Everyone in the station received a cupcake with the rest given to clients who came into the charge office.
On 9 August, Women's Day, the lunch prepared by the corps is to focus directly on women who have experienced abuse, domestic violence or rape. About 20 women and children are expected to attend.
Moya said she, her husband Glen and some women in the corps would serve the three-course meal of avocado pear with a fish cocktail, a roast main course and trifle with fresh cream for dessert. "We do the same for Christmas and Easter every year," Moya said. Then it's back to the cupcake distribution.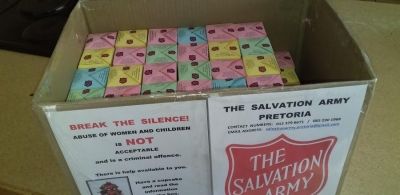 Another box of cupcakes ready to be sealed and distributed.
On 18 August, it is planned that another 100 will be given to the senior sister at Hercules Clinic for staff and distribution to clients. On 25 August, a similar gesture will be made to the senior sister at Daspoort Clinic.
"Normally, on the Sunday closest to 9 August, we have a short service at the corps and then the corps folk go into the community around the hall and their homes, with hand-outs of information plus a small gift, in order to create awareness about abuse against women and children and human trafficking," Moya said.
"We also set up information desks on different days of the month at different venues to share information, to educate and to empower but COVID-19 has put a stop to all that – for now.
"Doing nothing cannot be an option and so the 'Cupcake Campaign' was launched. What fun ... and the cupcakes are delicious," she said.