You are here:
Home › Global Focus › Fundraiser Paints Rosy Picture For Vulnerable
Fundraiser paints rosy picture for vulnerable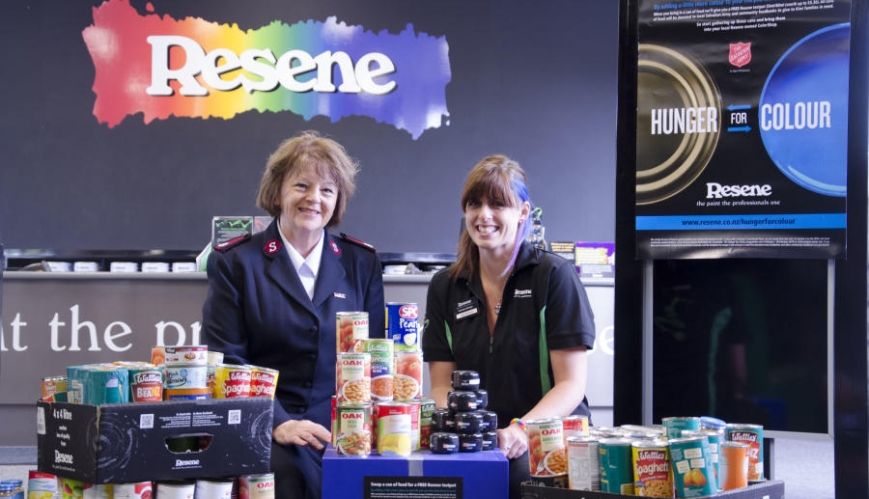 Fundraiser paints rosy picture for vulnerable
Major Lesley Nicolson, from The Salvation Army at Johnsonville, on New Zealand's North Island, and Resene ColorShop's Amber Savill with the canned food that customers swapped for paint as part of the annual Hunger for Colour fundraiser.
By Darryl Whitecross
For eight years, paint manufacturer Resene, through its annual Hunger for Colour food fundraiser, has supported the work of The Salvation Army to help vulnerable families across New Zealand.
Tessa Reardon, the Army's New Zealand, Fiji, Tonga and Solomon Islands Territory Business Partnerships Manager, said the idea behind the fundraiser was that people could swap cans of non-perishable food for Resene test pots of paint, which would help stock Army food banks across the country.
Tessa said it was a nationwide campaign so people could swap tins of food they'd bought for tins of paint at any Resene Colour Shop anywhere in the country.
Vanessa Ronan-Pearce, the Territorial Corporate Partnerships Manager, said there was a Resene store virtually everywhere the Army had a food bank.
"After two years of unpredictability [due to the COVID-19 pandemic], being able to rely on Resene really makes a difference in helping ensure families don't go hungry," Vanessa said. "Knowing that we can restock our shelves with food to share with those in need is such a relief and an amazing way to start the year."
Jono Bell, Territorial Director of Community Ministries, said Christmas and back-to-school were "incredibly busy times" with increased demand on Army services so the canned food was a way to "significantly" restock Army foodbanks.
"At the beginning of the year, many of our centres find themselves with bare shelves and needing cans to fill family food parcels. When food stocks are low, our centres really appreciate the arrival of Hunger for Colour knowing the cans will start coming in," Jono said.
Karen said that was the reason Resene chose February for its fundraiser: "There is extra pressure on foodbanks after Christmas and with families trying to juggle back-to-school costs. Hunger for Colour is designed to help replenish food banks after this busy period."
Karen said Resene first began collecting cans of food for the Army to support the victims of the Canterbury earthquake of 2016.
"At the time, there were so many families who had lost so much, and there were limited supplies available. Resene ColorShop staff around the country wanted to help in a tangible way," Karen said.
She said staff and customers thought the idea was good because the company introduced the Hunger for Colour program as an annual fundraiser where customers could swap cans of food for 60-80ml test pots of Resene paint.
"Initially, the program was swap one can for one test pot. It has now changed to two cans for one test pot, to encourage people to donate more to get the test pots," Karen said.
"The campaign has generated fantastic feedback over the past seven years. People really like donating food with knowing it is going directly to help someone in their local community and the test pots are a popular, versatile product," she said.
Karen said that, since it began, the fundraiser had put more than 275,000 cans of food on Army food bank shelves, and Resene donated more than $1 million worth of paint: "We're looking forward to the total donations for Hunger for Colour reaching over 300,000 cans, this year."
Karen said community, craft, and rock-painting groups looked forward to the campaign as they had the opportunity to restock and choose new colours for the price of two cans of non-perishable food. It was also popular with renovators, allowing them to try out multiple decorating colours.
She said that while the main focus was on food for people, a small number of people donated pet food each year, which was passed on to NZ's Society for the Prevention of Cruelty to Animals (SPCA) and animal shelters.