You are here:
Home › Global Focus › Holy Volunteers Batman Army Has Caped Crusader In Spotlight
Holy volunteers, Batman! Army has caped crusader in spotlight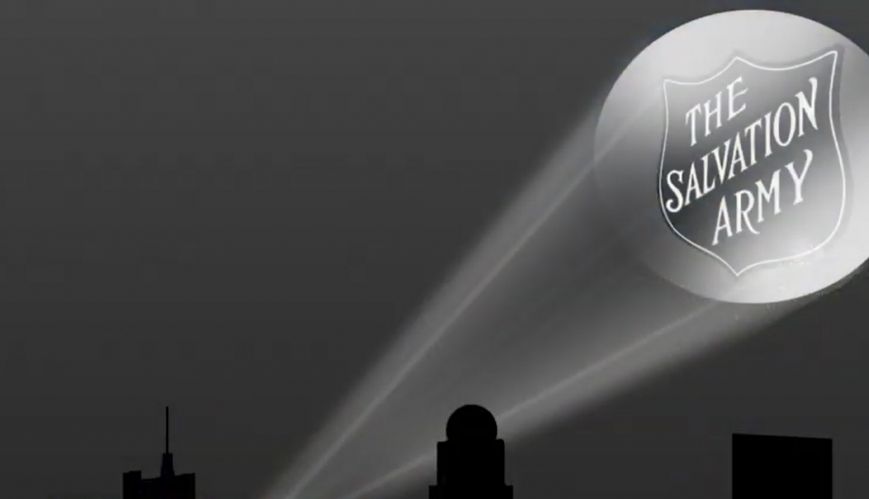 Holy volunteers, Batman! Army has caped crusader in spotlight
The Salvation Army does not have a spotlight to call Batman in the traditional way the city of Gotham did "in the movies". In this day and age, the caped crusader is a telephone call or SMS away.
By Darryl Whitecross
It may not be Gotham City, but the city of Buffalo in the United States has its very own Batman.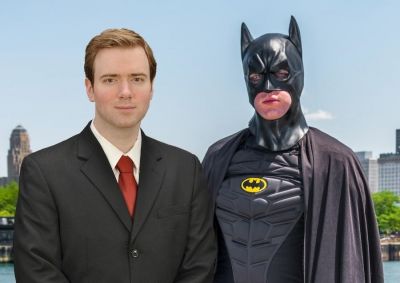 William Lorenz Jr and his alter ego Batman ... helping The Salvation Army do charitable work across the city of Buffalo in the US.
By day, he's an attorney, but when there is a need anywhere in the city, William Lorenz Jr dons his gloves, mask and cape and leaps into action – and The Salvation Army often benefits from his dedication to community-minded good deeds.
Since 2014, Will has swooped in to make 100 appearances to help out in a charity capacity from across the western region of New York state and in Greece and Canada.
Along with the Army, William has helped to raise hundreds of thousands of dollars for various charities and community events. 
Will said it had been "one of the great rewards" of his life to be a "charity superhero" in the community. "Having the opportunity to serve under the guise of my favourite comic book character has been a true honour, and one I never expected. Seeing the joy in a person's eyes when they meet 'Batman' makes all the work it takes to portray the character worth it. I am Catholic and believe in giving back to others whenever I can."
Will won the title of 'Buffalo's Best Batman' from the Buffalo and Erie County Public Library.
"I already had a Batman costume from performing a live karate demonstration as Batman at my martial arts dojo. I had volunteered as myself for charity the past already, and in fact was the Community Service Coordinator for my law fraternity, Phi Alpha Delta International, in college, volunteering for soup kitchens, fundraisers, and Habitat for Humanity," he said.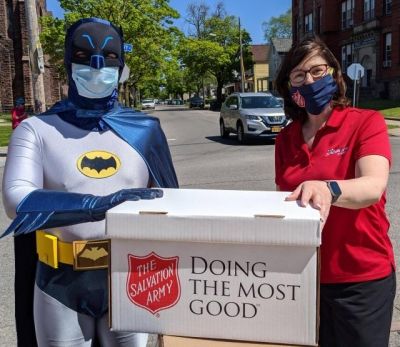 Batman swoops in to give a hand to Major Annette Lock from Buffalo Area Services to take assistance to the vulnerable of the Buffalo and the western New York region in the United States.
"My unique approach to community service [dressing as Batman] often brings with it media attention, which in turn shines a spotlight [or 'bat signal') on the charities I am volunteering for. This then brings the charity event more exposure to the public and, more often than not, more public participation.
"I also take a more active approach at times by designing events. My crowning achievement in the fundraising arena is our minor league baseball team's Superhero Night promotion, which has raised tens of thousands of dollars for the Mental Health Association of Erie County since I helped create it in 2015.
Will's first encounter with the Army was in 2020 – just after the COVID-19 pandemic began, helping to run a mobile food pantry, which delivered meals, supplies and children's activity kits. While the pantry staff followed the rules of social distancing, Batman had to wear two masks!
The Army metaphorically shone the spotlight into the sky for Batman to attend the virtual Red Kettle lunch fundraiser.
In reality, the famous Batman spotlight is not used these days. Will said that, for marketing and for security concerns, his appearances are always pre-arranged.
Will said he has three suits: "My original black suit is my own custom design. My 'pandemic' suit is a replica of the 1966 Adam West costume. My third suit that has yet to go out in the field is a replica of the 1992 Batman Returns suit.
Will said he has been a lifelong Batman fan.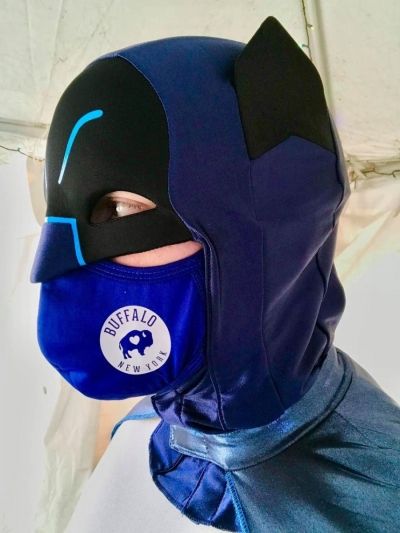 Batman needs to wear two masks when out in public due to COVID-19 regulations.
"He is not an alien or a mutant or 'super' in any way. He is a normal human who has trained himself mentally and physically to be his best and tries to make a difference in his city. I was also drawn to the character because of his strong connection to his parents. Having close ties with my own parents, I sympathised with Batman losing his at a young age but choosing to honour their memory in his crusade."
In the movies, Batman has had some amazing Batmobiles, but Will drives a "normal sedan" – dark blue not black. "I do not own a Batmobile, unfortunately. I usually try to park some distance away from the event I am appearing at so people don't see Batman getting out of a car other than a Batmobile."
Will said he did not know how long he would continue with his alter ego at charity events. "For now, as long as people keep requesting me and I am still physically able, I'll be there.
"I attempted to retire in 2015 but was called back into service when I heard children were asking where the 'real' Batman was. It will be seven years in April, which is far longer than I ever could have imagined dressing up for charity.
"I hope to continue volunteering with The Salvation Army in 2021," Will said.
Will is now getting ready for his next great adventure – his wedding, planned for June this year.