International briefs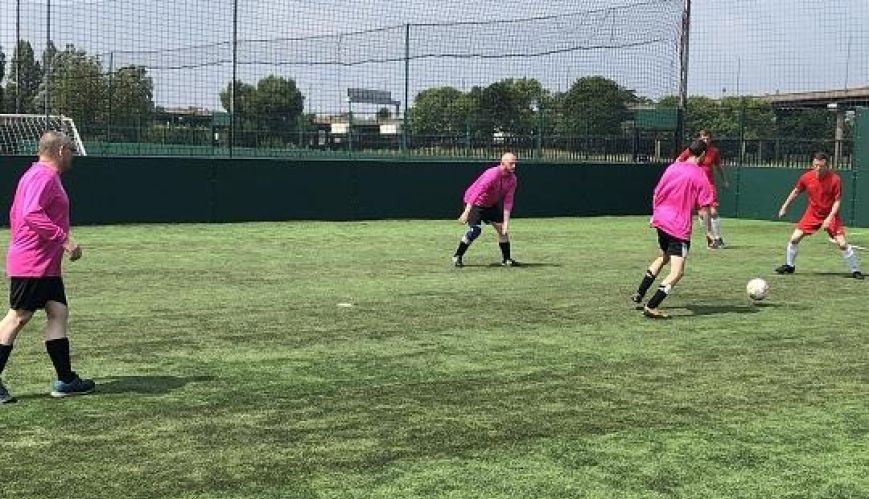 International briefs
Community members from The Salvation Army Lifehouse (homelessness services) in Birmingham, UK, played a friendly game of football with police officers from the West Midlands Police last week.
Hostels tackle police in football fundraiser


Officers from West Midlands Police in the United Kingdom challenged The Salvation Army Lifehouse (homelessness services) in Birmingham on Tuesday to a friendly football game to raise funds for the Army's Ukraine appeal.
Salvation Army players came from Birmingham and Coventry homeless hostels, or 'Lifehouses', for the charity game, which was sponsored by West Midlands Police.
"We often work with the police to rehabilitate people, trying to address the root causes of their homelessness," said Will Neville, match organiser and Program Coordinator at the Lifehouse. "Working with partner agencies, we can find ways to help people navigate really difficult journeys away from addiction, debt, childhood trauma, and relationship breakdown."
Police Constable Daniel Hitchmough from West Midlands Police said: "When we were approached by The Salvation Army for a charity game, we jumped at the chance. It's a great event which supports real people in need."
---
Bringing relief to flood victims in South Africa
Salvation Army teams give out food and blankets to people impacted by floods.
The Salvation Army in South Africa has brought relief to families and communities affected by the recent devastating floods in the KwaZulu-Natal province.
According to Divisional Commander Major Brendan Browski, the immediate need is for warm blankets, and corps are sourcing these as fast as possible to give to the public. Food and clothing are also high on the priority list.
Brendan added: "Montpelier and Durban Central corps are working hard right now to feed, distribute clothing, and provide what resources they have available. We are looking to purchase blankets today to help them because this seems to be the biggest need.
"The hardest-hit areas are in the Durban section, but other areas such as Hammersdale and Pietermaritzburg have also been affected. Travelling in the areas is difficult, with loss of roads, traffic lights, and many low-lying areas still flooded. All the [Salvation Army] officers and their families are safe, and while we have had some minor flooding on our properties, this has largely been sorted out."
---
Easter blessings in Romania
Mums and children enjoyed the Easter treats from The Salvation Army.
A Salvation Army team in Romania visited 20 struggling families just before Easter, delivering perfume and soap for the mums and chocolates for the children.
"Despite the rain, the gifts provided by our partner organisations made the mums happy, and the kids smile," said Captain Roxy Sandu. "We were glad to show them some love and care at Easter."
Also, in Romania this past week, The Salvation Army helped many refugees fleeing Ukraine who had left everything behind. More than 1000 went through the Romexpo Hub on Easter Saturday for food, clothing, emotional support, and material aid.
"It is not easy, but it is possible to continue to be a refuge for them in these difficult days," the team shared. "They smiled at us with sadness in their eyes and thanked us in the different languages we are trying to learn – but we understand each other. Thank you to our volunteers who see needs and fill them, no matter what."
---
Focus areas at International Headquarters
Angola
Each week, International Headquarters focuses on a particular part of the world and The Salvation Army's work there. The southern African nation of Angola featured recently, with its population of 31 million people.
Alongside worship services, schools are a big part of The Salvation Army ministry in Angola, with four such establishments. Other youth ministries and community development projects are also key areas of work.
Please pray for The Salvation Army in Angola: for practical concerns, upcoming elections in the country, and the growth of The Salvation Army. To read the IHQ report on Angola, go to https://www.salvationarmy.org/ihq/angola
---
Earth Day 2022


The Salvation Army believes people are made in the image of God and have been entrusted with caring for the planet. Caring for the gift of the world he created is one way to demonstrate our love for God and others.
At International Headquarters in London, the latest show in the public exhibition space is dedicated to Earth Day (22 April), titled 'God's creation and transformation'. The exhibition will run until 3 May.
---
World leaders visit Washington
General Brian Peddle spent time with the children at the Korean Corps.
Following lightning-fast meetings in Atlanta, Georgia, and Chattanooga, Tennessee (USA Southern Territory), General Brian Peddle and Commissioner Rosalie Peddle (World President of Women's Ministries) recently flew to the Potomac Division in Washington D.C.
Supported by local leaders, the Peddles visited the Landmark (Korean) Corps and the Fairfax Corps in Virginia. The internationalism of the two corps was evident as parts of the meeting were in Korean, Spanish, Gujarati, and English.
In his brief remarks, the General shared, "I am often asked, 'How is The Salvation Army doing?' My response is, 'How are you doing?' If our people are right, The Salvation Army is right.'"
He then shared a brief outline of world events, including Russia and Ukraine. He concluded, "In 132 countries, The Salvation Army understands where it fits in a chaotic world."