International news briefs 4 August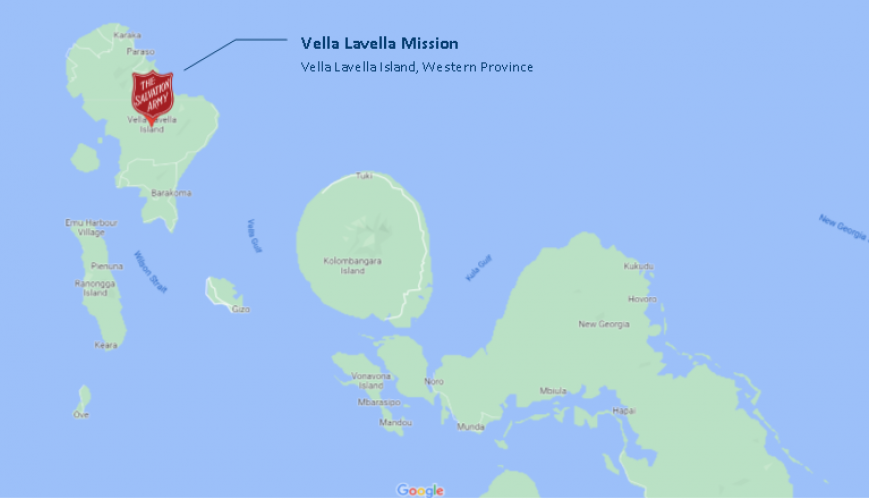 International news briefs 4 August
The Salvation Army in the Solomon Islands is continuing to expand along the nation's western border, including on the island of Vella Lavella.
Mission expansion in Solomon Islands


The Salvation Army continues to expand across the Solomon Islands, with the news of three new missions in the Western Province last month. In the Solomon Islands context, a new mission is when a village invites The Salvation Army to commence, or when an existing Salvation Army church initiates ministry in a new location.
The area officer then follows up on each mission to assess the viability of the mission opportunity. Although the new opening in Munda in the Western Province is small, its mission impact has led to widespread interest in The Salvation Army. Two nearby communities made this interest known to the area officer during the installation of the Mission Support Project in Munda. A further interest was received from the outlying island Vella Lavella, which the area officers have been looking at for some time.
The two newly enrolled soldiers from villages on different sides of the island will pioneer the mission of The Salvation Army on Vella Lavella. These new mission opportunities join five other missions in the Western Province at Simbo, Ranongga, Gizo, Paeloge, and Noro.
This is a significant advancement for The Salvation Army along the western border of the Solomon Islands.
---
World Day Against Trafficking in Persons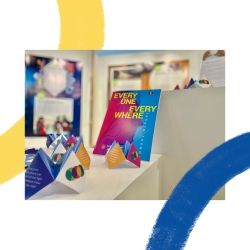 International Headquarters hosted an exhibition on the Army's global response to human trafficking.
The Salvation Army joined the global community in observing World Day Against Trafficking in Persons on 30 July. To mark this global day, an exhibition was displayed in Cafe 101 at International Headquarters to allow visitors to learn about The Salvation Army's modern slavery and human trafficking response across 108 countries.
This heinous crime globally impacts more than 40 million adults and children. Among these:
• More than 15 million are in forced and child marriages.
• More than 24 million are in labour and/or sex trafficking.
• About 30 per cent of this overall number are children being exploited.
The Salvation Army is focused on educating as many people as possible about modern slavery and human trafficking. Raising public awareness is one of the keys to helping prevent it before it occurs.
For more information on The Salvation Army's global work in this area, and its International Modern Slavery and Human Trafficking Response Council, click here 
---
Response continues to Ukrainian refugees
Salvation Army teams assisting in a Kyiv region village.
Salvation Army teams in Ukraine are working to support those whose homes, lives and emotional wellbeing have been shattered by the crisis.
This includes those who, for many reasons, have not been able to leave their homes and those who are now returning to try to rebuild their lives.
Teams from the Kyiv Lighthouse Corps make regular visits to the village of Gorenka. One team leader described this village as one where "people, as in many other places, have lost what we take for granted in a peaceful life - access to clean and safe water, food, clothes, hygiene products, safety and confidence."
"The Saviour's practical and spiritual help helps people going through the darkest times in their lives to gain strength: We that are strong ought to bear the infirmities of the weak, and not to please ourselves. (Romans 15:1)."
Recreational craft activities for internally displaced people have been organised in Kropyvnytskyi and Vinnytsia, Ukraine, also with the aim of helping people cope with ongoing trauma and stress.
Salvation Army teams in Bulgaria, Poland and Romania are also organising events for children and assisting young mothers and the elderly fleeing the conflict.
Further afield, in the Republic of Georgia, a children's club meets every Friday, creating fun times for Ukrainian young people affected by this crisis. Forty-five children and their families have participated in the club so far, with more expected to attend a summer camp.
---
Salvation Army soldier lifts gold in Birmingham
Salvation Army soldier Jeremy won weightlifting gold.
Salvation Army soldier Jeremy Lalrinnunga won a gold medal for weightlifting (67kg category) at the 2022 Birmingham Commonwealth Games. Jeremy is from the India Eastern Territory. 
The 19-year-old logged a total of 300kg (snatch – 140kg; clean and jerk – 160 kg) to make the podium at the National Exhibition Centre in Solihull. Jeremy has been battling back and knee injuries, and the Commonwealth Games was his first international event in almost seven months.
---