You are here:
Home › Global Focus › Laras Goal Shooting For Samoas National Netball Team
Netball star Lara shooting goals for God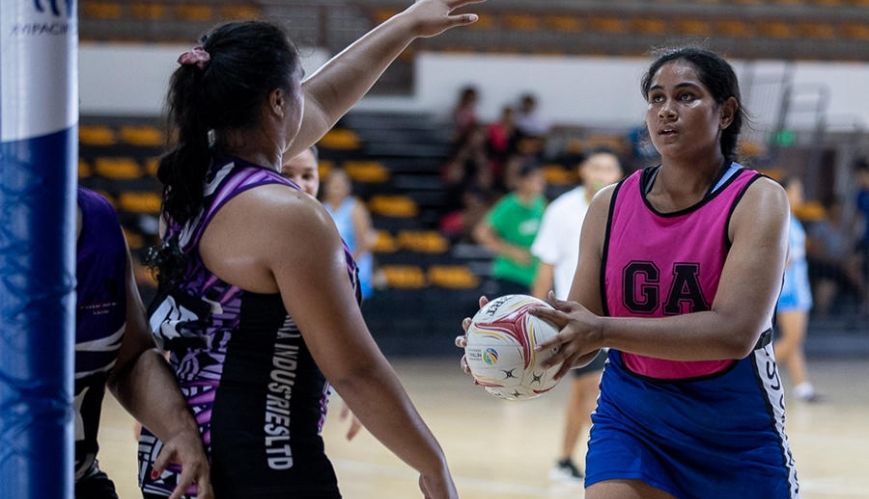 Netball star Lara shooting goals for God
Samoan national netball representative, 17-year-old Larafina Tanielu Stowers, says her Christian faith is central in her life.
By Darryl Whitecross
For 17-year-old Samoan Salvationist Larafina Tanielu Stowers, serving her Lord, family, making music and playing elite-level netball are the most important things in her life.
Lara attends the Apia Corps in the Pacific island nation of Samoa – part of The Salvation Army New Zealand, Fiji, Tonga and Samoa Territory – and is a member of the youth group there. She plays bass guitar "and sometimes the piano" in youth services.
"My Christian faith is an important part of my life because it is something that keeps me grounded and allows me to keep an understanding of what is happening around me all the time," Lara said. "This is why it is an important aspect of my life as a Samoan girl, a Samoan netball player and a member of The Salvation Army church.
"My Christian faith has helped me especially in sport and in the game of netball that I love because I believe that the chances I have received and the choices I have made in netball have only been through God's loving hands and the prayers of my family and church. It is believing in God's strength and ability to help me get through what I need to do in order to play netball at a high level and to pursue what I need to do for myself, my future and to help my family."
Lara said she had been playing netball since she was 10, having started in primary school in New Zealand and at high school in Samoa. Lara said the family went to New Zealand and back because of family reasons.
Lara with her bass at Apia Corps in Samoa.
Netball is a prominent sport in both countries. "It has been a sport that has been a part of my life for a long time and I really enjoy it," Lara said. "It is a lot of hard work, though, and, despite not always having the energy to get up and do training, I still love it and still something that I would like to continue to do even when I am older," the 185cm goal-shooter and goal-attack said.
Lara was doing well in her school and club teams when she caught the eye of the national talent scouts and eventually represented the island nation at last year's Pacific Games.
"Playing in the Pacific Games was a lot of pressure for me as I was the youngest team member, which is why being close to God is important because I was able to pray and seek his guidance always.
"We did not do well, but it was an experience that I will never forget because it taught me perseverance and a sense of purpose that, even though our team did not do well, I was able to gain something more from it. God is such an awesome person that allowed me an opportunity like this and to get an understanding from the challenges of it.
She has also played in the Pacific Nations Cup, and is about to take the next step ... again.
She was accepted into Samoa's Under 21 squad after the trials last year but, because of COVID-19 and subsequent rescheduling of the World Youth Cup Tournament in Fiji from June to December, next year, that squad was disbanded and "new virtual trials" took place late last month. Proud mum, Helen, was happy to say Lara was again successful in being named this month in that squad "with other local girls" and started full training on 17 October.
"It is very exciting but we always give praise and thanks to God first," Helen said. "Despite the excitement, it has also been very humbling. God has been so good in her life and she has been blessed with many gifts that she always tries to excel in. We are humbled by all that he has done for her and for our family."
Samoa Netball chief executive officer and U21 team manager Rosemarie Esera said the players were required to meet specific performance and technical requirements in order to make the initial squad of 30.
Lara's training was done with the help of online programs – the first time that had happened. She uploaded the footage of her workouts, which was sent to New Zealand's Silver Ferns coaches who were working closely with the Samoan team.
Rosie said retired Silver Ferns goal-shooter Jodie Brown looked at the footage and provided feedback. "Because of COVID-19, we took footage and sent it over to Jodie and she sent us her feedback on what needs to be improved," Rosie said.
Injury at the beginning of the season saw Lara sit on the sidelines for six weeks.
"It was not a good feeling and I have been working hard and training hard to try and get fit again to be able to play netball again," she said. "God has been good. He has really paved the way for me to try and get better and to help me rise again in my netball journey. Being chosen to be a part of the U21 squad is a huge thing for me. I am privileged and honoured to play for the U21 especially as a local player."
Rosie said Lara was chosen from "a long list of players" to make the squad. She said that, after having played in the World Youth Cup, Lara would be eligible to play in the Oceania World Cup qualifiers. The date for the qualifiers has not yet been confirmed.
The Samoan national squad was open to all players of Samoan heritage who qualify and is made up of seven girls from New Zealand, five from Australia and two from Samoa, including Lara.
Lara lists Jodie among her favourite players, along with former Samoan national team captain Frances Solia, international coach and former New Zealand representative player Linda Vagana, and retired Silver Ferns shooter Maria Tutaia.
"Frances has been a big help in my game and has been very encouraging to me to keep going and keep fit; also Ruta Tai Schwalger, who was our collegiate coach and Pacific Games 2019 Samoa assistant coach.
"Rosie has been the biggest help to me as a player in Samoa and she has encouraged and advised in helping me to improve areas that I need to improve on in playing netball. I am thankful for all these women for their encouraging words and training and netball advice." 
Spiritual guidance 
Lara also acknowledged Lieut-Colonel Rod Carey, Salvation Army Regional Leader in Samoa, for his influence. He and wife Jennifer have been reappointed within the New Zealand, Fiji, Tonga and Samoa Territory to the Addictions Supportive Accommodation and Re-integration Services in Auckland.
"They have provided great spiritual guidance for me and helped me to grow in my Christian faith," Lara said. "My journey has not been an easy one, but I know that my faith in God, the support of my mother, family and church has been a constant in my life. It is my service to the Lord and his loving grace that keeps me grounded in an important way."