You are here:
Home › Global Focus › Life In One Of The Salvation Armys Largest Territories
Life in one of The Salvation Army's largest territories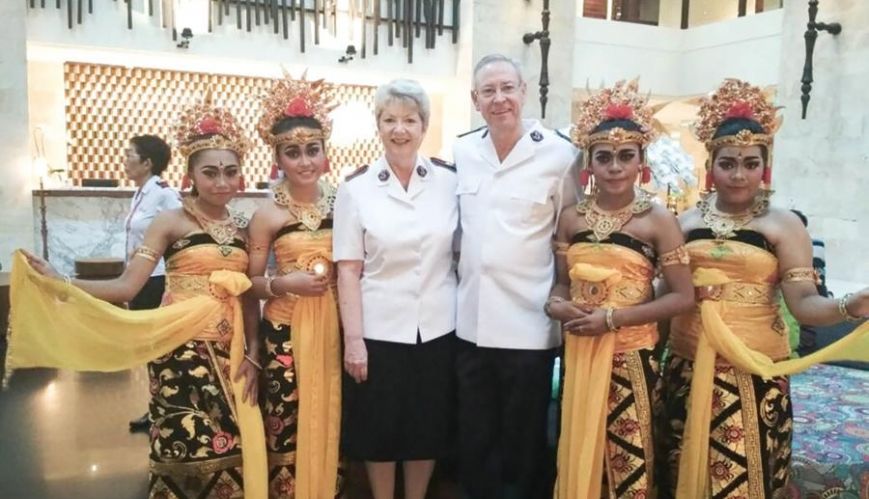 Life in one of The Salvation Army's largest territories
Commissioners Jennifer and Peter Walker attend a cultural ceremony in Indonesia, where they have been the territorial leaders for the past four years.
By Jennifer Walker
Living and working in Indonesia has been a unique experience. Indonesia is the fourth-largest country in the world by population, with 260 million people, and the world's largest Muslim majority nation, so we had to adapt to a very different culture, which included unfamiliar food, overcrowded roads and a foreign language.
Also, because of the geographical vastness of the country (Indonesia is the world's largest archipelago consisting of approximately 17,000 islands), we flew hundreds of thousands of kilometres during our time here. Some of the flights were memorable to say the least, especially when flying through a tropical storm.
I will always remember the flights that had the passengers screaming in fear! Indonesia is one of the largest Salvation Army territories in the world, with nearly 40,000 soldiers and about 700 officers. It's also a very active, youthful and vibrant Army.
We are impressed by the dedication of the Salvationists, especially the great number of youth and young adults who are passionate about their faith and readily want to become soldiers. Salvationists here have an immense capacity for prayer. They pray early every morning, they pray often and expect God to answer their prayers.
Without doubt, we will miss the good friendships and the many acquaintances we've made. The Indonesian Salvationists are very friendly and hospitable, and although many live modestly, they are always generous with what they have. When we arrived in Indonesia one of our prayers was, "Lord, please help us to make a difference during our stay here." 
The Lord has answered that prayer in amazing ways beyond all that we could ask or imagine. Some of the achievements he has helped us make include:
Officers' quarters: During some of our visits around the territory we were saddened at the living conditions of some of our officers. For example, the rudimentary buildings, some with no windows, doors or ceilings; others with gaping holes in the walls and dirt floors. We have since secured ongoing project funding to build a number of officers' homes.
Children's homes: After conducting a feasibility study of the 18 children's homes in the territory, we have made major changes to the way we operate these institutions – introducing many new policies, improving buildings and even closing down three homes. We have entered into a partnership with the Australia Territory, which will provide Indonesia with a substantial amount of money over the next five years to employ social workers and assist in the reintegration of children with their families.
Foster care: The Salvation Army operates a babies and toddlers home for abandoned children. We have recently secured funding from the United States to establish a foster care program in the territory, so that these children can spend their developmental years with loving families. natural disasters The past seven months have been a trying time in the Indonesia Territory.
Last September saw a triple tragedy on the island of Sulawesi – a 7.5-magnitude earthquake, tsunami and liquefaction. This is an area of Indonesia that has the greatest proportion of Salvationists. The earthquake caused extensive damage to more than 100 Salvation Army properties, including 37 corps buildings, 12 schools and six quarters that were destroyed.
Having recently visited this area, we saw that many people are still living in tents and some of our schools are operating under tents. We were also saddened to hear of Salvationists who lost their lives in this disaster, including the children of an officer and soldier who were at a Christian Bible camp with 100 other young people.
We have also heard some amazing stories of people whose lives were saved and we praise God for preserving them. Many Salvationists also lost their homes. Some whole villages have been ordered by the Government to relocate, because it is too unsafe to rebuild where they were.
Teams from The Salvation Army International Emergency Services are assisting with the recovery and emergency relief throughout the region. Our project officers are overloaded at the moment as they administer the funds that have come into the territory.
We are very grateful for the monetary assistance that has come from territories around the world to assist in the rebuild – including that from every territory in the South Pacific and East Asia Zone (of which Australia is part).
There are many things we are looking forward to about our return to Australia. The main thing will be spending time with family. The four years spent overseas have been difficult in the sense that we have both lost family members including my brother (Major Geoff Freind) who was murdered in Malawi, Africa, in 2016. Our time overseas has also been a sacrifice for our family, who at times would have loved having us close by.